In the coming days, Spring Convocation ceremonies will see McGill bestow Honorary Degrees to 15 exemplary individuals. This year's honorary doctorate recipients excel in a diverse range of areas and have a wealth of wisdom to impart upon the Class of 2017. Click on the thumbnails below to watch their addresses. The most recent address appears at the bottom of the page.
This page will be updated daily.
Yannick Nézet-Séguin (D.Mus., May 14)
Yannick Nézet-Séguin has been a musical prodigy from a young age, starting music lessons at the age of 5 and deciding he wanted to be a conductor by the age of 10. In 1994 he became music director of the Choeur polyphonique de Montréal, at age 19. In 1998 he became assistant conductor and chorus master of the Opéra de Montréal.
In 2000 he was named music director of the Orchestre Métropolitain, a post he will continue to hold. In 2009 the New York Times described his shift from leading choral music to symphony direction as "almost unheard of."  In 2017-2018, he will wind up his tenth and final season with the Rotterdam Philharmonic. He has been Music Director of the Philadelphia Orchestra since 2012. In 2020-2021, Maestro Nézet-Séguin will succeed James Levine as the third Music Director of the Metropolitan Opera in New York City.
Dr. Atul A. Gawande (D.Sc., Health Sciences, May 30, 10 a.m.)
Surgeon, writer and public health researcher, Dr. Atul Gawande practices general and endocrine surgery at Brigham and Women's Hospital in Boston, Massachusetts. He is Professor in the Department of Health Policy and Management at the Harvard T.H. Chan School of Public Health and is the Samuel O. Thier Professor of Surgery at Harvard Medical School. Dr. Gawande is also Executive Director of Ariadne Labs and Chairman of Lifebox, organizations devoted to reducing suffering and saving lives through systems innovation for better health care worldwide.
Atul Gawande believes that society must take a step back and look at new ways to practice medicine — with fewer cowboys and more pit crews: "Our medical systems are broken. Doctors are capable of extraordinary (and expensive) treatments, but we are losing our core focus: actually caring for people."
Suzanne Lévesque, D.Litt., Health Sciences, May 30, 10 a.m.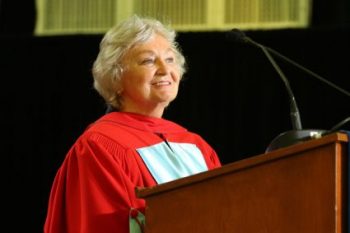 Mme Suzanne Lévesque's illustrious career started by following the path laid out by her remarkable father J.-Louis Lévesque. M. Lévesque, a nationally lauded businessman, was one of Québec's most beloved philanthropists and a patron of health and education.
A strong advocate of the inherent power of education and research, Mme Lévesque's vision has led to the creation of a long list of new university- and hospital-based research chairs focusing on a variety of subjects from cancer, heart disease, genetics, ophthalmology and neo-natal care among many others. Her approach has always been hands-on and she supports strong ties and collaboration between the many institutions that the Fondation J.-Louis Lévesque, of which she is President and Chief Executive Officer,  supports.
Alanis Obomsawin, D.Litt., Continuing Studies, May 30, 6 p.m.
Filmmaker, artist, singer, storyteller and activist Alanis Obomsawin, of the Abenaki Nation, is one of Canada's most distinguished documentary filmmakers.
Ms. Obomsawin joined the National Film Board of Canada in 1967. Her award-winning films address the struggles of Aboriginal peoples in Canada from their perspective, giving prominence to those voices that have long fallen on deaf ears. She has produced and directed 49 National Film Board of Canada documentaries. One of her best known films is "Kanehsatake: 270 Years of Resistance", about the 1990 siege at Oka, Quebec.
"Education," she has said, "is the most important thing in my life. It's why I do what I do." Her work is a testament to those words as she weaves together meticulous historical research, political insight and her own intimate knowledge of indigenous traditions.
Douglas J. Cardinal, D.Sc., Engineering, May 31, 10 a.m.
Born in Alberta of Metis and Blackfoot heritage, Douglas Joseph Cardinal has dedicated his life to creating beautiful, thriving and harmonious environments. He is one of a small number of architects whose body of work has defined a uniquely Canadian style: rooted in the land and shaped by local culture and the forces of nature.
One of Mr. Cardinal's first projects outside Alberta and the Northwest Territories brought Prairie expressionism to central Canada through the design of the Canadian Museum of Civilization – now Canadian Museum of History – in Gatineau, Quebec.
Acknowledged internationally as a technologically complex building that reframed museum architecture, the CMH is a culturally significant building that was designed to accommodate a shifting perspective on Indigenous history and national culture.
Beverley Diamond, D.Mus., Music, Wednesday, May 31, 3 p.m.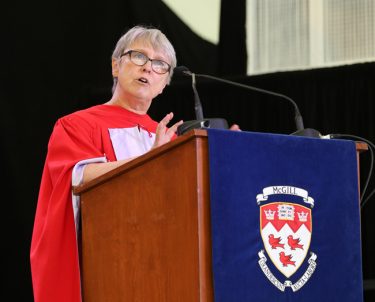 Beverley Diamond is one of Canada's leading ethnomusicologists. Her influential scholarship examines the relationship between music and issues of identity, rights and social change, notably through her work on indigenous musical cultures in Canada and Scandinavia.
Professor Emerita at Memorial University of Newfoundland, she has held the Canada Research Chair in Ethnomusicology and established and led the Research Centre for the Study of Music, Media, and Place (MMaP).
Her research has ranged from studies of Inuit and First Nations song traditions to expressive culture in relation to the Truth and Reconciliation Commission on residential schools in Canada. Dr. Diamond's publications have explored cultural identity, feminist musicology, Canadian music historiography, Indigenous modernity, and the construction of social meaning via audio technologies.
Kathleen P. Taylor, LL.D., Management, Thursday, June 1, 10 a.m.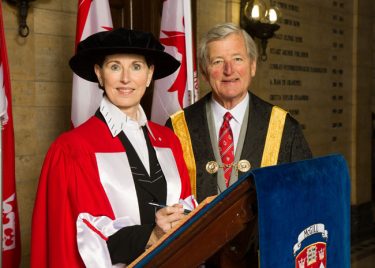 Kathleen Taylor is a pioneer for women in many industries, including hospitality, financial services and philanthropy.  In 2010, following 20 years of increasingly senior leadership roles, she was appointed President and Chief Executive Officer of the Four Seasons Hotels and Resorts – the second CEO in the company's history and the only woman among the top 10 hotel operators by revenue
In 2013, Ms. Taylor made a concerted effort to promote gender equality in the workplace by spearheading the Ontario Securities Commission's "comply or explain" rule, which requires corporations in Ontario to disclose the number of women in leadership positions.,
She was appointed Chair of the Board of Directors of the Royal Bank of Canada in 2014 – the first woman in Canada to lead a major chartered bank. Kathleen Taylor is also the Director and Chair of the SickKids Foundation, the fundraising organization for the Hospital for Sick Children in Toronto, one of the world's foremost pediatric health care institutions.
Stephen J. Toope, LL.D., Law, Thursday, June 1, 3 p.m.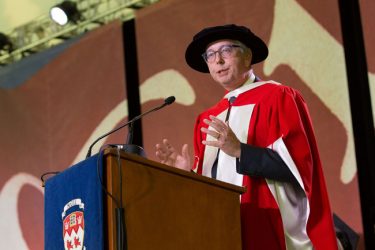 In October 2017, Stephen J. Toope (BCL'83, LLB'83) will become the first non-British vice-chancellor of Cambridge University. As Dean of Law at McGill University and as President and Vice-Chancellor of the University of British Columbia, Dr. Stephen Toope led curriculum renewal in legal education and advanced post-secondary research and innovation.  A respected legal scholar and authority in human rights, Dr. Toope is presently the Director of the Munk School of Global Affairs at the University of Toronto and also serves as President of the Federation for the Humanities and Social Sciences.
Professor Toope publishes in leading international journals on international dispute resolution, international environmental law, human rights, the use of force, and international legal theory, and has lectured at leading universities around the globe.
His book, co authored with Professor Jutta Brunnée, "Legitimacy and Legality in International Law: An Interactional Account" was winner of the American Society of International Law's 2011 Certificate of Merit for Creative Scholarship.
Pamela Matson, D.Sc, Agricultural and Environmental Sciences, Friday, June 2, 2:30 p.m.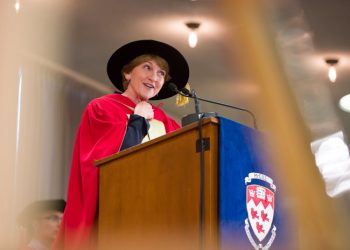 Dr. Pamela Matson is the Chester Naramore Dean of the School of Earth, Energy & Environmental Sciences, the Richard and Rhoda Goldman Professor in Environmental Studies at Stanford, and a Senior Fellow at the Woods Institute for the Environment. An interdisciplinary Earth scientist and an organizational strategist, Dr. Matson works to reconcile the needs of people and those of the planet. Her research addresses the sustainability of agricultural systems and the vulnerability of people and places to climate change.
A MacArthur Fellow and an elected member of the National Academy of Sciences, Dr. Matson is also a member of the American Academy of Arts & Sciences, and a Fellow of the California Academy of Sciences, Ecological Society of America, and American Association for the Advancement of Science. In 2013 she was named one of the top "100 Women of Influence" by the Silicon Valley Business Journal.
Sir Paul Nurse, D.Sc., Science, Monday, June 5, 10 a.m.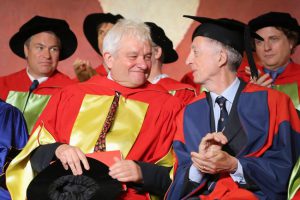 Paul Nurse is a British geneticist and cell biologist whose endeavours have helped elucidate cell growth. In 2001 he was jointly awarded the Nobel Prize for Physiology or Medicine for discoveries of key regulators of the cell cycle. In 1988, he was appointed Chair of the Department of Microbiology at the University of Oxford and later, in 1993, Director of Research at the Imperial Cancer Research Fund (ICRF) in London. He became Director General and subsequently Chief Executive of Cancer Research UK in 2002.
In 2003 Dr. Nurse was named President of the Rockefeller University where he served until 2011, when he was appointed the first ever Director and Chief Executive of the Francis Crick Institute in London. The Crick is a biomedical research and discovery institute dedicated to understanding the fundamental biology underlying human health and illness.
Arthur B. McDonald, D.Sc., Science, Monday, June 5, 3 p.m.
Canadian physicist, Arthur McDonald studies neutrinos — tiny subatomic particles that are one of the fundamental building blocks of the universe. The findings of the Sudbury Neutrino Observatory Collaboration, first published in late-2001 and mid-2002, were heralded as a breakthrough discovery. The discovery helped recast the fundamental scientific understandings of how matter works by providing evidence that the "Standard Model" of particle physics was incomplete.
Dr. McDonald's research demonstrated clearly that neutrinos change their identities on their way to Earth from the Sun and gave credence to theories that neutrinos have a mass greater than zero. He was co-recipient of the 2015 Nobel Prize in Physics together with Professor Takaaki Kajita of the University of Tokyo. He has also received many other scientific honours and accolades in Canada and around the world.
It has been said that some people can change how we see the world. Dr. Arthur B. McDonald has changed the way we see the universe.
Reeta Roy, LL.D., Arts, Tuesday, June 6, 10 a.m.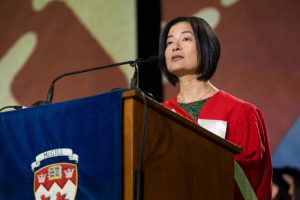 Reeta Roy is President and CEO of The MasterCard Foundation, a leading philanthropic organization that is focused on financial inclusion, skills training and education in Africa. Under her leadership, the Foundation has reached more than 18 million people through its programs in 30 African countries.
Growing up in Malaysia, the second child of a single mother, Ms. Roy won a scholarship to complete her education in the United States, an experience that helped develop her passion with which she approaches the Foundation's mission. Ms. Roy held various leadership positions in the private sector working on global health issues. Ms. Roy has spoken before a wide array of fora, including the United Nations, World Economic Forum Africa, Young African Leadership Initiative, and Walrus Talks Philanthropy.
In 2015, she received the YWCA Toronto Women of Distinction Award. Most recently Ms. Roy was awarded honorary doctorates from EARTH University in Costa Rica and the University of Toronto.
Brian Mulroney, LL.D., Arts, June 6, 3 p.m.
As the eighteenth Prime Minister of Canada and leader of the Conservative Party, Brian Mulroney led the country for nine consecutive years. Mr. Mulroney's role in the creation of NAFTA (North American Free Trade Agreement) laid the groundwork for a new era of global commerce. His government also assumed the leadership of the Commonwealth countries against apartheid in South Africa and he was appointed Co-chair of the United Nations' World Summit for Children. Through the Acid Rain Accord and the Environmental Protection Act, Mr. Mulroney established strong measures to protect the environment and was named by environmental groups as "The Greenest Prime Minister in Canadian History".
Mr. Mulroney has supported numerous community causes and has championed the access to education programs nation-wide, giving his time and talents to many community-based organizations aimed at effecting positive change locally and internationally. In addition to his life as a dedicated public servant and philanthropist, he has also had a distinguished career as an attorney and businessman.
The Right Honourable Brian Mulroney is a Montrealer, Quebecer and Canadian, whose leadership helped define Canada as a global leader.
Marshall David Sahlins, D.Litt., Arts, June 7, 10 a.m.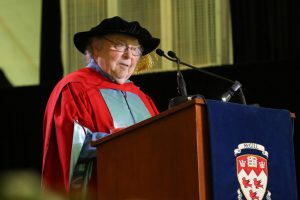 Marshall Sahlins is one of North America's most eminent living cultural anthropologists. He is world renowned for his contributions to anthropological theory and for his scholarship as an ethnographer and historian of Oceania. Professor Sahlins has been described as an unflinching researcher, author, ground-breaking scholar, activist, teacher and principled public intellectual. In the early 1970s, he produced a series of seminal essays, collected in the volume Stone Age Economics, illustrating the "substantivist" school of economic anthropology. One of them, "The Original Affluent Society," became his best-known work.
Professor Sahlins is the executive publisher of Prickly Paradigm, established in 2002, dedicated to publishing radical and inventive texts by 21st-century scholars. Above all, Marshall Sahlins is renowned for his insistence on the centrality of culture to anthropological understanding. He has received international recognition and numerous honors including a Chevalier de l'Ordre des Arts et des Lettres from the French Ministry of Culture in 2011.
Paul Martin, LL.D., Education, Wednesday, June 7, 3 p.m.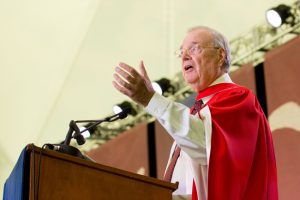 The Right Honourable Paul Martin was Canada's 21st Prime Minister from 2003 to 2006 and Minister of Finance from 1993 to 2002.   As Finance Minister he eliminated Canada's fiscal deficit setting its debt ratio on a steady downward track; he led the turnaround of the Canada Pension Plan and created the Canada Foundation for Innovation.  As Prime Minister he promoted early learning and childcare, promoted a ten-year plan to improve healthcare, created a new financial deal for municipalities, redefined marriage to include same-sex couples and reached a historic agreement with Canada's indigenous leadership known as the Kelowna Accord .
After leaving politics he established the Martin Family Initiative, a charitable organization focused on providing educational opportunities for Indigenous people and the CAPE Fund, which invests in Aboriginal businesses.
Mr. Martin was a co-founder of the G20 as Finance Minister. Upon stepping down from government he advised the African Development Bank and worked closely with the Advisory Council of the Coalition for Dialogue on Africa.