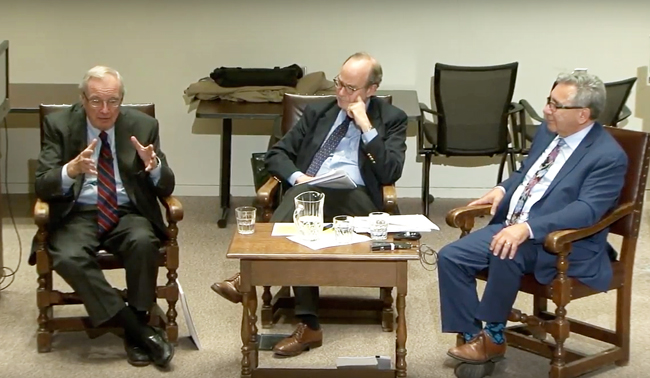 About 100 people attended a public discussion between the newly-elected Grand Chief of the Crees, (Eeyou Istchee) and Chairman of the Cree Nation Government Abel Bosum, and former Prime Minister Paul Martin at Moot Court in Chancellor Day Hall on Nov. 29.
Organized by the Centre for Research on Religion, the Desautels Faculty of Management, the Centre for Indigenous Conservation and Development Alternatives, and the Newman Centre, the event was entitled Indigenous Leadership, Governance and Development.
Abel Bosum is the former chief of the Oujé-Bougamou Cree and a long time Cree Quebec negotiator.
Paul Martin now runs the Martin Family Initiative, a foundation that takes a specific interest in first nations education.
Bosum gave the crowd a stark history lesson. "My own people, the Ouje-Bougoumou Crees, have been forcefully relocated seven times between 1925 and 1975; and 'relocated' is the polite way to describe what was done to us," he said.
The Crees of Oujé-Bougoumou were living in tar-paper shacks on sides of the remote highways in Quebec after they had been left out of the James Bay Agreement and overlooked by Quebec City and Ottawa. Bosum fought to have them recognized and helped them secure a land base, raising $45 million to build an internationally praised community for the Oujé Cree.
"The fact that these abuses have continued for so long is evidence that the domestic authorities are not effective guardians of our rights, and that the standards that are applied for the protection of the rights of indigenous peoples are insufficient," continued Bosum. "I think this fact is fairly indisputable, yet where do we turn for help?"
Both Bosum and Martin called for a complete overhaul of the legal relationship between the Canadian government and First Nations, most notably the over turning of the Indian Act and an overhaul of the Department of Indian Affairs.
But Martin also said that there has been a change in attitude toward First Nations issues in the last decade. "The 1996 Royal Commission on Aboriginal People's recommendations were not sold properly. A lot of people read the report and it influenced a lot of people, including me, but it sat on the shelves," he said. "The recommendations of the Truth and Reconciliation Commission have had a major impact, and there is no doubt about the consequences of the TRC."
The TRC published 94 calls to action urging all levels of government — federal, provincial, territorial and aboriginal — to work together to change policies and programs in a concerted effort to repair the harm caused by residential schools.
Watch interviews with Grand Chief Abel Bosum and the Rt. Hon. Paul Martin by clicking on the thumbnail below