Today's Virtual Scarf Conferral Ceremony was a joyous celebration of the 60 First Nations, Inuit and Métis students who have completed certificates and degree programs at both the undergraduate and graduate levels, from across McGill's Schools and Faculties.
Graduating students each received ceremonial scarves. Created by Kahnawake-based designer Tammy Beauvais the scarves incorporate symbols important to Indigenous cultures. Red scarves are offered to degree recipients and white ones to diploma and certificate recipients.
"I asked The Creator to spread his energy in the scarf that you will get, to rub his energy in the scarf. When you hang it around your neck it will be rooted in your heart, in your spirit, in your mind," said Elder Charlie Patton to open the event. "And, as you carry that scarf, that spiritual scarf, in everything you do The Creator will walk with you. And we ask Him to always make sure that in your journey and in your future there are no roots to trip you up, and that you will always have a good mind, good heart, good spirit."
Time of reflection
But, in light of the devastating discovery of the remains of 215 Indigenous children at a former Residential School in Kamloops, B.C., it was also a time for somber reflection and a coming together of communities.
"We stand in solidarity with the families and loved ones of the 215 children who died, as well as with the survivors of all Residential Schools – many of whom continue to suffer from the trauma of their experience," said Provost Christopher Manfredi in his opening remarks before asking for a period of silence to honour the children.
"Your path leading to this moment may not have been easy. Many of you confronted and overcame systemic barriers just to get here," the Provost said to the graduating students. "For all your perseverance and dedication, especially under the exceptional constraints of the pandemic, you have many reasons to be proud of yourselves and to feel confident in your abilities. As you embark on your next chapter, know that McGill will continue the important work outlined in our 52 Calls to Action with the aim of Truth and Reconciliation with Indigenous communities."
Principal Suzanne Fortier echoed the Provost's remarks regarding the terrible news of the former Residential School in Kamloops, and "the deep, deep pain that this news caused across our country and particularly in your communities.
"We stand in solidarity with the families of these children and also with all Indigenous communities in our country in their pursuit of truth, justice and healing," said the Principal.
Honouring ancestors by being good ancestors ourselves
Members of McGill administration and leaders of Indigenous communities congratulated the Class of 2021 for their hard work and dedication, emphasizing their importance to their respective communities as role models and policy makers.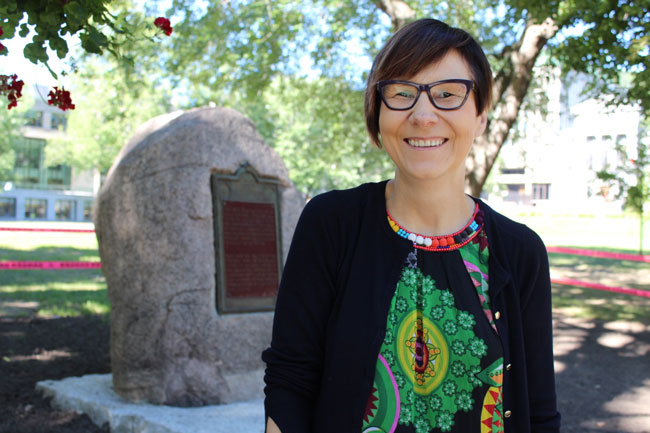 Cindy Blackstock, professor at the School of Social Work and a tireless advocate for the rights of Indigenous children, delivered the keynote address. Calling each graduate a "twinkling star" in a dark sky, Blackstock spoke of individual and shared responsibility.
"On special days like this, I remember all of our ancestors who passed down a multi-generational strength of our cultures to each one of us," she said. "And they also passed on to us a responsibility to open doors as they had opened them for us so that we could do things like attend university, which was prohibited by law up until 1960. And so we could do things such as strive for justice for all people in Canada and around the world.
"Each of you is an echo in someone else's future reality. We have an opportunity to honour those ancestors by giving the very best of who we are to this generation and to future generations who won't know our names," continued Blackstock. "We have an opportunity to make our ancestors proud by being good ancestors ourselves."
Palpable pride and joy
Like all McGill Convocation ceremonies, the Indigenous celebration was virtual for the second year in a row. "I must say that I am very sad not to see you walk across the stage this year with your beautiful scarves and the chance to be recognized each one of you individually," said Principal Fortier. "We hope though that we will have an occasion to bring you to be recognized in person in the future."
But the joy and pride of graduates, their friends and family, and McGill's faculty and support staff was palpable. Following the reading of names of Indigenous graduates, MC Ben Geboe asked participants to open their microphones to celebrate. The ensuing clapping, cheering and happy shouts of congratulations lasted several minutes. "What a beautiful, eloquent day," said Geboe in closing.
The power of education
In his closing remarks, Elder Charlie Patton spoke about the past, the present and the future.
"A long time ago, those ones came across the ocean in those long ships. And they came to our world and they thought that we had to be like them. And they worked so hard to make us like them," he said. "They created all of these different schools that we are suffering from now. They took away our children and sent them to school to 'educate the Indian out of them.' And many of them didn't come home. And we're saddened by what has happened and the discovery of late [in Kamloops].
"But now we live in a different time," continued Elder Patton. "Now our own people have taken that responsibility. We are pushing our ways into the educational systems and getting the systems to understand the value of who we are. And we don't take no for an answer.
"Now we have that power in our hands, and we should never allow anyone to take that away from us again," Elder Patton said. "Use the power of your education, the power of your mind, the power of your belief. Go out into that world and help your people."