Hailing from around the world, McGill's valedictorians are a diverse, multitalented group. When they came to the University, they brought with them their unique backgrounds, passions and ambitions. While they all praise the education they received at McGill, one thing is certain, the University has benefitted just as much for having them as valuable, contributing members of our community.
These outstanding students have earned the respect of the peers who they represent through their strong academic performance, leadership and commitment to making the University – and the world – a better place.
For the Spring 2021 Convocation, the Reporter continued its tradition of interviewing the newest group of McGill valedictorians.
In the seventh instalment of the series, we feature Abdel Dicko (BA, joint honours in Political Science and African Studies), the valedictorian for the Faculty of Arts. You can watch the Faculty's virtual convocation ceremony here; Abdel's valedictory speech begins at 33:50.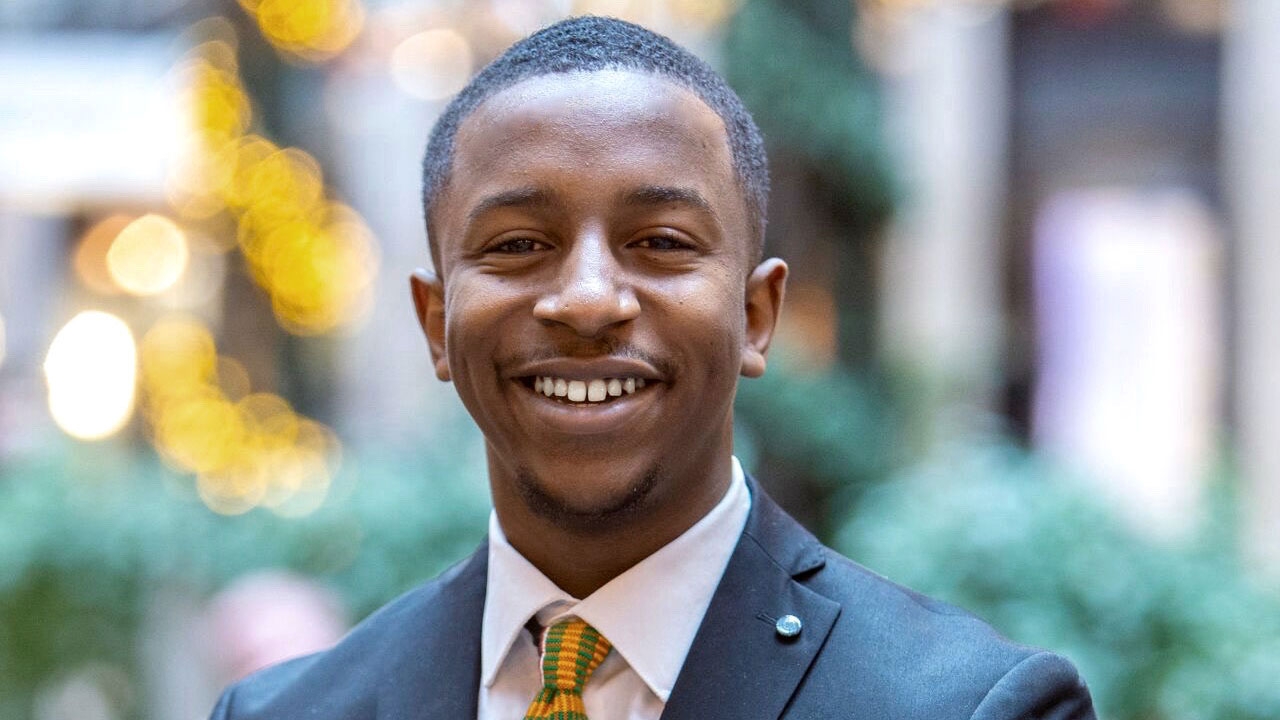 What is your hometown?
Ottawa, Ontario
Why did you choose McGill?
I came to McGill as a transfer student after a great first year at the University of Ottawa.  I decided to transfer to McGill for various reasons, including my love for the beautiful city of Montreal, my eagerness to get out of my comfort zone, and my desire to take on new challenges and opportunities found at this world-class institution.
What are some of the highlights of your time as a McGill student?
The moments that I cherish the most from my time at McGill have mainly come from my involvement outside of the classroom. I've had the privilege of serving leadership roles in various student associations and campus organizations. Whether it was organizing important conferences, participating in advocacy campaigns, volunteering in primary schools, participating in inter-university academic competitions, or representing McGill student voices at the United Nations — getting involved enriched my university experience and enabled me to provide my contribution to making our campus a safer and more fulfilling place for all students to thrive in.
Three favourite places on McGill/Mac campus?
Rutherford Park, Islamic Studies Library, Leacock basement
What were some of the biggest challenges you faced during your time here and how did you overcome them?
McGill's rigorous academic environment comes with its particular set of challenges. Such classroom challenges, coupled with various other external sources of anxiety and frustration, have been difficult to navigate at times. My experiences in the past few years have taught me to embrace vulnerability, to seek support when needed, to unapologetically voice my frustrations, and to prioritize my well-being.
What's next for you, both short and long term?
As a recipient of a 2021 Rhodes Scholarship, I look forward to embarking on an exciting grad school adventure at the University of Oxford for the next two years. I will be pursuing an MSc in Global Governance and Diplomacy in my first year, followed by a Master of Public Policy in my second year. After this, I hope to enter law school and eventually pursue a career in international law and diplomacy. As a son of Africa, I also hope in the long-term to contribute to the flourishing of the African continent.
Tell me about your Faculty and your classmates. How important have they been to your overall McGill experience?
The past three years spent in the Faculty of Arts have been some of the most fulfilling and most formative years of my life. I made lifelong friendships and I had the privilege of learning every day from outstanding classmates, mentors, and professors who provided me with unwavering support throughout this beautiful chapter of my life. Special shout-out to the Arts Internship Office, to the Political Science and African Studies departments, and to all the beautiful campus organizations and services that I have been a part of and have greatly benefited from.
What are your plans for virtual convocation?
I'm planning to take the day off from work and spend the day with my family to celebrate the end of an awesome chapter and the beginning of another exciting one.
What was your experience with the pandemic?
I was doing an academic exchange semester in Geneva, Switzerland, when the Geneva-based World Health Organization declared COVID-19 a pandemic. I unfortunately had to cut my exchange plans short and had to take a flight back to Montreal on my birthday. Fortunately, I was able to continue my University of Geneva courses remotely and managed to take my exams, despite challenges arising from the time difference. I completed my final semester at McGill last fall from home, in Ottawa. As someone who enjoys socializing, the virtual nature of things and Zoom life has not been easy to navigate, but I found ways to adapt to it.
What are some of the biggest challenges facing the world today? How confident are you that we can address these challenges and make a difference?
Our world is facing compounding crises — from severe threats like climate change and pandemics, to lingering issues emanating from various systems of oppression and injustice. Our hope lies in a collective commitment to healing; to healing forward. Healing forward compels us to reckon with many historical and present injustices in order to genuinely address the root causes of the current crises that we are facing.
Like many of us, I dream of a world where all human beings — regardless of the cards they are dealt at birth — can benefit from dignified living conditions and opportunities that will enable them to not merely survive, but to thrive! I hope to provide my humble contribution to making this world a reality for more than just a fortunate few like myself. Some may say that this is a utopia, but I disagree. I think that the real utopia today is believing that the flawed status quo of our world can be maintained for much longer without compromising the survival of humanity.