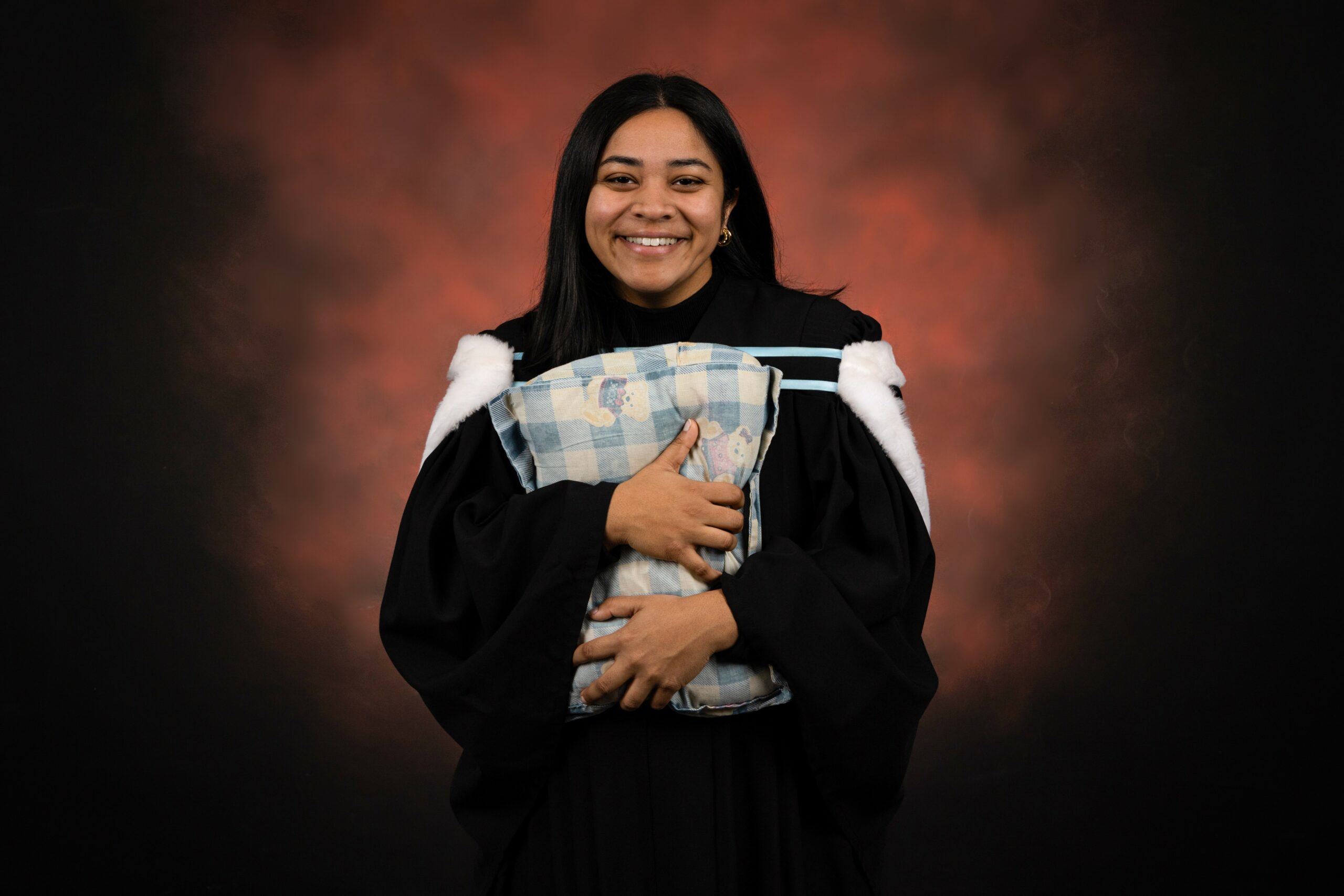 McGill's valedictorians are outstanding students whose strong academic performance, leadership and community involvement has earned the respect of their peers. This year's cohort is remarkable for its diversity, each having vastly different backgrounds, experiences, passions and goals.
What they do share is ambition, curiosity, and a desire to have a positive impact on the world.
As with most students, McGill's valedictorians were challenged over the course of their studies. But, with perseverance, dedication, and the support of people around them, they thrived. The University has benefitted just as much for having them as valuable, contributing members of our community.
As part of our Spring 2023 Convocation coverage, the Reporter is conducting a series of Q&A interviews this year's valedictorians.
In this instalment, we feature Christina Rajkumar, valedictorian for the Faculty of Arts, C ceremony, on Wednesday, June 7, at 10 a.m. Rajkumar will receive a Bachelor of Arts, Honors International Development with a minor in Philosophy.
Where is your hometown?
Markham, Ontario
Why did you choose McGill?
It had been a goal of mine to go to McGill ever since I learned about it through a friend from high school. I knew it was a great school and thought Montreal would be an incredible place to live for a while.
What were some of your impressions when walking onto campus for the first time?
Honestly, I was quite intimidated walking on campus for the first time. I was with my parents, and I remember wondering how I would find my classes, and how I was going to make strong friendships when there was an overwhelming number of people. However, I also remember being excited because the energy on campus in the beginning of fall is unmatched.
What are some of the highlights of your time as a McGill student?
One of the highlights of my time here was working as a Floor Fellow! Some of my co-workers became my closest friends and the Floor Fellow community was incredible.
I also loved what I called 'formal season'. It's the end of the second semester in the spring when all the departments, faculties, and clubs have their end of year formals and banquets. I have such great memories of going to these events with my friends.
Three favourite places on McGill/Mac campus?
Lower field when the weather is warm
Soup Café in education
4th floor of the Law library
What were some of the biggest challenges you faced during your time here and how did you overcome them?
When I first got to McGill, I struggled with being lonely. It was hard to adjust to the new space at first, and I found it challenging to connect with people. I found myself really lacking community in my first year and that was hard.
It took me a while, but by the end of the year I knew I had to put myself out there more, so I joined student government and applied to be a Floor Fellow, hoping these would bring me purpose and community.
Looking back, these two things brought me my closest friends and helped me get so many opportunities, including ones that got me into my dream law school.
Another challenge has been trying to figure out my identity and sense of self as I grow up and begin to make my own decisions. Navigating the struggles that come with coming into yourself in your 20's has challenged me, yet in a productive way. I don't believe I have fully overcome this, or if I ever will, but what has helped me is my family and my community here at McGill as they make me feel grounded.
Further, just taking small steps in the direction I want to go in instead of thinking about the future as a big, terrifying entity has allowed me to feel more confident in this process.
What's next for you, both short and long term?
In the short term, I will be returning to Markham for the summer, and then will be attending law school at Osgoode Hall in the fall.
In the long run, I hope to work in the legal field making advancements in reproductive and menstrual rights for women. I also want to adopt a dog, and I hope to visit Antarctica.
Tell me about your Faculty and your classmates. How important have they been to your overall McGill experience?
In the first two years of my degree, I did not appreciate the Faculty and didn't really get the chance to engage with my classmates due to the pandemic. But when we returned in person, I got involved in the Arts Undergraduate Society and really immersed myself in the Faculty. I have been lucky to have some incredible teachers in Arts, and, honestly, without my classmates, I would not have survived class. Discussing and engaging in dialogue about class content was always the best part.
Who or what will you miss most?
I am going to miss my friends the most. I have been lucky enough to form the most incredible relationships here. But I will also miss my community and the range and diversity of ideas, backgrounds, and people that I have had the opportunity to engage with every day. I will miss being in a space like McGill where it's easy to get to know people who I would have never encountered outside school.
I am also really going to miss the pumpkin muffin from the Soup Café.
What advice do you have for new students to McGill?
My advice would be to remind yourself that you have inherent value no matter how things in your classes or extra-curriculars are going.
In addition, take advantage of every opportunity to build relationships and make an effort to learn from your friends, teachers and strangers.
Be kind, stay humble, and stay teachable because there is so much to learn from the people around you!
Do you have friends or family coming for Convocation?
I do! My parents and my wonderful friends Win, Kayla and Matthew.
What are some of the biggest challenges facing the world today? How confident are you that we can address these challenges and make a difference?
I think one of the biggest challenges facing the world today is lack of respect and empathy. Every time I think about climate change, political strife, violence, and oppression, what stands out to me is the immense lack of respect and empathy that people have towards each other. To me, these two elements are essential.
I have hope that people will allow for more respect and empathy in their lives, and, as a result, we can make changes on micro and macro levels.