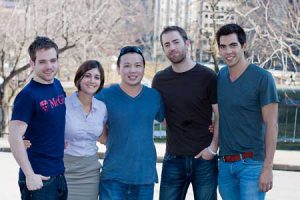 Video for McGill State of Mind showcases, celebrates campus experience
By Jim Hynes
You could be forgiven for thinking that nobody has anything nice to say about McGill these days. But last week, a new hip-hop music video produced by a group of students came along to spread an upbeat, highly positive message about the joys of life at the University.
McGill State of Mind by Trippy Yang, featuring Aiza, is a five-minute-long celebration of student life. The project is the brainchild of New Jersey native Yang, who graduated last spring with a degree in Economics and Psychology.
The song is a reworking of the 2009 hit Empire State of Mind, with local singer Aiza Ntibarikure playing the chorus-singing Alicia Keys to Yang's Jay-Z. In Yang's version, dreams are made at a "vibrant campus" where "professors inspire you" instead of the "concrete jungle" in the original.
The McGill State of Mind video had almost 30,000 views on youtube within a week of its March 21 release.
A longtime hip-hop fan, Yang, 23, says he got the idea of paying tribute to his experiences as a McGill student as he was getting set to graduate last spring.
"I always wanted to make a hip-hop music video about student life," Yang says. "We've seen videos about professors and about research, and that's extremely important, because McGill is known for its research, but we've never seen a video about student life, about the student groups, the student experience. And since I was going to graduate, I realized it was now or never."
 10-month labour of love
Late last summer, Yang took his reworked lyrics to EZ Coast Studios in Montreal's N.D.G. district. He recruited a drummer, bass player, guitarist, piano player and his ringer, 19-year-old singer Ntibarikure, a recent graduate of Dawson College's performing arts program, and soon had his own State of Mind recorded. Yang, who is currently working as a community organizer on the Obama for America campaign in New Jersey, spent the next several months planning the video production with co-directors Charlie Bern, Adina Friedman, Hector Hernandez, Nicholas Kirwan and Haris Naeem Nini, and then commuting between Montreal and New Jersey, often by overnight Greyhound bus, for the actual filming.
Over the space of 10 months, the video production team shot footage in some 35 different locations, places like the Redpath Museum, the steps of the Arts Building, the Currie Gym, McGill Stadium and Gert's.
A former McGill Tribune staffer and president of the student group Computer Taskforce, Yang used the many contacts he made as an engaged student to enlist participants to help out in front of and behind the camera.
 Cast of hundreds
Indeed, if it's "McGill" in any way, it probably gets a shoutout in the song lyrics or shows up somewhere in the video. More than 300 students, professors and staff, including members of 40 different student groups, appear in the finished project. SSMU President Maggie Knight gets a piggyback ride down the steps of the University Centre from Yang, who's accompanied by Marty the Martlet. Also in the video Chemistry professor Ariel Fenster holds a flaming textbook, Management prof Karl Moore wails on a saxophone, the hockey Martlets score, the fight band pumps up the crowd, cheerleaders cheer, the Urban Groove Dance Project bust some moves in James Square… you get the picture.
And none of it, Yang says, would have been possible without the University-wide support the project received, including funding  from Athletics & Recreation, Student Services, and the Desautels Faculty of Management, and many others who chipped in in various ways, volunteering their time or lending equipment or, like the McGill Bookstore, McGill apparel for Yang to wear.
"Let's just say there was a lot of love all around," Yang laughs.
Even though he's only experienced the recent unrest at the University from afar, Yang is well aware of the tensions that have existed on campus this school year, and hopes his project can help relieve them in some way, and remind people of what a dynamic and fun place McGill can be.
"It's not a political song, it's all about student life," Yang says. "Regardless of how a student feels about a particular issue, I think everyone can appreciate the talent of people like the Urban Groove Dance Project, or that we got all these different people from across McGill together for the video. It was a project I always wanted to do, but in the end it's really a project for the McGill community."
To learn more about the project and the people behind it, visit www.mcgillstateofmind.com