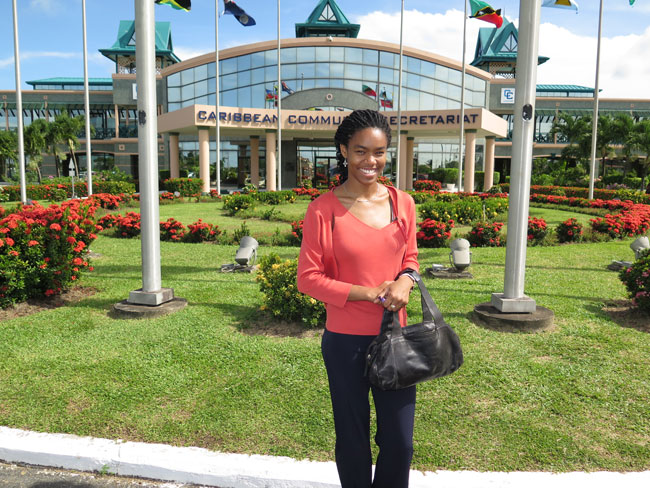 This past summer, over 200 Faculty of Arts students interned in Canada and around the globe, from Chennai to Cape Town, and from Paris to Panama City. Since 2002, the Faculty of Arts Internship Program has helped undergraduate students offset internship-related costs such as travel, accommodations, visas and other expenses thanks to the generous support of alumni and friends of the McGill.
On Thursday, Sept. 17, the most recent recipients of the Arts Internships will share the highlights and challenges of their internship experiences this summer, what they learned and how they plan to apply it to their field of study.
This is the story of one such student, Zahra Henry, and her internship at the Caribbean Community Secretariat.
Name and program of study
My name is Zahra Henry and I am an Honours student in International Development Studies (IDS).
Where did you do your internship this summer?
The Caribbean Community (CARICOM) Secretariat (CCS).
What is the CARICOM Secretariat's mandate?
The CARICOM Secretariat is an intergovernmental organization with a mission "to improve the quality of life of the people of the region and promote 'A Community for All' through economic integration, cooperation in human and social development and coordination of foreign policy and security arrangements."
What was your motivation to intern at CARICOM?
Throughout my childhood years in Jamaica, I was heavily involved in cultural production through the performing arts and journalism as a columnist for a youth magazine. From this background, I saw the internship as an opportunity to explore issues related to both youth and development – namely youth entrepreneurship and cultural production.
Within the context of CARICOM's economic and social mandates, I hoped to deepen my awareness about issues concerning youth-led cultural production and entrepreneurship in the region. In acquiring this knowledge, I also hoped to continue to improve my skills in research and writing as well as gain professional experience in policy planning.
What were your responsibilities at the CARICOM Secretariat?
My internship introduced me to the structure, function and work of the Caribbean Community and the CARICOM Secretariat. I was attached to the Directorate of Human and Social Development and was tasked with assisting the work of the Youth and Culture Programmes.
Apart from conducting desk research on a plethora of social issues prioritized by the region, I met with several senior programme officers to discuss their work and to propose strategies to advance the agendas of their respective departments.
At the technical level, I assisted a team of consultants in preparing for the Creativity for Employment and Business Opportunity workshop. I assisted the design of participant self-assessment surveys and business partnership forms, and during the workshop offered feedback for presentations and supervised the drafting of business plans.
I also observed regional policy discussion at the Heads of Government Meeting in Barbados, where students, academicians and technocrats at the local, regional and international levels discussed issues of high priority facing the Small Island Developing States in the region.
Of special note was the privilege I had to meet and take pictures with several world-renowned dignitaries, namely the Secretary General of the United Nations, Ban Ki-moon, and Prime Minister of Jamaica, Portia Simpson-Miller.
What did you get out of your internship?
From desk research to workshops and policy discussions, my internship at the CCS exposed me to a broad range of contexts from which to explore youth, entrepreneurship, cultural and creative industries and other issues of importance facing the region.
My exposure to a wide range of problems has inspired me to pursue specific International Development Studies seminars and courses in the upcoming school year; my interaction with various resource persons and centres in the CCS has expanded my knowledge base on Caribbean development issues.
Lastly, my exposure to the operation and functioning of this organization has fostered my career interest in regional administration, cooperation and decision-making.
I am grateful to the CCS for giving me the opportunity to intern at their organization, as I have gained invaluable practical experience that will continue to shape my academic and career path. Of course, I want to also thank Mr. Andrew Buntain, who, in view of my academic and career interests saw it fit to endorse me and fund this internship award. The funds I received were especially beneficial for travel to the Heads of Government meeting in Barbados, indeed the highlight of my internship and the experience that had the most direct implications for providing insight into a future career in regional policy planning.
The Arts Internship Office needs people's support to ensure the survival of the Arts Internship Program. If you'd like to help, see their Seeds of Change page.