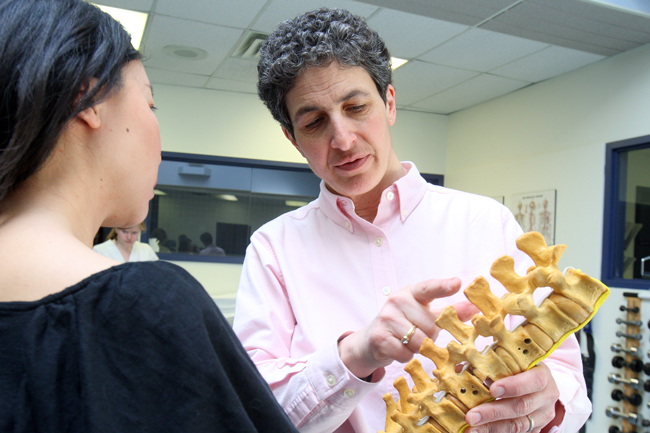 To say that this month has been a bit of an emotional roller-coaster for Lynn Bookalam would be an understatement. On June 3, at a conference held in Niagara Falls, Ont., the longtime manager of the McGill Sport Medicine Clinic was inducted to Canadian Athletic Therapists Association Hall of Fame. Two weeks from now, on June 21, she will be taking early retirement from her post after 35 years on the job at McGill.
Bookalam, who served as Canada's chief therapist at the 1992 Winter Olympics in Albertville, also worked with medical teams at the 1987 World University Games in Zagreb, Yugoslavia; the 1990 world figure-skating championships in Halifax; the 1994 Commonwealth Games in Victoria, B.C.; and the 1997 Canada Winter Games in Sydney, N.S.
Instrumental in launching a McGill sports therapy service for varsity athletes way back in 1982, Bookalam initiated that project shortly after graduating from Indiana University where she earned a master of science degree in physical education, with a specialization in athletic training. That was preceded with a degree in physical education from Dalhousie University in 1980.
"Most people would probably say that being at the Olympics was the pinnacle of their career but I enjoyed moving up the ranks, from one event to the next," says the native of Montreal who began as a casual employee working "full-time" hours as head athletic therapist for the University's varsity sports program.
"One of my proudest accomplishments, in all honesty, is having such longevity in one job. We offer one of the finest medical services in the country. To have done that in the McGill family, working alongside our coaches, athletes, staff and alumni, was the highlight of my career."
When Bookalam began her posting at McGill in 1982, she operated the then-fledgling Sports Medicine Clinic out of a 200-square foot, closet-like area between two boiler rooms at the second-floor entrance to the old Sir Arthur Currie gymnasium. Back then, she oversaw a staff of about a dozen student therapists, who spent all of their time helping rehab injured varsity athletes. There was an ice machine, two examining tables and one solitary stationary bicycle.
The Clinic expanded in 1995, moving to a new and improved venue, which now occupies 4,000 square-feet on the third floor of the McGill Sports Complex. The philosophy of the Clinic for all patients is a strong teamwork approach for the entire McGill community. The Clinic is now staffed with a dozen employees, 15-20 student therapists and a rotation of seven physicians.
Aside from working with the football team in the mid-1980s, she served an extensive stint as staff therapist for the McGill Redmen hockey team, from 1983 to 2009.
"It's hard to pick one highlight but among my most memorable moments from a sporting perspective was McGill winning the national football championship (1987) and when Benoit Martin scored in overtime as we finally defeated UQTR in the men's hockey playoffs (2007). That was a huge moment for the program," she says.
Bookalam, who initially completed her CATA certification in 1985, went on to serve as president of the organization from 1989 to 1990. A long-standing member of the CATA ethics committee, she had a passion for educating student-therapists and taught a course, from 1983 to 2007, in the prevention and care of athletic injuries inn the department of kinesiology. Her focus was also on the management of a concussion "return to play" protocol.
"My job has had a tremendous impact on my life," Bookalam once said in an interview. "It has allowed me to put it in better perspective, and I've learned that unless you're healthy yourself, you can't help other injured athletes. It's taught me that there is life after elite sports – good health later in life might be worth more than the moment of victory at the time."