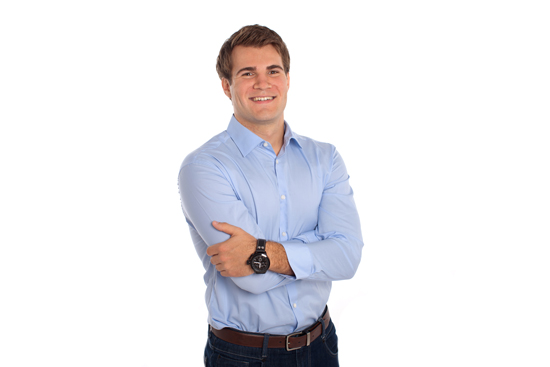 Antoine Tardif becomes one of Canada's youngest mayors while completing his BA at McGill
By Neale McDevitt
Since becoming one of Canada's youngest mayors on Nov. 3, when he was elected mayor of Daveluyville, Quebec in a landslide, 23-year-old Antoine Tardif has heard all the jokes about his age. "Yes, I still live with my parents and people around here ask me good naturedly 'How can you make decisions about how much taxes we'll pay when you don't pay any?' " Tardif says with a laugh. "I tell them I'm in transition at the moment but I'm looking for a house right now. Don't worry, I'll be paying soon enough."
That transition is from McGill undergrad (Tardif was completing his BA in Political Science and Economics while he campaigned and was elected last fall) to Mayor of his hometown, a small town south of Trois-Rivières with a population of 1,000 people.
Tardif credits his decision to run – and much of his success – to lessons he learned at McGill.
"Last fall, I was in my final semester in Political Science and Economics and I took three courses on Quebec politics. Two of them touched a lot on municipal politics and [the scandals] in Laval and Montreal," said Tardif. "We had a conference and [one of the speakers] and was the Directeur-général des éléctions, who said 'If you don't get involved it's always going to be those same people that keep on running municipal politics. You're leaving McGill with your degree in Political Science, now's the time to get involved.'
"I took it word for word and did exactly that," Tardif said. "I knew [running for mayor] would be the best way for me to put into action what I had learned at McGill."
But it was no flight of fancy fueled by youthful enthusiasm. Before tossing his hat into the ring, Tardif carefully surveyed the political landscape back home. "In school we were taught that, if you were going to do something, be as prepared as you can," he said.
Tardif spoke to a number of local politicians and councillors about his plan and he received their full support. "I was a local guy who had left to pursue his studies and now I wanted to come back and contribute," said Tardif. "They were excited by that."
In fact, along with encouraging investment in the town's industrial park and pushing ahead plans to merge with two neighbouring municipalities, establishing a program to convince local youths to stay in or return to Daveluyville after their studies was an important part of Tardif's platform.
"So many young people go off to school and, once they see all the opportunities in the city, they don't think about coming back," said Tardif. "I've spoken at a lot of schools to talk about my experience as someone who went away for school but then came back to work in the community.
"We're also working on a summer program for high school kids to work at a different company everyday to see what jobs were out there. Once they finish high school they might say to themselves 'I want to work there but first I have to finish CEGEP or get a university degree.' "
Hall of Fame mentors 
A former elite goaltender, Tardif played Major Junior hockey for a number of teams, including the Quebec Ramparts. He also played for the McGill Redmen for two years before deciding to hang up his pads after his sophomore season in order to concentrate on school. "It was the first time at university and the first time I had gone to school in English, so it was tough," said Tardif. "My plan has always been to go to law school, so I knew I had to focus all my energy on school."
Along the way, Tardif has had the good fortune to be instructed not by one, but two Hall of Fame goaltenders, on the ice with Patrick Roy, then-head coach of the Ramparts, and in the class at McGill with Ken Dryden.
"They are very different, but I learned so much from both of them," said Tardif.
"Patrick is a very hard worker and very intense. I'm not as intense as he is – I don't break stuff and yell at people," he says with a laugh of the fiery Roy, who won four Stanley Cups over his career and is now head coach of the NHL's Colorado Avalanche. "But I learned how to be fully motivated and have passion for what I was doing. I used this throughout the campaign and in my everyday life.
"When I come to the office, I don't count my hours because Patrick never counted his hours when he was our coach."
In many ways, Tardif has more in common with Dryden, the six-time Stanley Cup winning goaltender for the Montreal Canadiens and former Liberal Member of Parliament for York Centre.
"I asked Ken a lot of questions about his experience doing his studies while playing hockey," said Tardif. "And we'd talk politics. I'd just walk into his office and talk to him about the differences between Quebec politics and federal politics, or how the federal Liberals were going about getting votes in Quebec. I spoke to him recently and he signed some books for a foundation of mine for student athletes. I feel very fortunate to have had him as a teacher."
Restoring our faith in our leaders
While the job of mayor officially entails a 15- to 20-hour workweek, Tardif, like Roy, doesn't count his hours. "I get in at 8 and finish around 5, and then I go to meetings," he said.
All that will change, he hopes, in the fall when, true to his original plan, he will enroll in law school. While he hasn't heard back from McGill yet, it is his first choice. "McGill leads you to great opportunities – the sky is the limit," he says. "Two summers ago I had a chance to go do an internship at the Consulate General of Canada in Detroit. I speak to friends of mine at other universities and they don't have opportunities like this.
"McGill is the land of opportunity," he said.
If all goes well, Tardif will be back in school in September, a law student two days a week and Your Worship, Mayor of Daveluyville the rest of the time.
With the corruption and scandals that have tarnished the respective city halls in Montreal and Laval, and the continuing Rob Ford circus in Toronto, Tardif is an antidote to the cynicism many Canadians feel toward elected officials. Passionate, poised and armed with a plan, Tardif is ready to face any challenge the same way he used to stare down opposing skaters driving to his goal; head on.
"The best thing about being mayor? I love working on so many different files. Everyday there is something new, something different to tackle," said Tardif. "This morning I was at a press conference about nutrition and later we have a caucus to prepare for an upcoming council meeting. I work on special projects with MNAs and MPs and I'm in the office dealing the day-to-day stuff. I love coming in every day to see what the next challenge will be."