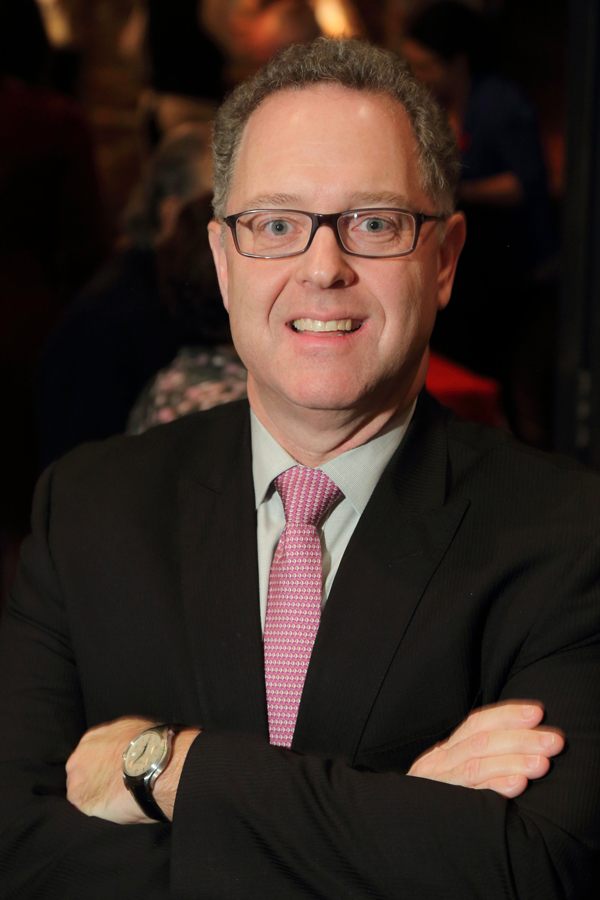 By Derek Cassoff
A degree from McGill University brings with it all sorts of added perks such as academic prestige, a ticket to many top graduate programs, and admission into a global and influential network of alumni.
It should also come with a warning: if you graduated from McGill, there's a good chance you'll be hearing from Marc Weinstein at some point in your future.
In a remarkable career that has spanned more than two decades, Weinstein, himself a three-time McGill graduate, has developed a reputation as one of the best fundraisers in the business, with a knack for persuading alumni and friends to give their time, their talent and some of their hard-earned funds to McGill, all the while leaving them feeling great about the process.
The fundraising community beyond McGill has taken notice: on November 14, Weinstein was honoured by the Quebec chapter of the Association of Fundraising Professionals with the 2014 Award for Outstanding Philanthropic Career, which is bestowed to a professional who has demonstrated sustained excellence in the not-for-profit field through exemplary leadership, fundraising skills, forward-thinking vision and steadfast values.
The jury that selected this year's honorees is made up of some of Quebec's top business and fundraising professionals.
"I was delighted and incredibly surprised to be recognized in this way," Weinstein said in a recent interview at his Martlet House office. "It is very gratifying to be recognized by your peers and by the community at large."
At McGill, where he has held court since 2005, serving first as Assistant Vice-Principal of Development and since 2007 as V-P of DAR (now University Advancement), Weinstein is best known as leading the team of staff and volunteers behind Campaign McGill: History in the Making. That fundraising initiative wrapped up last year at $1.026 billion – the first university fundraising campaign in Canada to close above the billion-dollar mark.
"Marc can take the lion's share of the credit for the success of the Campaign," says McGill Chancellor Michael Meighen, co-chair of Campaign McGill and one of nearly 1,200 volunteers who played a role in the campaign.
"Marc worked very hard to keep the volunteers in the loop, and to keep us interested, engaged and motivated, and the results speak for themselves. He's persistent, but not annoyingly so."
Weinstein also has a keen ability to see beyond a unit's short-term priorities and envision instead the kinds of transformative ideas that transcend academic disciplines and bring together diverse players and institutions around a common cause, says Catherine Rowe, who worked closely with Weinstein when she was the chief fundraiser at the Montreal Neurological Institute.
She points in particular to the landmark $28-million gift from the Larry and Cookie Rossy Family Foundation to create the Rossy Cancer Network that is housed at McGill and several of its teaching hospitals across Montreal.
"When I read about the Rossy gift, I thought, well, that's just classic Marc," said Rowe, now Executive Vice-President of Development at the CHU Sainte-Justine Foundation.
"Marc is the type of guy who can build those cross-institutional partnerships that happen by thinking beyond one's self interests to recognize what is important for the broader picture."
Ironically, a career in philanthropy was the furthest thing from Weinstein's mind when he graduated from McGill's Faculty of Law in 1991, passed the Quebec Bar exam and embarked on what had the makings of a long legal career. Some of his early work brought him in contact with administrators at the Jewish General Hospital, who were impressed by his broad skill set.
As Henri Elbaz, the hospitals executive director at the time tells it, it was during one of these meetings that he took Weinstein aside and asked him if he would consider running the hospital's foundation just as it was about to embark on a multi-million dollar fundraising campaign.
"He looked at me and thought I was a little bit off, because he had never done any fundraising," Elbaz recalls of that fortuitous encounter. "But the moment I met Marc, I knew I was making a good bet on a young person with great potential."
Weinstein ended up spending five years at "The Jewish," helping the venerable Montreal institution raise more than $50 million in philanthropic support. That was followed by five years at the MUHC Foundation before his return to McGill, where senior administrators had already launched the silent phase of a campaign that was at first intended to raise $500 million.
When all was said and done, campaign proceeds were twice that, despite fundraising efforts that ran up against one of the deepest economic recessions in modern times, when free-falling global markets in 2008 put a scare into many of McGill's potential donors.
"A lot of sleepless nights," Weinstein says when asked to recall that period of the Campaign.
"It changed our approach to donors. Suddenly, we had to provide them with more time and more space as they were contemplating their gifts. We used the opportunity to focus on our engagement with alumni, to plant the seeds that would grow in better times."
In addition to raising more than a billion dollars for University priorities, including student support, research and infrastructure improvements, Weinstein says what he is most proud of was the Campaign's ability to galvanize the McGill community – faculty, staff, volunteers and alumni – around a common cause. The Campaign was supported by more than 95,000 donors, including 50,000 for whom this represented their first gift to McGill.
And the Campaign also brought in approximately $107 million in planned giving expectancies, money that was not counted as part of the Campaign total but which will be a valuable source of revenue for the University in the years to come.
"The most powerful tool for a fundraiser to have is the ability to understand the person you are with, and Marc is extremely engaging to the point where even alumni and prospective friends for whom the University may have been more distant have now reengaged with McGill because of his sincerity, his intelligence and his convictions," said former McGill Principal Heather Munroe-Blum.
Weinstein says he has seen remarkable changes in the fundraising landscape in just the last few years, as donors have become savvier and more invested in their philanthropy.
"They really want to make sure their dollars are going to have an impact and bring positive change to the institution," he said. "That means that we at the University need to practice more accountability and more transparency. Ultimately, we have a fiduciary responsibility to ensure that we steward not only the donors but also the programs and the students they are supporting."
Not one to rest on his laurels, Weinstein says he and his colleagues in University Advancement are "working very hard to build off the success of Campaign McGill as we move toward the University's 200th anniversary in 2021, which is less than seven years away."