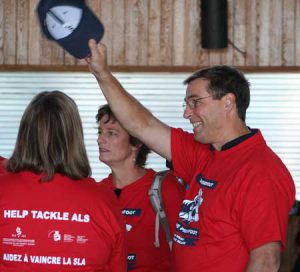 Former Alouette a committed educator
By Jim Hynes
He literally left his mark on the icy artificial turf at Olympic Stadium during the 1977 Grey Cup, when he fired staples into his and his Montreal Alouettes teammates' cleats for better traction, and he figuratively marked the Canadian Football League during his 12-year playing career and later as a broadcaster and author. But Tony Proudfoot also left his imprint as an educator, especially at Dawson College, where he taught Physical Education for over 30 years, and also at McGill, where he earned a Master's degree in 1991 and taught in the Physical Education department for a number of years in the late 1990s.
Friends and former colleagues from McGill recalled Proudfoot's passion for both teaching and learning after he passed away at age 61 on Dec. 30 following a courageous three-year battle with amyotrophic lateral sclerosis (ALS).
"Tony had such a high regard for the profession of physical education, he was very committed to his work." said Dr. Greg Reid, a professor in the Department of Kinesiology and Physical Education. "He was a dedicated instructor, and one who had considerable expectations for the undergraduates who will be its future leaders."
Proudfoot joined the Physical Education department at Dawson College in 1978, three years before he retired from the CFL. After his playing days, he coached youth and college football teams and later moved into the broadcast booth as an analyst at CJAD when the Alouettes returned to the CFL in 1996.
Lifelong desire to learn
In 2006, Proudfoot published First and Goal: The CFL and the Pursuit of Excellence (Fenn Publishing/Madison Press Books), a thoughtful book examining the development and quest for greatness in football players. The book grew out of Proudfoot's 1991 Master's thesis.
"He was an amazingly competent guy and he never wanted to stop learning," said Dr. Ted Wall, a retired Professor in the Department of Physical Education who served as Proudfoot's thesis advisor.
Wall, a former McGill Education Dean and one-time chair of the then Physical Education department, had a long friendship with Proudfoot, who he first met while coaching the football team at Pointe-Claire's John Rennie High School in the mid 1960s.
"Tony was first and foremost a teacher. He was an educator. He was a pro football player, a tough defensive back, but he was able to talk about pedagogy – he knew what it was about. And he was very active in professional associations. He wrote papers in defence of physical education that he submitted to the government.
"He was a tremendous person to work with and learn with," Wall said.
Fighting the good fight
After being diagnosed with the disease in 2007, Proudfoot worked diligently at raising ALS awareness. He chronicled his illness in a series of compelling articles in the Montreal Gazette that touched readers across Canada, and became active in raising funds for the ALS Society of Quebec, creating the ALS Tony Proudfoot Fund.
Part of the Fund, which has raised over $500,000, supports young neuroscientists at the masters, doctoral and postdoctoral level at the Montreal Neurological Institute wishing to undertake research projects that specifically focus on ALS. Proudfoot was a patient in The Neuro's ALS clinic.
"In his moving farewell in The Gazette (My Time has Come, Dec. 16, 2010), Tony Proudfoot quoted a phrase from Lewis Carroll's Through The Looking Glass," Neuro Director and Wilder Penfield Professor of Neuroscience at McGill, David Colman, told the Reporter.
'The time has come,' the Walrus said, 'To talk of many things…'
"But typical of him," Colman said, "he left out the part of the poem that might have been perceived as self-complimentary:
'To talk of many things:
Of shoes-and ships-and sealing-wax-
And cabbages-and kings…'
"Tony Proudfoot was indeed a King on many levels; a leader, a giant personality, a selfless Canadian hero, a champion of philanthropy in the search for cures for neurological disease," Colman said. "And we will all miss him."
To learn more about amyotrophic lateral sclerosis or to make a donation to the Tony Proudfoot Fund, please visit http://www.sla-quebec.ca