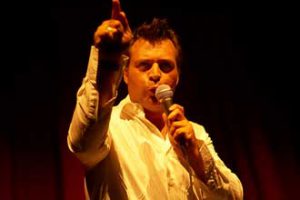 By Jim Hynes
The funniest man at McGill says he works in one of its least funny places – and that's exactly the way he likes it.
With all due respect to McGill's fine libraries, and the people who work in them, they are not exactly the richest place for a stand-up comic like Franco Taddeo to find new material.
"It's a generalization of course, but I think libraries attract the type of people who are not all that extroverted," says Taddeo, a Library Assistant in the Humanities and Social Sciences Library. "And being in comedy is all about being extroverted, putting yourself out there. I always say that if all I did was work in a library it would drive me mad, but if all I did was work as a stand-up comic in a cut-throat business like show business, that might drive me crazy too. The two worlds really serve both sides of my personality."
Taddeo, a Libraries staffer since 1993, is one of Montreal's most popular stand-up comedians. He's performed on cross-Canada tours and national TV, not to mention comedy clubs big and small all over North America.
During his college days, Taddeo hung out in Montreal's comedy clubs, as a fan, not a performer. "I thought about giving comedy a try, and I always thought I could do it. I ended up following a more conventional path, but it was something that was always in the back of my mind."
Finally, at age 30, the Montreal native decided to give stand up comedy a try, finding the nerve to attend an open mic night at the Comedy Works.
"It took me a while to work up the courage, and it took me a long time to even write five minutes of material, which is interesting because I have over two hours' worth now."
"It was nothing special," Taddeo says of his comedy debut, "but it wasn't horrible either."
A few months later, Taddeo got his first paying gig, $20 for 10 minutes in a downtown cigar lounge. And he's never looked back.
"Starting my career as late as I did has been both a blessing a curse," he says. "The advantage of that late start is that your world view or perspective on things is much more defined. I fast-tracked it because I didn't spend five or six years trying to find myself on stage – because I already knew who I was offstage."
Taddeo, who has a Sociology degree from Concordia, with a specialization in Race and Ethnic Relations, says his education helps him connect with audiences. He describes his style as "ethnic diaspora comedy," "a fancy way of saying I reflect the immigrant experience on-stage."
"In sociology they call second-generation ethnic people the translators of both worlds. I explain Canadians to my parents, and I have to explain my parents to Canadians. That's what I do on stage and I think it resonates with audiences," Taddeo says. "I'm the guy who talks about 'us'… us dating the Canadian girl, or our parents serving food that was weird to the Québécois friend we had. That's my comedy."
Even though he cites the legendary and controversial Lenny Bruce as his all-time favourite, Taddeo models himself more after late American comic Richard Jeni, whom he describes as intelligent, but accessible, too.
"My comedy is not as scathing as my personal politics," he says. "It's not my niche and it is very difficult to be angry and funny at the same time. I'll reference Wal-Mart, oil companies or capitalism, but it is not the thrust of my act. There is less of a market for my Marxist Utopian view of the world in comedy. I know, that surprises me too," he laughs.
"I am there as a release for people, not to preach. But one day…"
Franco Taddeo will be appearing with Three Sopranos of Comedy at Montreal's Sala Marco on Feb. 20. On April 8, he'll appear at the nationally televised Winnipeg Comedy Festival. Taddeo will headline Montreal's Comedy Works, April 22-24. On June 18, he'll be part of the World Cup Comedy Show" Footy Meets Funny" in conjunction with the Team 990 radio. For more information on Taddeo and his upcoming appearances, visit http://pages.videotron.com/ftaddeo/.