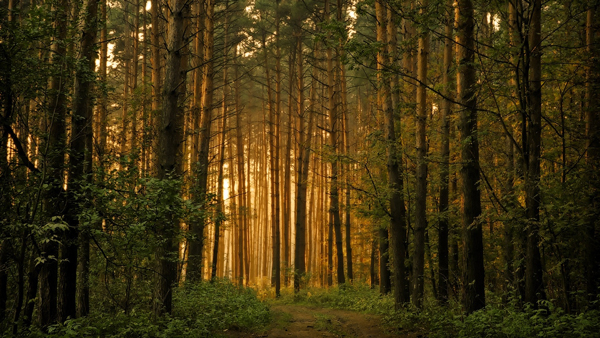 New study shows 70 per cent of world's remaining forest within a kilometre of forest edge
Fragmentation of natural habitats plays a major role in reducing biodiversity – and today 70 per cent of the world's remaining forest stands within one kilometre of a forest edge, putting biodiversity at great risk, according to a new analysis by a team of international scientists.
The findings, reported March 20 in the journal Science Advances, show unexpectedly large impacts of habitat fragmentation, the splintering of large ecosystems into smaller tracts as a result of activities such as road construction, logging and mining. While ecologists generally agree that habitat destruction undercuts biodiversity, they disagree – sometimes strongly – on the extent to which fragmentation of ecosystems is to blame.
The research team, led by Nick Haddad of North Carolina State University and including Andrew Gonzalez of McGill University's Department of Biology, examined results from the world's largest and longest-running fragmentation experiments, spanning 35 years and a variety of natural ecosystems on five continents. Their conclusion: habitat fragmentation reduces biodiversity by 13 per cent to 75 per cent, and the effects on ecosystems magnify with the passage of time.
The findings could help inform conservation efforts to mitigate the ecological effects of deforestation for resource development. In the case of Canada's boreal forest, for instance, setting aside large areas for protection will mitigate the impacts of development only if they are kept intact and free of the effects of forest fragmentation, Gonzalez notes.
The scientists also used the world's first high-resolution map of global tree cover to measure the magnitude of forest fragmentation. They found that 70% of the world's remaining forest is well within the range where human activities and non-forest species may influence and degrade forest ecosystems.
"Habitat fragmentation is an ongoing phenomenon, and our analysis shows that the scenario is worsening," says Gonzalez, who holds the Canada Research Chair in Biodiversity Science at McGill.
The capacity of surviving forests and other natural habitats to sustain biodiversity will hinge on the amount and quality of habitat left in fragments, the degree to which they are interconnected, and how they are affected by other human-induced influences such as climate change and invasive species, the authors note.
The new, global analysis stemmed from a symposium of ecologists held in Minneapolis in 2013, which drew together scientists who had worked on many of the major fragmentation experiments around the world. "It was the first time everyone had been together in the same room, and there was lots of excitement over how much agreement these disparate experiments showed," recalls Gonzalez, who had worked on a long-running study of the fragmentation of moss-covered habitats in Canada and the U.K.
The findings are likely to fuel efforts in many places to reduce the impacts of habitat fragmentation. One increasingly popular approach: create networks of forest habitat by establishing forest corridors between isolated fragments of forest.
Support for the research was provided by the Natural Sciences and Engineering Research Council of Canada, the Canada Research Chairs program, and the Quebec Centre for Biodiversity Science, among others.