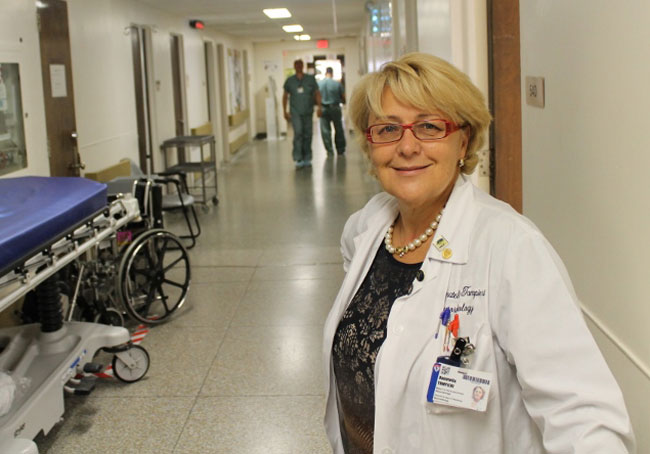 The Quebec Federation of Medical Specialists (Fédération des médecins spécialistes du Québec), an umbrella organization embracing medical specialist groups in the province, has chosen Dr. Donatella Tampieri of the Montreal Neurological Institute and Hospital (The Neuro) as one of three recipients of its 2016 Prix d'excellence en innovations des soins de santé. The award recognizes Dr. Tampieri's exceptional career in providing quality healthcare that is accessible, efficient, and safe.
"I'm very honored by this recognition. An award from one's peers is certainly the most prestigious honour I could have aspired to," says Dr. Tampieri, a professor in the Department of Radiology, Neurology and Neurosurgery at McGill University, and head of the Department of Diagnostic and Interventional Neuroradiology at The Neuro. "I have tried to work diligently to demonstrate my gratitude to the FMSQ, to the Neuro and to McGill Universitry, who welcomed me when I joined The Neuro in 1987."
Dr. Tampieri is an award-winning interventional and diagnostic neuroradiologist who has contributed to more than 180 scientific papers dealing with neuroradiology and brain imaging. Her particular specialty lies in the treatment of stroke, brain aneurysms, and pain in the back and cervical spine. She employs advanced imaging techniques such as tractography to diagnose epilepsy and brain tumours.
Born in Italy, Dr. Tampieri received her undergraduate degree from the Lycée Scientifique Copernico in Bologna (1976), and her medical degree magna cum laude from the University of Bologna (1982). She worked as a neuroradiologist at Niguarda Ca'Granda Hospital from 1984 to 1987.
"The wonderfully collegial atmosphere at The Neuro allowed me to grow professionally over the years, and I thank my colleagues, past and present, for enthusiastically supporting my innovative techniques," says Dr. Tampieri. "I share this award with them."
Launched in 1965, the Fédération des médecins spécialistes du Québec (FMSQ) has a mission according to its website "to defend and promote the interests of medical specialists who are members of affiliated associations on the economic, professional, scientific and social fronts."
Category: