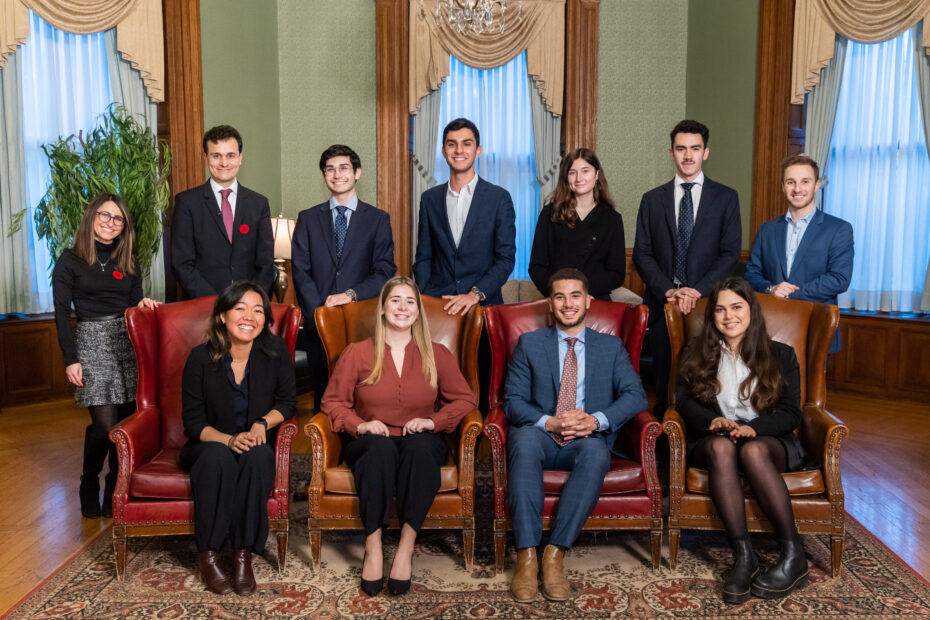 In a record-breaking year, the fifth annual McGill International Portfolio Challenge (MIPC) welcomed 114 teams from 26 countries across six continents to compete for $50,000 in cash prizes.
This year's case study focused on the effectiveness of current Dutch pension reforms and the Dutch government's introduction of Collective Defined Contribution plans, a system in which generations of contributors collectively share investment risks. In this context, students accepted the challenge of designing a sustainable retirement system to address ongoing issues surrounding ultra-low yields.
Originally designed by Sebastien Betermier, an associate professor of finance at the Desautels Faculty of Management, MIPC provides a global platform for experiential learning.
"MIPC is a unique opportunity for students to grapple with the political, social, and economic challenges that come with implementing solutions in a real-life context," Betermier explains. "What might look innovative on paper may come with significant barriers in the real world. MIPC bridges those gaps and encourages students to ask — and answer — those hard questions."
Facing the panel
After receiving the case materials in September, competing teams had a mere two months to prepare their proposals. They then underwent several intense rounds before judging panels, where they presented and defended their work to leading policymakers, academics, and pension fund experts from across the globe.
"It's a huge privilege to meet leading pension fund experts who willingly give their time to listen to our ideas and provide constructive feedback," says Thomas Fierro, who was part of the winning team from Copenhagen Business School, along with Robin Lunding, Igor Laakso, and Anna Abrahamsen. "Without MIPC, we may never have the opportunity to learn from these practitioners and lend our own insights to the issues at hand."
MIPC also generates new learning curves for business students, exposing them to technical concepts they may not encounter in the classroom. The winning team, who took home a $25,000 prize, says the case study challenged them to apply their existing skills to new material.
"Professionals must be efficient with their time and learn quickly to adapt to a fast-paced world," Abrahamsen notes. "We won't always be able to take a semester to master new material before designing a solution to pressing problems. The limited timeline and realistic judging criteria for MIPC prepares us well for the reality that awaits us beyond the classroom, a true testament to McGill's global impact."
Led by students for students
Under the guidance of Betermier, who serves as their faculty director, McGill business students spearhead every aspect of operations and development for MIPC. From recruiting and event planning to technology solutions and budgeting, these students were the creative minds and boots on the ground throughout the process.
The 2021 MIPC student planning committee faced new challenges as they reimagined a hybrid event. With the exception of a virtual edition in 2020, previous events were hosted fully in-person. There was no blueprint for a hybrid event. Adding another layer of difficulty, the unpredictable nature of restrictions on travel and in-person gatherings made the event almost impossible to plan until the competition was only a few months away.
"We spent a large portion of our time developing contingency plans in an effort to discern what would best serve our international teams," says Grace Francoeur, BCom'22, the executive director for MIPC 2021. "How could we facilitate an environment that recognized the value of in-person community while respecting other countries' struggles with COVID-19?"
In the end, student presentations and Q&A sessions were held entirely online, while panel discussions and symposiums welcomed in-person attendance from practitioner judges and members of the wider McGill community throughout the semifinal and final rounds.
Despite the intense workload and the weighty responsibility of representing McGill in a global arena, Francoeur and her peers took full advantage of the opportunity to hone skills they will continue to apply as their academic and professional careers unfold.
"This experience has made us better communicators, collaborators, and innovators," Francoeur reflects. "MIPC gives us space to practice workplace project management, and that will be an extremely valuable asset as we work toward building a more connected world in the years to come."