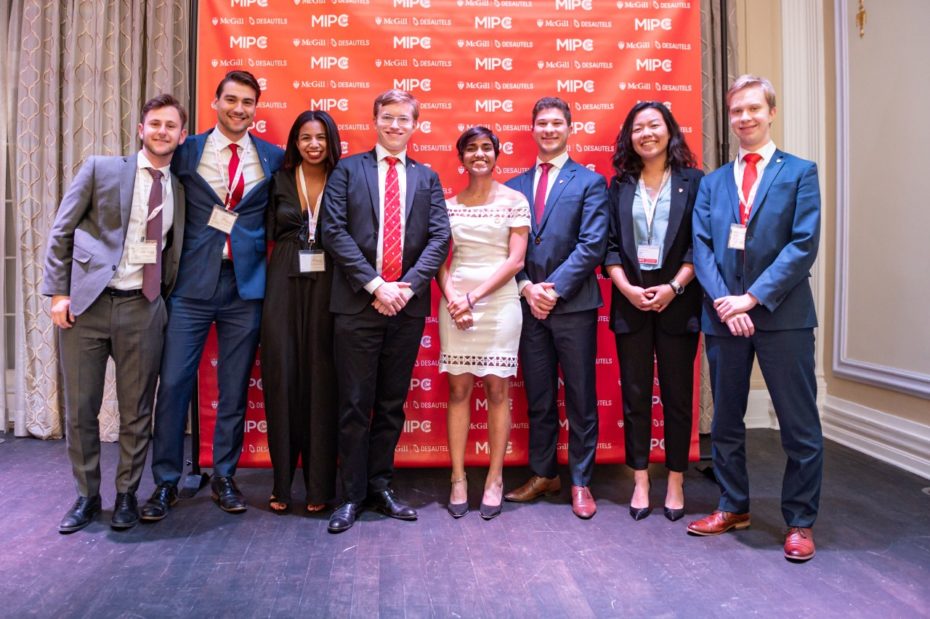 McGill is inviting university students from across the world to come together to tackle pressing socioeconomic issues faced by asset managers. The students behind the McGill International Portfolio Challenge (MIPC) are working together, under the guidance of Professor Sebastien Betermier, to launch the first virtual rendition of the premier case competition. The world's largest buy-side finance competition, the MIPC targets innovative portfolio design, institutional asset management, and long-term sustainability in finance.
Ambitious students from a broad range of programs will come together virtually to generate actionable items for the future of long-term, sustainable investing. Diverse, multidisciplinary teams bring a variety of perspectives, creating a holistic approach to solving societal issues. Prize money totalling $50,000 will be distributed to the winning teams.
A case competition with a deeper purpose
A group of dedicated, passionate students are busy adapting the flagship case competition to a special virtual format. Headed by executive directors Tania Kuoh (BCom'21) and Darius Kuddo (BCom'21), they are excited to be part of the challenge's first virtual event. "In the new virtual format, we are reducing socioeconomic barriers by eliminating the need for our students around the world to pay thousands of dollars to travel to Montreal," says Kuddo.
"We are not just a student competition," explains Kuoh. "We are also a forum to develop and promote solutions to complex societal issues, like social inequality.
"Nowhere else do students have a chance to design solutions for an institutional portfolio and be able to present their proposals to dozens of portfolio managers who are collectively managing billions of dollars—and who look to gain inspiration from students' proposals to implement into their daily work," she continues.
The MIPC team's commitment to tackling social inequality is not limited to the case itself. Kuoh adds: "We are also running campaigns and working with our sponsors to support gender diversity and offer specialized career training and resources for underrepresented groups in finance."
Tackling protectionism, social inequalities and COVID-19
Today's investment industry faces a unique set of challenges that demands innovative and multidimensional solutions.
As the reality of COVID-19 swept across the globe earlier this year, countries took significant measures to protect their citizens, resulting in the rapid deceleration of globalization.
"This year's case centres around investing in a time of protectionism and rising inequalities, a theme that is very representative of our current reality," Kuddo explains.
Countries are now striving for independence and isolation as protectionist narratives are being revived and the geo-economic dynamics are changing. These drastic effects are having a dire impact on minorities and marginalized groups that do not have access to the same level of care as others.
"By halting international exchanges and travels, on top of already-widening gaps between privileged groups and underserved minorities, the COVID-19 crisis has shed light on some important questions for investment managers, particularly how they can invest in ways that are both profitable and socially equitable," Kuddo continues. "The MIPC's fourth edition will address such questions."
Students will be tasked with creating a portfolio mix tailored to a specific client profile, while meeting the conflicting needs of a diverse group of stakeholders. They will develop innovative, long-term portfolio strategies that seek to promote social equality in the buy-side of finance.
Rich educational and networking opportunities
The premier case competition presents an experiential learning opportunity for students to mobilize their knowledge and insights to solve social issues facing investors today.
But MIPC goes beyond just a case challenge for students. It also provides a rich, educational experience with a symposium, guest speakers and small group discussions, as well as a mentorship program for semi-finalists. Students can also take advantage of recruiting and networking opportunities spread over the duration of the challenge.
This year's challenge will commence on September 14, culminating in a final virtual round on November 5 and 6. Registration is open until September 13, 2020.
Should you have any queries, please contact:
Please note that as members of the organizing institution, McGill students are not eligible to compete in the McGill International Portfolio Challenge, but are welcome to attend the MIPC Symposium and the event finale.