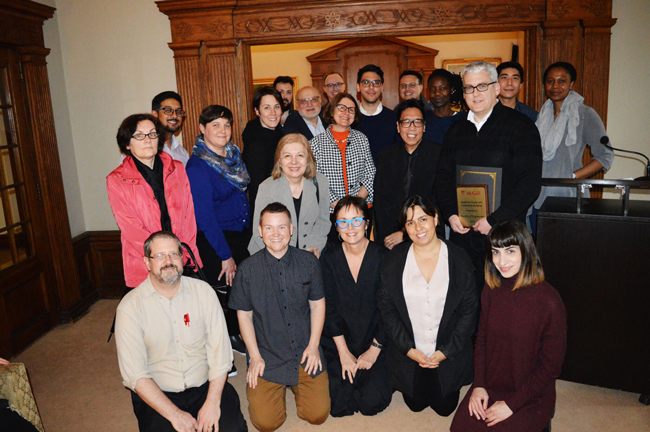 By Junji Nishihata
On May 1, the Faculty of Engineering was awarded top honours in the Team Category at the Award for Equity & Community Building, a distinction issued by the Office of the Provost each year for the past five years. The Faculty was cited for "showing achievement, initiative and impact in the domains of equity, inclusion and community building," according to Associate Provost, Professor Angela Campbell.
Sometimes seen as being behind the curve of social progress, the engineering field has been modernizing as of late, with numerous studies quantitatively demonstrating the positive impact of diversity on innovation. Companies like McKinsey & Co. have proven that more diverse corporations are more innovative and more profitable than their monoculture-peers. Beyond simple economic or productivity arguments, however, higher education institutions like McGill have an implicit moral responsibility to reflect the societies they serve – and not just an elite, privileged and ethnically homogenous subset of that society.
In light of the growing body of research and in consideration of the higher institutional aims of the University, the Faculty of Engineering has undertaken systematic efforts to increase participation in both its student body and staff by all members of society, irrespective of gender identity, cultural or socio-economic background, race or ethnicity, religion, or any other facet of diversity.
In concrete terms, the Faculty has undertaken a number of initiatives that work to provide fair opportunities for all. Measures include an increase in the hiring of female professors, who now represent 30 per cent of new hires, or the elevation of the Faculty equity committee to a standing committee (i.e., a permanent one). Perhaps the most visible aspect of the Faculty's work is the Equity Ambassadors Program, which has provided equity-related training to staff members, who can then act as listeners for students who encounter prejudicial barriers or discrimination during their studies.
While the award signals positive news, Professor Fabrice Labeau, Associate Dean for Faculty Affairs and chair of the Faculty's Equity Committee, cautioned that there is more work to be done. "The reason we received the award is because we are working on the issue," he said. "Not because we have solved it." Despite the sobering reality, there are other signs that progress is being made; for example, the proportion of applicants to the undergraduate program in Bioengineering was over 50 per cent female. This compares well to the current proportion of female undergrad students which sits at 27 per cent.
Nevertheless, on a national level, women only made up 17 per cent of registered engineers, so while the Faculty's internal work may be paying off, transferring this success to broader society will take years. Moreover, other groups such as Indigenous people remain extremely underrepresented, both in the Faculty and in the professional ranks. Measures to address this lack are also underway, including programs that are active in local communities.
Engineers have long been known for building bridges of the infrastructure variety. Now they are working toward earning a reputation for building social bridges as well.