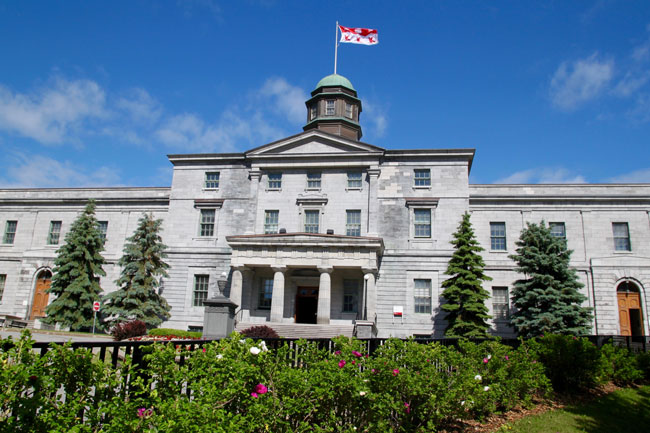 Fabrice Labeau, Deputy Provost (Student Life and Learning), sent the following message to the McGill community on May 13.
Dear members of the McGill community, 
As the week marks the return of some McGill researchers to campus, following the Quebec government's directive to allow universities to gradually resume certain research activities, I would like to take this opportunity to discuss Phase 1 of the research phase-in, and to share information about other developments relating to McGill operations.  
Research phase-in 
We hear the phrase "We're all in this together" frequently, and our individual actions truly have a direct impact on the well-being of the greater population. Resuming on-campus activities is a gradual process. We are deliberately proceeding prudently in order to follow strict directives from public health authorities and ensure the safety of the community, which includes having to wear proper personal protective equipment, such as masks, if maintaining 2-meter physical distancing is not possible. As per recent public health recommendations, individuals may wish to wear a mask at other times.  
Please note that only McGill employees who have received authorization to work on campus are permitted on McGill premises at this time. All other employees must continue to work from home. As we gradually resume these activities, staff who may be asked to come back to work on campus will receive advance notice from their supervisor in due time. I appreciate that you are eager to get back to your research projects, and I'm grateful for the patience and understanding that you have shown.  
If you have received permission to work on campus, please remember that you are required to read and abide by the University's on-campus research directives for facilitating a safe and efficient transition. McGill's mandatory directives can be found on the University's coronavirus webpage and include training videos on topics such as preventing transmission, wearing protective equipment, maintaining physical distancing, and keeping the working environment clean. The website also includes protocols and procedures to follow if someone develops COVID-19 symptoms, and for reporting safety non-compliance.  
Researchers whose activities will be ramping up can now place their orders for initial provisioning of personal protection equipment and disinfectant through the internal store created on the McGill MarketPlace. The catalogue of items may be found when searching for the keywords "McGill Personal Protection Stockroom." 
As on-campus activities slowly resume, access to Phase 1 buildings (Strathcona Anatomy & Dentistry, Wong, Maass Chemistry, Pulp & Paper, Macdonald-Stewart Raymond Complex, Barton and Parasitology Institute) will be closely monitored. Deliveries will be centralized in hubs. McGill Environmental Health and Safety will conduct regular rounds to check adherence to safety protocols, and expanded cleaning protocols will be observed. 
The Emergency Operations Centre (EOC), along with the Research Planning Group, continues to coordinate with individual faculties in determining access to labs based on a number of factors, including: building and room capacity, coordination of shared facilities, a lab-by-lab prioritization and planning of research activities, assessment of the viability of implementing physical distancing and compliance with other preventative measures, as well as the research activity priorities established by the Quebec government.  
As the list of research activities authorized to resume is finalized, researchers and support staff will be contacted by their supervisors to ensure they understand the safety measures put in place.  
We are only at the beginning of Phase 1, and we may still be a few weeks away from being able to begin Phase 2. As we move forward with our first phase, the University will continually monitor progress and the full conformity with the aforementioned directives. We will evaluate the protocols enacted in re-opened buildings, employee mandatory compliance with the University's safety directives, the continued availability of personal protective equipment, and the outcomes of McGill Environmental Health and Safety inspections. This is a learning process, and we are adapting according to experience. The start-date and the estimated overall ramp-up time for Phase 2 will depend on how Phase 1 goes.  
Health Sciences training 
In anticipation of the Fall semester, the University is continuing to work on potentially allowing some in-person, on-campus training (e.g., clinical skills labs and simulation centres) for students in Health Sciences programs. Participants in any such approved activities will be required to follow the directives for preventing the spread of COVID-19 on campus. 
Parking on campus 
Staff and graduate students who have been authorized to return to campus can continue to park for free until further notice, but must complete the COVID-19 suspension period parking registration webform. Anyone parking on campus who is not registered with Parking and Transportation Services, including permit holders, will be ticketed. Only exterior lots are open. If you already hold a McGill parking permit, you will be assigned to your regular lot, or, if you normally park in a garage, to the nearest exterior lot. As more staff and students gradually return, employees who have been parking on campus may be relocated. If you are part of this group, Parking and Transportation Services will contact you. 
Please remember that it is everyone's individual role to be responsible for others.  I hope you and your loved ones are healthy and in good spirits. Ça va bien aller! 
Sincerely,   
Fabrice Labeau   
Deputy Provost (Student Life and Learning), on behalf of the Emergency Operations Centre 
 ________________________________
Chers membres de la communauté mcgilloise, 
Comme vous le savez, le gouvernement du Québec a autorisé le redémarrage graduel de certaines activités de recherche en milieu universitaire. En cette semaine marquant le retour d'une partie de nos chercheurs sur le campus, j'aimerais vous parler de la phase 1 de cette reprise et faire le point sur le déroulement des activités à l'Université. 
Redémarrage de la recherche 
« Nous sommes tous dans le même bateau. » Voilà une phrase que l'on entend souvent par les temps qui courent et, effectivement, les comportements de chacun d'entre nous ont des répercussions directes sur l'ensemble de la population. La reprise des activités sur le campus se fait graduellement. Nous sommes prudents à dessein et respectons les directives de la santé publique de manière stricte afin d'assurer la sécurité de notre communauté universitaire. Ceci inclut le port d'équipement de protection personnelle, comme le masque, si le maintien d'une distance de deux mètres est impossible. La santé publique recommande désormais le port du masque dans d'autres circonstances également. 
Veuillez noter que pour l'instant, seuls les employés autorisés à travailler sur place peuvent être présents sur le campus. Tous les autres employés demeurent en télétravail. Les employés qui pourraient être appelés à revenir travailler sur le campus en seront avisés en temps et lieu par leur supérieur. Je suis conscient que vous êtes impatients de renouer avec vos projets de recherche, et c'est pourquoi je vous remercie de votre patience et de votre compréhension.   
Si vous êtes autorisés à travailler sur le campus, n'oubliez pas que vous devez lire et observer à la lettre les directives de l'Université régissant la recherche sur le campus afin que la transition se fasse sans heurts et en toute sécurité. Les consignes réunies sur le site Web consacré au coronavirus doivent impérativement être suivies. Vous y trouverez notamment des tutoriels sur des sujets comme la prévention de la contagion, le port d'équipement de protection individuelle, l'éloignement physique et le nettoyage des lieux de travail, ainsi que les protocoles et la marche à suivre à observer advenant l'apparition de symptômes de la COVID19 chez une personne présente sur le campus ou le non-respect des consignes de sécurité.  
Les chercheurs qui reprendront graduellement leurs activités peuvent passer dès maintenant leurs premières commandes d'équipement de protection individuelle et de désinfectant auprès du magasin interne ouvert sur McGill MarketPlace. Pour trouver le catalogue, entrez les mots-clés « McGill Personal Protection Stockroom ». 
Au fil de la lente reprise des activités en présentiel, nous surveillerons de près les allées et venues dans les immeubles de la phase I, à savoir : Pavillon d'anatomie et de médecine dentaire Strathcona, Pavillon Wong, Pavillon de chimie Maass, Pavillon des pâtes et papiers, Complexe Macdonald-Stewart-Raymond, Pavillon Barton et Institut de parasitologie. Les livraisons seront centralisées. Le personnel de l'unité Santé, sécurité et environnement arpentera régulièrement les lieux pour assurer le respect des protocoles de sécurité, et le personnel devra appliquer des protocoles de nettoyage plus stricts. 
Le Centre des opérations d'urgence (COU), en partenariat avec le Groupe de planification de la recherche, poursuit sa collaboration avec les facultés pour formuler des consignes d'accès aux laboratoires en fonction de plusieurs facteurs, à savoir : capacité de l'immeuble et de la salle, coordination des installations communes, détermination de l'ordre de priorité et planification des activités de recherche dans chacun des laboratoires, possibilité de respecter les règles d'éloignement physique et les autres mesures de prévention ainsi que priorités de recherche fixées par le gouvernement du Québec.  
Lorsque la liste des activités de recherche autorisées sera finale, les personnes responsables communiqueront avec les chercheurs et le personnel de soutien pour s'assurer de la bonne compréhension des mesures de sécurité. 
La phase 1 du redémarrage venant à peine de débuter, il pourrait s'écouler encore quelques semaines avant le déploiement de la phase 2. D'ici là, l'Université surveillera de très près l'évolution de la situation et le respect en tous points des directives précitées. Nous évaluerons les protocoles en place dans les pavillons rouverts, le respect des consignes de sécurité de l'Université, la disponibilité de l'équipement de protection individuelle requis et les constats des inspecteurs de l'unité Santé, sécurité et environnement. Pour reprendre une expression populaire ces jours-ci, « nous construisons l'avion en plein vol » et nous rajustons le tir au fur et à mesure. La date et l'horizon temporel approximatif de la phase 2 seront fonction du déroulement de la phase 1.  
Programmes d'études en sciences de la santé 
En prévision de la session d'automne, l'Université envisage toujours d'autoriser certaines prestations en présentiel, sur le campus (p. ex. en laboratoire clinique et en centre de simulation), dans les programmes d'études en sciences de la santé. Les participants à ce type d'activités devront suivre les directives de prévention de la propagation de la COVID-19 sur le campus. 
Stationnement sur le campus 
Les employés et les étudiants aux cycles supérieurs autorisés à revenir sur le campus pourront y garer leur véhicule gratuitement jusqu'à nouvel ordre, à condition qu'ils aient rempli le formulaire Web prévu à cette fin. Toute personne, y compris les titulaires de permis, garée sur le campus et non inscrite auprès du Service de stationnement et de transport recevra une contravention. Seuls les stationnements extérieurs sont ouverts. Si vous êtes titulaire d'un permis de stationnement de l'Université McGill, vous serez dirigé vers votre aire de stationnement habituelle ou, s'il s'agit d'un garage, vers l'aire la plus proche. Le retour graduel sur le campus d'employés et d'étudiants pourrait entraîner la relocalisation de la place de stationnement de certains employés. Le cas échéant, le Service de stationnement et de transport communiquera avec les personnes visées.  
Je vous remercie de votre attention et vous rappelle que nous sommes tous et toutes responsables du bien-être de nos concitoyens. J'espère que vous et vos proches vous portez bien et gardez le moral. Ça va bien aller! 
Cordiales salutations,   
Fabrice Labeau   
Premier vice-principal exécutif adjoint (études et vie étudiante), au nom du Centre des opérations d'urgence