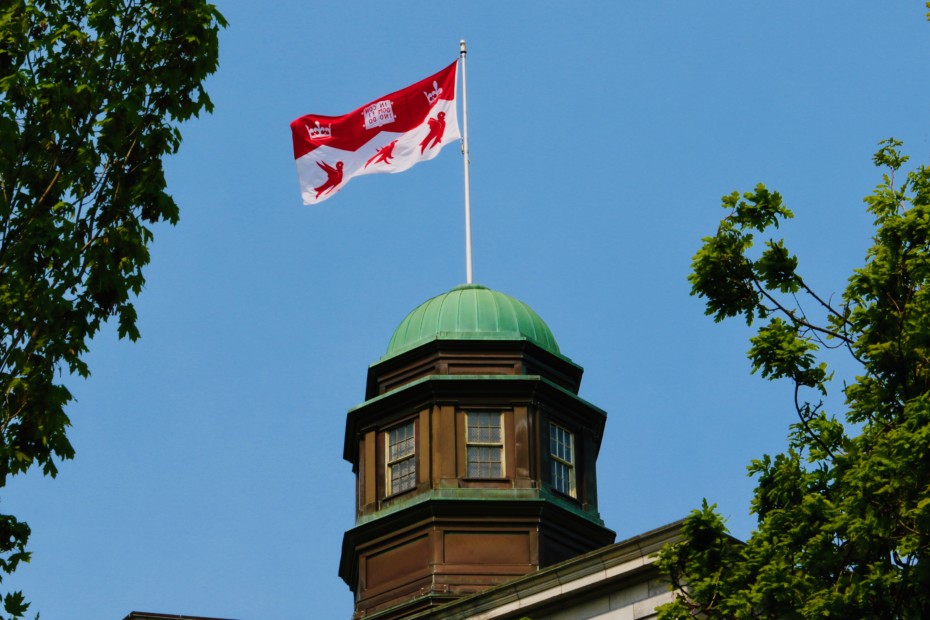 The following message was sent to the McGill community by Fabrice Labeau Deputy Provost (Student Life and Learning) on June 5.
Dear members of the McGill community,  
As the week draws to a close, I would like to take this opportunity to update you on progress and developments relating to McGill's continued operations during the COVID-19 lockdown.    
Academic planning resources 
We know many instructors are now actively planning their courses for the Fall 2020 term. While it's a big task to reimagine a course for primarily remote delivery, it is heartening to see the level of engagement in all Faculties, with hundreds of instructors taking part in webinars, or accessing other resources offered through Teaching and Learning Services. Recent additions to the list of resources include updates on assessment strategies for instructors in a remote delivery context, and Guidelines for Remote Teaching and Learning that provide advice on various topics including recording lectures, and students' rights and responsibilities. I'm pleased to see many communities of practice already being developed within Departments and Units as well, and encourage you to do so if you haven't already done so. Communities of practice are a valuable way to share best practices locally, and to find ways to adapt teaching and learning approaches to specific disciplines, while keeping in mind the broader principles and guidelines. 
Research ramp-up Phase 2 
On June 1, we began implementing Phase 2 of the gradual resumption of select on-campus research activities. As with the previous phase, Phase 2 is being deployed under a strictly controlled environment, following public health authority directives, to ensure our community's health and safety. Throughout the process, the University is conducting ongoing Environmental Health & Safety (EHS) inspections of the re-opened buildings, in addition to the continued careful monitoring of Phase 1. These evaluations will help determine if and when subsequent phases will be implemented.    
Update on PPE availability and pricing 
McGill is securing sufficient quantities to ensure an adequate provisioning of personal protection equipment (PPE) to the labs where activities have resumed. Orders by the labs for these items can be placed through the new central store found on the McGill MarketPlace landing page or by using the keywords "McGill Personal Protection Stockroom." You may notice that some items may be more costly than usual. This is due to the global demand, which originally had a major impact on prices for the items ordered the earliest. All items continue to be charged back to the labs at the same price they were paid, with no markup or service fee by central. 
Working on campus 
The majority of McGill employees will continue to work remotely for the foreseeable future. If you have been authorized to work on campus, please remember that you are required to read and follow the mandatory directives, including a strong recommendation from public health authorities to wear a face covering especially when two-meter physical distancing is not possible, and watch training videos for preventing the spread of COVID-19. On-campus activity remains strictly limited, so please limit your activities to those tasks that you cannot do remotely. If any of your tasks can be completed remotely, please do so.  
The disclosure of exposure or illness is essential for safeguarding health and safety, and limiting transmission in the McGill community. Prior to entering any McGill building, all employees (including student employees) and students must complete, on a daily basis, the Minerva self-assessment form.  
Principal investigators or other managers should contact their local HR advisors if they have concerns or questions regarding how to handle specific employee situations.   
Activities and events 
Only approved necessary activities are currently allowed on campus; this includes essential and COVID-19-related research activities, as explicitly approved by Deans. 
As some on-campus research activities continue to gradually ramp up, McGill's Emergency Operations Centre (EOC) has begun looking at selectively restarting other on-campus operations and practical teaching activities that cannot be carried out remotely. A list of permissible activities will be provided soon.  
However, please note that any other McGill-sponsored in-person activities or events—on or off campus—are cancelled until August 21. 
Looking ahead 
Although on-campus activities will remain heavily restricted and controlled for the foreseeable future, the EOC recommends that individual unit leaders familiarize themselves with the mandatory directives for the prevention of spread of COVID-19 on campus, and begin devising plans for any functions that would be required to resume on campus relatively soon. This planning will help streamline the eventual approval process.    
Thank you for your continued collaboration in adapting how we work and serve the University's mission. Stay safe, and I hope you enjoy the weekend. 
Sincerely,   
Fabrice Labeau   
Deputy Provost (Student Life and Learning), on behalf of the Emergency Operations Centre 
 _____________________
Chers membres de la communauté mcgilloise,  
La semaine tirant à sa fin, je souhaite vous informer des progrès et des faits nouveaux sur le maintien des activités de l'Université McGill durant le confinement.   
Ressources pour la planification des activités d'enseignement 
Nous savons que de nombreux enseignants s'affairent maintenant à planifier leurs cours pour la session d'automne 2020. Ce n'est pas une mince affaire que de remanier un cours pour l'enseignement principalement à distance; c'est pourquoi je trouve d'autant plus encourageant de voir cette belle mobilisation dans toutes les facultés : des centaines d'enseignants participent à des webinaires ou consultent les autres ressources offertes par le Centre d'enseignement supérieur. De nouvelles ressources ont récemment été ajoutées à la liste, notamment de l'information sur les méthodes d'évaluation à distance et des lignes directrices sur l'enseignement et l'apprentissage à distance qui vous éclaireront sur divers sujets comme l'enregistrement des cours ainsi que les droits et les obligations des étudiants. Je suis également heureux de voir que de nombreuses communautés de pratique se sont déjà formées au sein de départements et d'unités. Si vous n'avez pas encore eu l'occasion d'en créer une, je vous encourage à le faire. Les communautés de pratique sont un excellent moyen de mettre en commun des pratiques exemplaires appropriées dans un contexte donné et de trouver des façons d'adapter les méthodes d'enseignement et d'apprentissage à certaines disciplines, tout en tenant compte des lignes directrices et des principes généraux.  
Phase 2 de la reprise des activités de recherche 
Le 1er juin, nous avons mis en route la phase 2 de la reprise graduelle de certaines activités de recherche sur les campus. Comme ce fut le cas pour la phase précédente, la phase 2 se déroule dans des conditions rigoureusement contrôlées, conformes aux directives de la santé publique, afin que nous puissions préserver la santé et la sécurité de notre communauté. Tout au long du processus, l'unité Santé, sécurité et environnement de l'Université procède à des inspections dans les immeubles rouverts, en plus de poursuivre la surveillance attentive entamée à la phase 1. Ces évaluations nous aideront à déterminer si les phases ultérieures peuvent être mises en branle et, dans l'affirmative, et à quel moment elles pourront l'être.  
Le point sur la disponibilité et le prix de l'EPI 
L'Université McGill se procure suffisamment d'équipement de protection individuelle (EPI) pour approvisionner adéquatement les laboratoires où les activités ont repris. Ces derniers peuvent passer leurs commandes dans le nouveau magasin central, accessible sur la page de renvoi de McGill MarketPlace ou par la saisie des mots-clés « McGill Personal Protection Stockroom ». Vous remarquerez peut-être que certains articles sont plus chers que d'habitude. Cette situation est due à la demande mondiale qui, au tout début, a fait grimper les prix, ce qui se reflète donc sur les articles commandés à ce moment. Sachez que tous les articles sont facturés aux laboratoires au prix coûtant, sans marge bénéficiaire ni frais de gestion pour les services centralisés.  
Travail sur le campus 
La majorité des employés de l'Université demeureront en télétravail pour une durée actuellement indéterminée. Si vous êtes autorisé à travailler sur le campus, n'oubliez pas que vous devez impérativement lire les consignes et les observer à la lettre. De plus, les autorités sanitaires recommandent fortement le port d'un couvre-visage particulièrement lorsque le maintien d'une distance physique de deux mètres n'est pas possible. Visionnez également les vidéos de formation sur la prévention de la propagation de la COVID-19. Les activités sur le campus demeurent extrêmement limitées; nous vous prions donc de n'y accomplir que les tâches que vous ne pouvez pas réaliser à distance. Les personnes qui peuvent s'acquitter de leurs tâches à distance doivent opter pour ce mode de prestation.  
Il est essentiel que les employés déclarent toute exposition à la COVID-19 ou tout symptôme de l'infection afin de contenir la propagation du virus et de préserver ainsi la santé et la sécurité au sein de la communauté mcgilloise. Tous les jours, avant d'entrer dans un immeuble de l'Université, tous les employés (y compris les étudiants embauchés) doivent remplir le Formulaire d'autoévaluation sur Minerva.  
Les chercheurs principaux et les autres gestionnaires doivent communiquer avec leur conseiller en Ressources humaines s'ils ont des questions sur la prise en charge de certaines situations.  
Activités et événements 
Seules les activités indispensables approuvées sont autorisées pour l'instant sur le campus, notamment les activités de recherche essentielles et liées à la COVID-19 explicitement approuvées par les doyens.  
Dans la foulée du redémarrage graduel de certaines activités de recherche en présentiel, le Centre des opérations d'urgence (COU) de McGill envisage actuellement la reprise d'autres opérations et activités d'enseignement sur le campus qui ne peuvent être réalisées à distance. La liste des activités permises vous sera bientôt fournie.  
Toutefois, veuillez noter que les autres événements et activités en présentiel de l'Université McGill, sur le campus ou ailleurs, sont annulés jusqu'au 21 août.  
La suite des choses 
Même si les activités sur le campus demeureront très restreintes et contrôlées pour une durée actuellement indéterminée, le COU recommande aux chefs d'unité de se familiariser avec les directives pour la prévention de la propagation de la COVID-19 sur le campus et de commencer à élaborer un plan pour les activités qui pourraient devoir reprendre en présentiel dans un avenir relativement rapproché. Cette planification simplifiera le processus d'approbation éventuel.  
Je vous remercie de continuer à nous aider à adapter notre façon de travailler et de remplir notre mission universitaire. Portez-vous bien et passez un beau week-end. 
Cordiales salutations,  
Fabrice Labeau 
Premier vice-principal exécutif adjoint (études et vie étudiante), au nom du Centre des opérations d'urgence