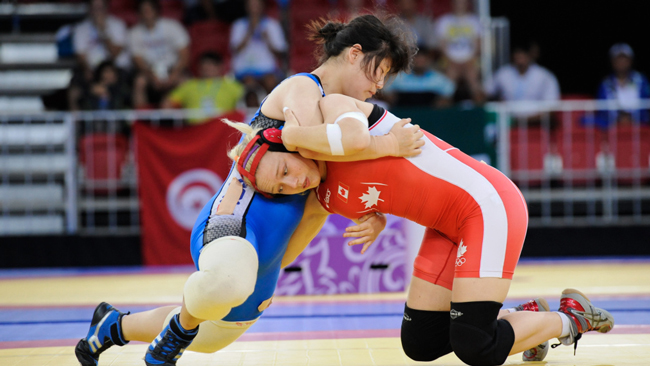 By Neale McDevitt
The recent launch of McGill's Jean Béliveau Award to support top student-athletes underscored the commitment and discipline required to be successful in both sports and scholastics. Recently, the McGill Reporter spoke to two of McGill's most successful student-athletes – Olympian Dori Yeats and Top Eight Academic All-Canadian François Jarry – to find out how they handle the enormous demands placed upon them.
François Jarry: Earning his successes the old fashioned way
When McGill distance runner François Jarry got called into coach Dennis Barrett's office earlier this fall, his first reaction was 'Uh-oh, what have I done now?'
As it turned out, Jarry had done something. Something quite exceptional.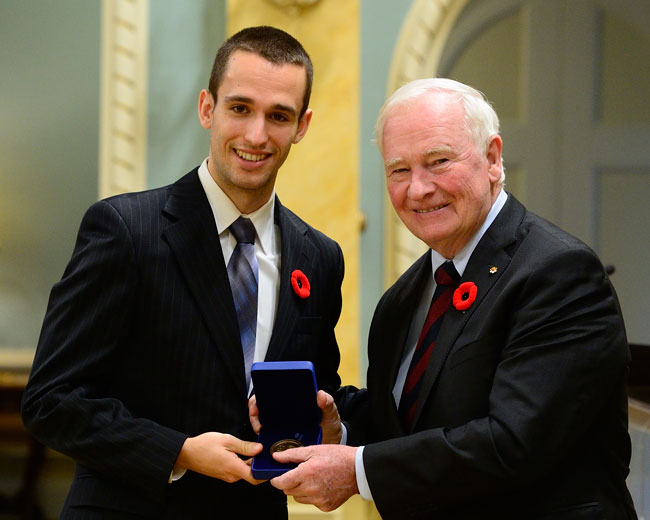 The 22-year-old physical and health education senior from Lachine, was told by his coach that he had been named among the Top Eight Academic All-Canadians for the 2015-16 season by U Sports, (formerly Canadian Interuniversity Sport). The honour goes to the top male and female student-athletes in each of the four conferences under U Sport, for athletic excellence while maintaining an average of 80 per cent or better over the academic year.
Jarry was named an RSEQ conference all-star last season, while accumulating seven Top 10 finishes in eight races. He won the McGill Open before placing third in both the 2015 RSEQ cross-country championship and the 3000-metre race at the conference track and field championship meet. In the classroom, the three-time CIS Academic All-Canadian achieved a perfect 4.0 grade-point average and has been on the Principal's Student-Athlete Honour Roll since his freshman year. He also received the Strathcona Trust Plaque in 2016, awarded to students with the highest academic standing in physical activity courses.
Still, even with his many successes, Jarry wasn't expecting the news.
"Last year, when [Redmen basketball player] François Bourque [was named Top Eight Academic All-Canadian], I thought 'Wow, that is pretty incredible,' said Jarry. "Quite honestly, I never thought I had a shot at it. When Dennis told me I was totally surprised – and very, very happy."
Jarry downplays the challenges he faced in his freshmen year, coming from a French Cegep André-Laurendeau to one of the most demanding universities in the country. "I had done English immersion and I've always taken school very seriously," he said. "Sure that first year was a little tough, but I listened to my academic advisor and took four classes which helped."
The toughest transition wasn't in the classroom, it was on the track. Jarry discovered the sport relatively late in life. "I was not a great athlete when I was young. I had played soccer but I wasn't very good," he said with a chuckle. "So I stopped when I was 18 and concentrated on running."
Used to training three or four times a week prior to joining the McGill varsity team, Jarry had to get used to training virtually every day. "I thought I took my running seriously before. But coming here made me realize I had to take it to another level," he said.
And the hard work is paying off. Jarry's season last year was like a long-running highlight reel – including winning a bronze medal at the Provincial championships; finishing in the Top 10 at the Canadian Olympic Trials at both 5,000 and 10,000 metres; and breaking the school record at 3,000 metres ("my proudest moment," he says).
Like so many student-athletes, Jarry's success has come the old fashioned way – he's earned it through hard work, dedication and superior multitasking skills. "I don't waste a lot of time. Every break I try to be as productive as possible," he says, noting that when he does allow for some downtime, he'll watch "half a movie" while eating supper. Then it's off to bed.
In the class, Jarry is just as serious. "I like to work hard and I like to perform well," is how he characterizes his approach to school. "I try to show respect for my teachers by studying, showing up for class and listening closely to what they're saying. When I do that, the results usually follow."
Dori Yeats: Finding the brain-body balance
To say Dori Yeats is goal-oriented is an understatement. The 23-year-old began gymnastics at the age of five with the dream of one day competing at the Olympics. By the time she was 14, Yeats had enjoyed a fair degree of success at the provincial level. But, ever the pragmatist, Yeats understood that her trajectory was going to fall short of achieving her long-held Olympic dream. So she made the most unlikely of career changes, vaulting from the grace and glitter of gymnastics to the guts and grind of wrestling.
The initial transition was not smooth.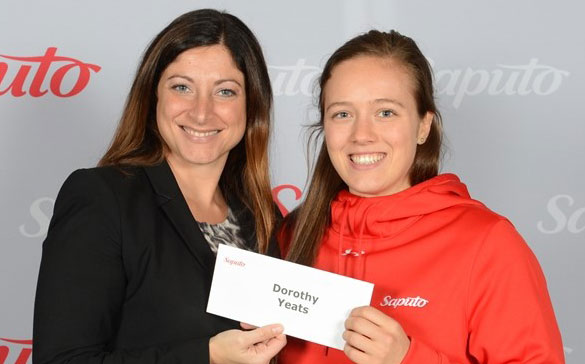 "I really did not like wrestling very much, at first," said Yeats. "But I knew it was the avenue for me to get to the Olympics, so I pushed myself to keep that focus because that was my goal since I was five years old. Since then, I've learned to love the sport."
That unflinching focus paid off this past summer when Yeats represented Canada at the Summer Olympics in Rio de Janeiro, Brazil.
Entering the Games with a torn MCL in her knee, the Montreal native battled her way to the bronze medal match in the 69 kg class, losing a 2-1 heartbreaker to Sweden's Jenny Fransson. "It was pretty bitter sweet," she said. "Fifth place is the best result I had had internationally at that weight, but I know I could've done more. I shouldn't have set the bar that low. I know now that the girls that I was competing against are not that much better than me and I can make it on to the podium. So that will be what fuels me – to make it to the podium at every major competition from now on."
But as single-minded as Yeats has been in pursuit of her Olympic dream, she is far from a one-trick pony. The civil engineering student entered this semester with a 3.56 grade-point average and, earlier this fall, earned a $5,000 academic excellence award, from the Saputo Bursary Program in collaboration with the Quebec Foundation for Athletic Excellence.
"A lot of people on the national team are older and have already finished school and some have not gone much beyond high school so they could focus on wrestling," said Yeats. "The award is good motivation because sometimes I find myself wondering if I should just concentrate on school or just concentrate on sport. This encourages me to do both."
Even though she is enjoying a little post-Olympic downtime from training in order to recharge her emotional battery and let her body heal, Yeats is not taking it easy. Instead of spending long hours on the mats, Yeats has doubled down on her studies, taking her first full course load.
"It's definitely tough. Midterms were very challenging. It's not just sports that require recovery time," she said with a laugh. "Before coming here, I was on the Dean's List and I thought I was very smart. But McGill civil engineering has put me back in my place. But that's good because I like a challenge."
Yeats, who took last semester off as training ramped up leading to Rio, says the key for her is balance. "Sports and school definitely complement each other, and I've learned how much I can do to successfully juggle both," said Yeats. "When you are a full-time student, you pretty much have to be at school all day and when you get home, you study some more. Especially in engineering. But the periods when I have been a full-time athlete and a part-time student are so productive because both my brain and body are happy."