You would figure that winning gold in wrestling at the Pan Am games last Friday would give Dorothy (Dori) Yeats bragging rights in her house. Not necessarily so, as her father, Doug Yeats, accomplished the same feat back in 1979. However, it would have been hard for the senior Yeats to have won in a more dominating fashion than his talented daughter, who beat Maria Acosta of Venezuela in the women's 69-kg class by a score of 13-2. The match was called early after Yeats earned a 10-point lead, in what is called technical superiority in freestyle wrestling.
In fact, at one point in the match the 21-year-old civil engineering freshman was turning her opponent over so quickly that the judges actually lost track of how many points she was scoring and declared her the winner prematurely. After taking Acosta to the mat, Yeats locked the Venezuelan's ankles and rolled her repeatedly, a move that is worth two points every time her opponent's back faced the mat. The frustrated Acosta had no answer for the onslaught, seemingly poking Yeats in the mouth and eyes at one point, pulling her hair and even throwing a punch to try and break the hold.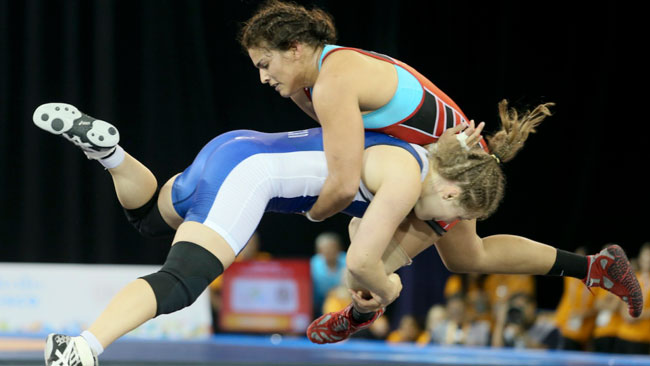 "The refs lost track of how many I did," said Yeats in a post-bout interview. "They lost track of whether I did enough to earn technical superiority (10 points ahead and automatic victory) or not enough. I kept my composure, kept my focus, figuring it would be overturned and went back in there."
Despite her pedigree, Yeats only started wrestling when she was 14, coming from gymnastics once she figured she was "too old" for the sport.
The move from tumbling mats to wrestling mats was a perfect fit for Yeats, who won her first national championship just six months later. She exploded onto the international scene in 2010, winning gold at the inaugural Youth Olympic Games and more gold at consecutive Junior World Championships in 2012 and 2013.
Coming off the mats following her golden Pan Am performance, Yeats embraced her father and coach, Doug. With her sights now set firmly on the 2016 Olympic Games in Rio, she may have difficulty equalling his record of five consecutive Olympics appearances for Canada. But she is may also accomplish something he never did – stand atop an Olympic podium as they play O Canada.