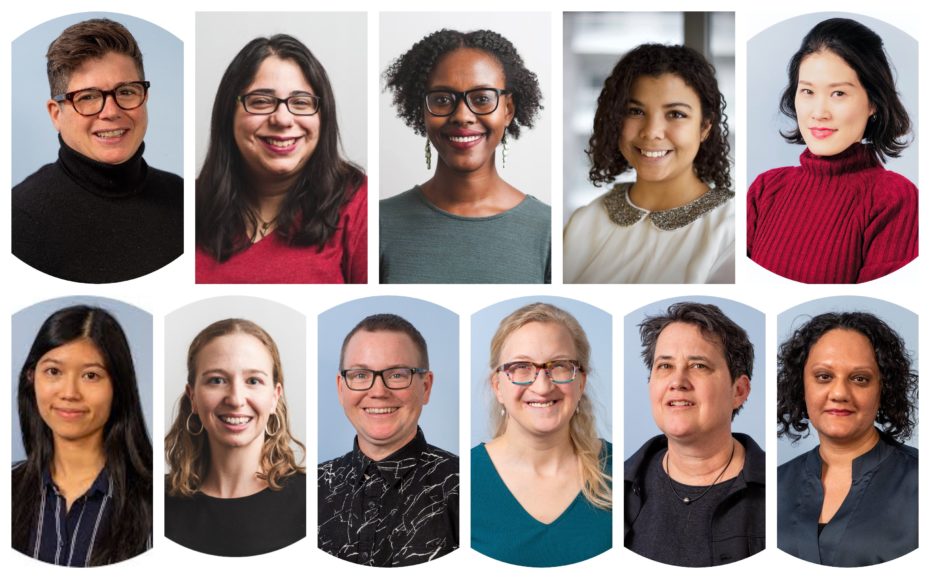 On Thursday, McGill's Equity Team was named winner of the Principal's Award for Administrative and Support Staff – Team category.
The 11 team members – Meryem Benslimane (Equity Education Advisor); Andrea Clegg (Research Equity Advisor); Rachel Desjourdy (Accessibility Advisor); Sinead Hunt (Senior Equity & Inclusion Advisor); Uzma Jamil (Senior Equity Research Advisor); Tynan Jarrett (Senior Employment Equity Advisor); Chris Liang (Project Administrator); Cindy Mancuso (Assessment Officer); Sara Pierre (Employment Equity Advisor); Shanice Yarde (Equity Education Advisor); Li Zhou (Program Administrator) – were honoured for their tireless work promoting equity, inclusion and diversity at McGill.
Strengthening equity education, community outreach
Over the past three years the Team has ensured that equity training and initiatives, such as Black History Month, Queer History Month, and Accessibility Advising, are available to the McGill community. The team employs strategies such as in-person facilitated sessions, learning videos, one-on-one consultations, celebrations, lectures, workshops, and the preparation and dissemination of a wide breadth of written materials. In the last year, the Equity Team developed a Strategic EDI (Equity, Diversity & Inclusion) Plan for McGill University that will sustain its work over the coming five years
"Our goal is to strengthen equity education and support, as well as community outreach and engagement; all of the developments undertaken are unequivocally aimed at this end," says team member Uzma Jamil. "The Equity Team at McGill is working hard, and is committed to ensuring that the McGill community is one in which all students, faculty and staff feel welcome, included, and capable of realizing their full potential for success."
Diversity strengthens Equity Team
Tynan Jarrett believes that one of the Equity Team's greatest strengths lies in members' desire to work together, even though they focus on different files.
"Each member of the team has a specific mandate, but we collaborate a lot and this is one of our strengths," says Jarrett. "I've learned so much from my colleagues. I see it as a privilege and an incredible opportunity to get to work with an energetic, brilliant and engaged group of people every day."
The sentiment is echoed by Jamil. "The team is diverse and made up of amazing, talented people. We all have our areas of expertise that we work in. Our strength is that we bring together that expertise to do equity work across the different areas of the University, we don't work in silos or bubbles."
COVID-19: Adapt and overcome
COVID-19 changed the way the much of the University operates – including the Equity Team. In-person equity training sessions, workshops and events such as Queer History Month have gone virtual.
​"I am really impressed with how the team has adapted to working remotely and finding ways to connect with one another," says Sinead Hunt. "In many ways, the current reality has led us to tap into our creativity, which is a strength of the team. For example, we've come up with some great new online initiatives in the past few months, including the creation of the Equity Team Roadshow this summer, which reached around 400 McGill members."
"The Equity Team is composed of a group of dedicated professionals who bring integrity, intelligence and creativity to their work," says Angela Campbell, Associate Provost (Equity and Academic Policies). "Through their efforts, McGill has made important strides toward enhancing equity, both through increasing the representativeness of our campus community, and by enhancing the climate in which we all learn and work. I am proud and privileged to be part of this group of colleagues from whom I am always learning."
Three other McGill teams were nominated for this year's Principal's Award for Administrative and Support Staff:
Career Advising and Transition Services (CATS)

Nayo Gariepy
Zeeta Maharaj
Valerie Ndiweni
Emilie Salvi

Medical Education Systems

Kate Allan
Russel Arsenault
Simon Ip Cho
Jean-Francois Gravel
Timothy Johns
Joseph Mandala
Elizabeth Newcomb
Julia Pennimpede
Hanna Taleb

SCS Client Services Team

Assunta Cerrone-Mancini
Rosalia Felice
Gianna Giardino
Johnny Martuccio