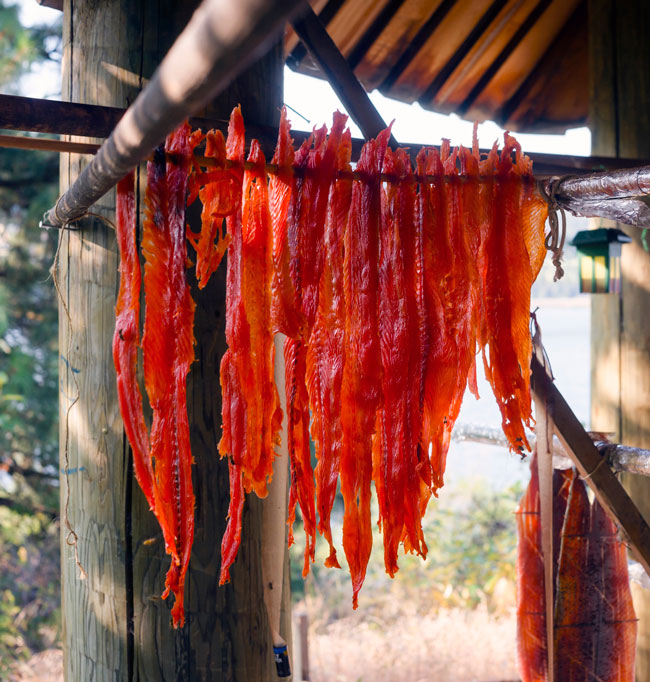 By McGill Reporter staff
A pioneering encyclopedia of more than 500 animal species that form the traditional diet of First Nations has just been published by the Centre for Indigenous Peoples' Nutrition and Environment (CINE).
Traditional Animal Foods of Indigenous Peoples of North America is a magisterial collection of First Nations' lore and knowledge about the animals that play a central role in their way of life. The encyclopedia has been ten years in the making, and is being hailed as a crucial advance toward the protection and advancement of First Nations' cultures. At 400,000 words and many illustrations it offers as much information as three 500-page printed volumes.
Harriet Kuhnlein, Professor Emerita in the Department of Human Nutrition, and Founding Director of CINE is one of the leads on this decade-long project.
The other is Professor Murray Humphries, one of Canada's foremost wildlife biologists. Humphries is with the Department of Natural Resource Sciences, and successor to Kuhnlein as Director of CINE. In November, Humphries was named one of three Northern Research Chairs by the Institut Nordique du Québec.
Kuhnlein says people who are interested in First Nations' heritage can learn a lot about local food in natural ecosystems from the web encyclopedia. "With more information known by more Canadians we hope that our international policies for protecting wildlife as sustainable resources will be strengthened," she says. "We also hope that more people will recognize the wisdom that Indigenous Peoples have about wildlife and ecosystems so that they can be included in policy development."
Indigenous Peoples are custodians of a lot of the world's biodiversity and natural resources. Their relationship to animals and the environment of northern North America goes back thousands of years. Now some of that history is documented in this new peer-reviewed web encyclopedia laying out traditional foods. It's a way to document indigenous peoples' contributions to our global heritage of food knowledge.
"There has been a lot of recent attention paid to local diets and sustainable diets and how biodiversity conservation and human well-being are inter-connected," says Humphries. "We hope this publication helps to encourage the inclusion of Indigenous Peoples, and their knowledge, and their traditional food systems in this conversation, including whether it is people vs. the environment or people with the environment.
"The food and biodiversity knowledge of Indigenous Peoples is incredible in its depth and its breadth. Even though this publication is big, we have only scratched the surface of this knowledge," continues Humphries. "We often say you are what you eat, but in the case of traditional food systems, you also know what you eat, in a really fundamental, connected way."
As first inhabitants of the land, Indigenous Peoples have developed deep knowledge and a rich oral culture about the animals with whom we share the forests and water of North America. Their relationship with animals is complex, the methods used to harvest animals for food are ingenious and varied, and measures are taken to protect animals from over hunting.
The new web encyclopedia focuses on Canada, Alaska, Greenland and the northern U.S., but many of the animal species presented are also found in the northern latitudes of Europe and Asia. Close to 500 ethnographic sources in 100 languages are cited – some going back about a century. Each food stuff can be searched by region, by culture or by animal.
For example, Carrier, Mi'kmaq and Kutenai cultures considered the beaver tail a delicacy. Beaver flesh was widely consumed. One of the Ojibwa chiefs of the Temagami band quoted in the encyclopedia described the beaver as the "Indian's pork."
And of course there is the moose, an animal that appears in Algonquin and Mi'kmaq legends and stories. For many, the brisket, hind quarters and shoulder of the moose are like valued cuts of beef.
The web book has been positively received by First Nations leaders across Canada.
Bill Erasmus, Déné National Chief and Regional Chief of the Assembly of First Nations in Yellowknife says "This web book is an important step for Indigenous Peoples in North America and around the world to protect our traditional food and ecosystems," says Erasmus. "The research contributes to understanding the importance of local food and its benefits to our cultures, food security and health."
Norma Kassi, Director of Indigenous Collaboration at the Arctic Institute of Community-Based Research in Whitehorse is also a fan. "In light of the food insecurity crisis we are facing in the Arctic regions, this research on our traditional foods by renowned scientists of CINE will become very useful in processes of education within our communities," she says. "Traditional food systems are critical to the culture and health of Indigenous Peoples and this website includes a lot of useful information about traditional animal foods and their nutritional value."
Kuhnlein says not only is this collection a first, it is open access, free online, and catalogued in the McGill Library. That means it is available to thousands of libraries world-wide. This web resource is a first of its kind. She calls it a labour of love by many people. "The acknowledgements list the many students who contributed to this work over many years. It follows on the earlier 'sister' publication on Traditional Plant Foods of Canadian Indigenous Peoples that I co-wrote with Dr. Nancy Turner that is also available through the McGill library and free on line through the Food and Agriculture Organization of the United Nations, who so generously digitized that volume of more than 600 pages."
View Traditional Animal Foods of Indigenous Peoples of North America online