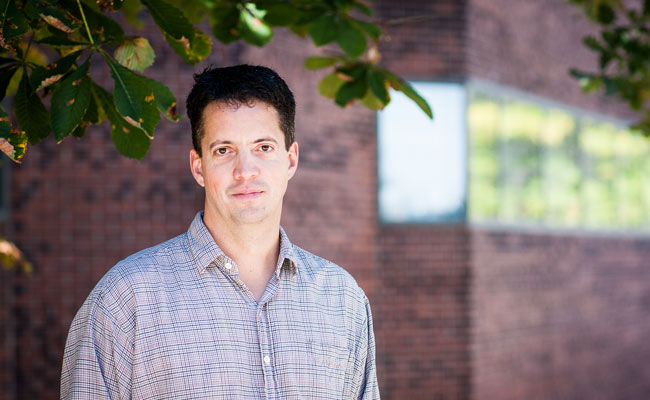 By Kathryn Jezer-Morton
Today at a press conference in Quebec City, the Institut Nordique du Quebec (INQ) announced three Northern Research Chairs, as well as a newly recruited Science and Innovation Director, Louis Fortier. Among the three Chairs is Murray Humphries, of the Department of Natural Resource Sciences, who will hold a three-year Chair in Northern Research – Wildlife Conservation and Traditional Food Security.
The INQ is a research institute formed in 2014 by three partners: McGill University, Université Laval, and the Institut national de la recherche scientifique (INRS). The announcement of the three Chairs and Scientific Director marks the formal launch of the INQ's research program, which is underpinned by a mission to foster the sustainable development of the North by bringing together Quebec's expertise in the broad fields of northern and Arctic research.
Prof. Humphries' Chair, worth $80,000 a year for three years, comes with a mandate to build McGill's interdisciplinary research capacity in Canada's North. A total of $30,000 is earmarked for outreach, whether as travel grants to fund graduate students wanting to conduct field research, or to fund the work of fellow faculty members' whose research interests can be applied to Northern contexts.
The new Chair also provides Prof. Humphries with a chance to combine several of his research interests that he'd previously only worked on discretely. "It's a new intersection," he said. "The notion of sustainable development requires a simultaneous consideration of the environmental and the social. I've been studying wildlife from a biological systems approach. Another part of my program is focused on traditional food, food systems, food security, and access for people in Northern Indigenous communities. We also have an NSERC CREATE program focused on assessing the impacts of resource development, which we are doing in partnership with indigenous communities."
The INQ Chair will enable Prof. Humphries to employ wildlife biologging technology, which will provide data on how wildlife from across the food chain, from small mammals like chipmunks to large game like caribou, adapt and are affected by climate change and resource development. This data will generate insight relevant to both food security and resource development.
Biologging involves the use of miniature electronic tags attached to free-ranging animals, which allows researchers to take measurements on their behaviour, health and environment while they range undisturbed. Recent innovations in the engineering of biologging tags have made them a highly effective and low-impact way to conduct field research. "One of the hallmarks of Indigenous food systems is the wide range of species that are relevant," said Prof. Humphries.
"With biologging, the range of species that we can study in the wild has expanded. We have unprecedented opportunities to understand how wildlife are affected by environmental change, including resource development, and now that development will feedback on food security because of its impact on wildlife."
"On behalf of McGill, I am very proud that one of our foremost wildlife biologists is joining the leadership of INQ's unique collaboration between institutions and sectors for the betterment of Northern wilderness and communities," said Rosie Goldstein, Vice-Principal of Research and Innovation at McGill. "Prof. Humphries' research takes place at the intersection of economic development, environmental protection and cultural practice – a space where some of Canada's most consequential and important policy decisions are made."
Prof. Humphries is joined by two other Chairs in Northern Research funded by the INQ: Prof. Jasmin Raymond, Chair of Research on the Geothermal Potential of the North, of l'Institut national de la recherche scientifique, and Prof. Thierry Rodon, Chair of Research on Northern Sustainable Development, of Université Laval. The new Scientific Director, Prof. Louis Fortier, is a Professor of Marine Biology at Université Laval, and former Scientific Director of ArcticNet, a Canadian Network of Centres of Excellence.