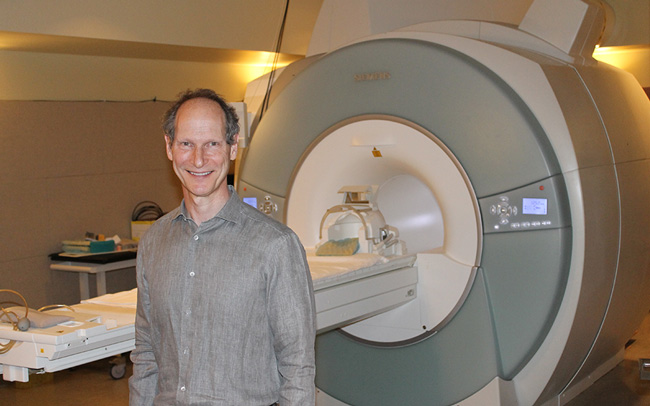 A clinician/scientist at The Neuro played a major role in developing a drug that offers hope to people with two forms of multiple sclerosis (MS), including one where no other effective drug existed.
Neurologist Douglas Arnold helped determine the effectiveness of ocrelizumab, the first drug treatment approved for the treatment of primary progressive multiple sclerosis (PPMS). A major breakthrough drug, ocrelizumab (known commercially as ocrevus) was approved in 2017 in the United States for patients with either PPMS or the relapsing-remitting form of MS. Late in the same year, the government agency, Health Canada, approved the drug for Canadians with relapsing-remitting MS, and in February 2018, approved it for PPMS treatment as well.
Approval of ocrelizumab came following development and clinical trials managed by the pharmaceutical company Hoffman-La Roche during the past several years.
"I am on the steering committee for the clinical trials that developed ocrelizumab, advising on the magnetic resonance imaging (MRI) data collected from participating clinical sites," says Dr. Arnold. "Standardized magnetic resonance (MR) imaging scans were collected from around the world, and then analyzed to provide the data required by government regulators to get the drug approved."
About 9,000 MRI scans of thousands of MS patients were provided from hundreds of clinical sites. Analysis of this massive amount of data was undertaken under Dr. Arnold's supervision by a Montreal-based firm that works with pharmaceutical companies, NeuroRx, which provides highly precise MRI outcome assessments according to strict regulations.
"MR is by far the best way to see the hallmark inflammatory demyelinating brain lesions of MS," says Dr. Arnold.
Myelin is a protective sheath covering axons, the thin strands that connect billions of nerve cells in the body. When myelin is damaged or undergoes atrophy, nerve cells begin failing to connect. Demyelination is a root cause of MS.
"We analyzed patients' scans to see to what extent ocrelizumab slowed the atrophy and prevented formation of new MS lesions. In the case of this drug, new lesion formation was almost completely suppressed."
Ocrelizumab influences the action of the body's B cells, a subset of lymphocytes that are important for the abnormal attack of the immune system on myelin in multiple sclerosis patients. Administering ocrelizumab causes B cells to break down.
Ocrelizumab is administered intravenously once every six months.
"The first dose can be associated with infusion reactions, but these are relatively uncommon after that, and are not that severe," says Dr. Arnold.
According to the Multiple Sclerosis Society of Canada, side effects could include urinary tract infections, influenza, upper respiratory tract infections and cold-like symptoms such as swelling of the nasal passages and throat.
It should be noted that clinical data came from patients between the ages of 18 and 55.
"It's not clear how well ocrelizumab works in older people who have had progressive multiple sclerosis for a long time," cautions Dr. Arnold, adding that research continues.
The Multiple Sclerosis Society of Canada notes that "the safety and efficacy of ocrelizumab outside of the age range of 18 to 55 is unknown." The Society advises older patients who are interested in ocrelizumab to consult their neurologist.
The cost of ocrelizumab in Canada is still being determined. As well, the federal government and the provincial government in Quebec are deciding to what extent the cost of the drug will be borne by their respective public health insurance plans.
"Although it's not on Quebec's health plan yet, physicians can apply to get ocrelizumab directly from the company as part of a bridging program until the government sets a cost price along with the requirements for prescribing it," says Dr. Arnold.
In two words, Dr. Arnold summed up the significant difference between ocrelizumab and several other MS drugs used in the past to treat progressive multiple sclerosis: "It works."