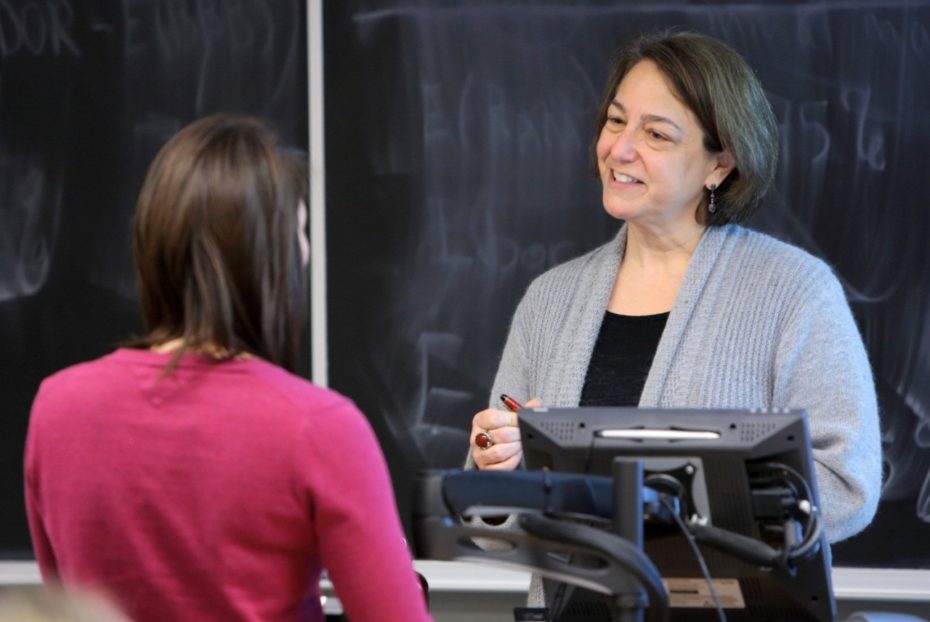 Professor Lisa Cohen has been appointed to head equity, diversity and inclusion at McGill University's Desautels Faculty of Management.
As Director of Equity, Diversity and Inclusion, Cohen hopes to pave the way for Desautels to foster an environment that encourages continuous growth for all.
"My mission is to understand and address any systemic racism and inequalities that exist within Desautels and society at large and to strengthen our culture so that the values of equity, diversity and inclusion become part of the fabric of our Faculty," says Cohen. "I am here first to listen and earn the trust of students, faculty and staff."
While Matthieu Kamwa, the VP of Communications in the Management Undergraduate Society (MUS), wishes the role had been created sooner, he is pleased that the Faculty is taking steps in the right direction. "It is extremely comforting to see Desautels walk the talk," he remarks. "This initiative will foster more open communication and transparency between the student body and the faculty."
Kamwa welcomes the new position, noting that there was previously no process for reporting or discussing matters of equity, diversity and inclusion directly within Desautels. "This new position will help students feel more comfortable discussing issues or reporting discriminatory acts they might have faced in the Faculty," Kamwa adds.
Tackling systemic racism and inequalities
For Cohen, who has delved into issues of diversity across her career, the need for an organizational focus on diversity is not new. "It's always been important," Cohen says, "but recent events and conversations at Desautels and McGill, and in the world, point out just how important it is."
Conversations that are happening across the world have highlighted inequities and systemic injustices that still permeate today's organizations.
"We know in the world that incidents of outright bias are becoming less and less frequent, but we also know that discrimination and inequality in experiences and outcomes persist," the professor of organizational behaviour explains. "This is often the result of biases that are subtle and below the surface and so present an even harder challenge to overcome."
"Creating awareness around these topics will also urge students to acknowledge certain privileges they might have and use their privilege in a positive way to help build a respectful and inclusive learning environment," says Kamwa.
"With this position, we are investing in our communities and creating a culture and environment that brings diverse perspectives to the forefront of our organization," says Isabelle Bajeux-Besnainou, Dean of the Desautels Faculty of Management. "This position is aligned with McGill's efforts to make equity, diversity and inclusion a strategic priority within the University," she adds.
Championing organizational change
"I am a huge proponent of looking at how our existing structures might create and maintain inequities," says Cohen, who has worked at Desautels since 2010. "My focus will be on identifying and fixing any structures that are creating inequities.
"What we are talking about is a huge shift in the culture of the organization to make sure that people are really aware of issues around diversity and their own personal bias," Cohen continues.
"We cannot gain the potential benefits from the diversity in our ranks if we don't also value equity and inclusion. I hope to achieve a cultural change within the organization where everyone is sensitive to issues around equity, diversity, inclusion."
For Kamwa, a new focus on equity, diversity and inclusion will inspire change within the student body.
"We don't want our students to remain passive or complacent when it comes to standing against acts of discrimination or other biases," Kamwa noted. "We want them to act."
Having worked as a management professor over the past 16 years, Cohen thinks that business schools can lead positive change in this area.
"It's important for business schools to be involved in these areas because we are portals into organizations and the world. Any initiatives that we develop to increase equity, diversity and inclusion will be a starting point for students to take forward these ideas and programs into their professional careers."
Issues surrounding diversity and inclusion have infiltrated Cohens' research and teaching throughout her career, and she is grateful to now be in a position where she can directly apply her lessons within her own organization.
"On a personal level, my goal is to work in a fair, diverse and inclusive organization," Cohen says. "I want to help build the path to get Desautels there".
While the path before her is yet to be paved, its destination is clear: the new Director of Equity, Diversity and Inclusion wants to build a community where everyone feels safe, welcome, valued and heard.
Laying the groundwork for equity, diversity and inclusion initiatives
Cohen knows that the task that stands before will be a challenging endeavour, but will be made possible through the joint efforts of all members of the Desautels community.
To help the Faculty make strides in areas of equity, diversity and inclusion, Cohen is assembling a working group and several task forces that will become diversity champions within Desautels.
With the support of the working group, Cohen will set out to grasp the reality of the situation and expose any cracks in the Faculty's commitment to equity, diversity and inclusion.
As a teacher of organizational behaviour, Cohen knows that throwing solutions at problems before they are truly understood only masks the problem. A central focus for the working group's work will be to understand the root cause of any systemic issues that exist within the Faculty.
"Our first goal is to assess the situation based on facts and evidence and map out a course of action from there," explains Cohen. "We will be looking at structures and processes within Desautels: how we recruit students, faculty and staff, and what their experiences are like once they are here — what is it like to live in the walls of Desautels."
"More important than understanding where we have problems is understanding why they exist. If we can understand the 'why', we will be better equipped to address them."
"This is something that I actively teach as well: if managers are trying to build recommendations for an organization, they need to start by understanding the nature of the problem," Cohen adds.
While Cohen won't know how the strategic plan will take shape until a comprehensive review is complete, there are areas that she thinks are important to address: assuring that we are transparent and accountable; cultivating a culture of inclusion and belonging; promoting diversity in hiring and recruiting efforts; ensuring faculty are poised to teach matters of diversity across the curriculum; and encouraging knowledge and research that upholds the Faculty's values of equity, diversity and inclusion.
Cohen has an ambitious goal to tackle equity, diversity and inclusion across the entire life cycle of students, staff and faculty at Desautels — from prospective students entering the pipeline to understanding the experiences alumni face in their careers; from employees entering Desautels through to their retirement.
"That extends to students, faculty and staff who will one day join our community," Cohen says. "They may not be part of our community yet, but we want to make sure that they can look ahead of themselves and see that Desautels and McGill are institutions that they want to be part of."
Professor Cohen's appointment is a step toward ensuring that everyone in the Desautels community—past, present and future — is empowered to reach their full potential through an inclusive, respectful and welcoming environment.