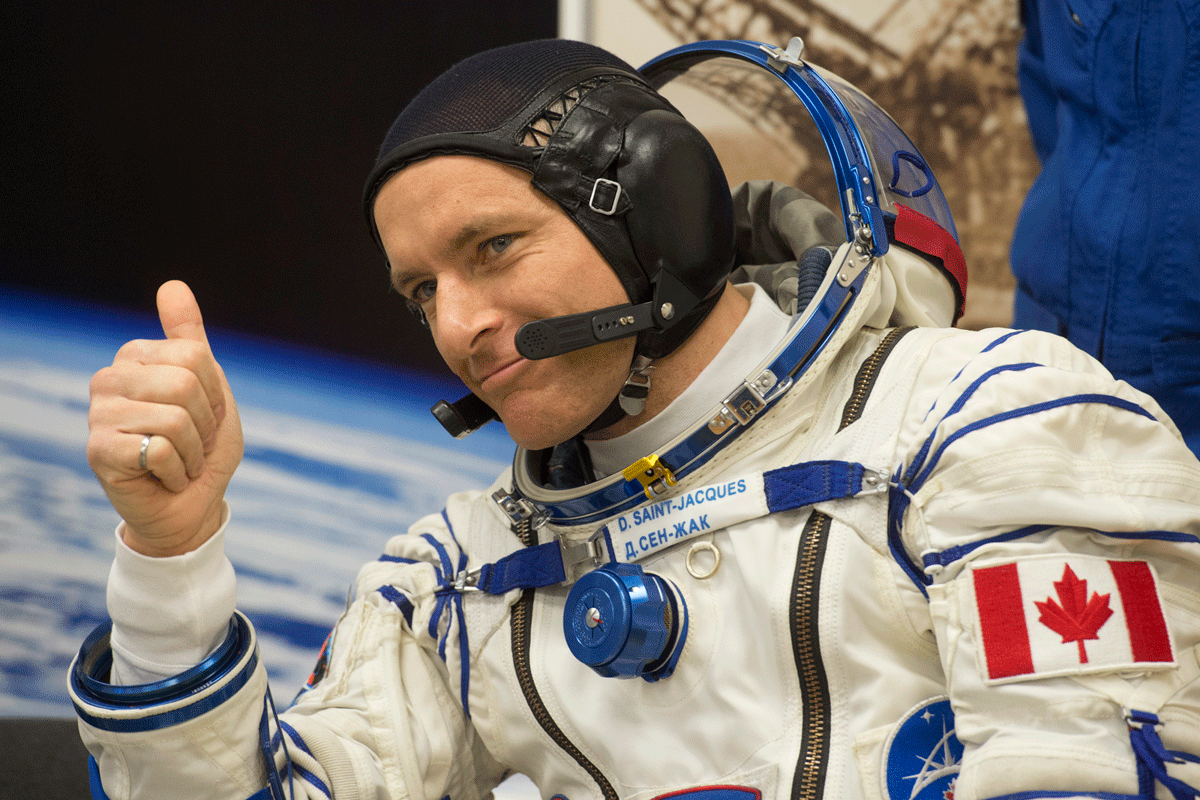 Yesterday, astronaut David Saint-Jacques joined a very exclusive club when the Russian Soyuz MS-11 rocket carrying him and two crewmates docked with the International Space Station (ISS). Saint-Jacques became just the 234th person – and the fourth member of the McGill community – to board the ISS, the giant floating lab orbiting some 408 kilometres above Earth.
It won't be the first time that Saint-Jacques has worked in a far-flung destination. The native of Saint-Lambert completed his family medicine residency at McGill in 2007, focusing on first-line, isolated medical practice.
He put that training into use after graduation, when he served as Co-chief of Medicine at Inuulitsivik Health Centre in Puvirnituq, Nunavik, an Inuit community on Hudson Bay. An Adjunct Professor of Family Medicine at McGill, he also worked as a Clinical Faculty Lecturer in the Faculty of Medicine, supervising medical trainees in Nunavik.
"That experience proved to be great preparation for my career as an astronaut," he said in a recent video from the Baikonur Cosmodrome in Kazakhstan. "In a remote environment with limited resources, teamwork and creativity are essential. This spirit of collaboration serves me every day."
But Saint-Jacques says the lessons learned up north go even deeper than that. "As in the field of space exploration, everyone is enthusiastically dedicated to their work: first responders, doctors, nurses, air ambulance pilots," he said. "You learn to work together and trust each other, to the point that you have no hesitation about putting your life in your colleagues' hands."
Seeking discovery and adventure
Even by astronaut standards, the 48-year-old Saint-Jacques is incredibly accomplished. He has a Bachelor of engineering in engineering physics; and Ph.D. in astrophysics; and a medical degree. Saint-Jacques has a commercial pilot license with multi-engine and instrument ratings.He is fully trained as Soyuz co-pilot, robotic operator and spacewalker. Fluent in French and English, he can also converse in Russian, Spanish and Japanese.
"To understand: that is my main motivation," he says on his Canadian Space Agency (CSA) biographical page. "This fundamental need has guided my academic and career path. I've always wanted to get to the bottom of things, and go beyond books and theory. I'm naturally curious and drawn by discovery and adventure."
After being assigned to Expedition 58 in May 2016, Saint-Jacques spent the past two years in intensive training in Canada, Russia, the United States, Europe and Japan, where he honed his skills and knowledge on the ISS, the Soyuz spacecraft, and a variety of mission-specific tasks. Earlier this summer, Saint-Jacques visited McGill's Steinberg Centre for Simulation and Interactive Learning to refresh his knowledge on Advanced Trauma Life Support.
How does microgravity impact the body?
Over the next six months, Saint-Jacques will conduct a number of science experiments, using himself as the primary test subject. Saint-Jacques will be monitoring the effects of space on everything from bone density to ocular pressure. Looking to develop new programs to keep astronauts healthy in space, the experiments will also help determine the best ways to physically prepare astronauts for a potential mission to Mars.
Harkening back to his days in Nunavik, Saint-Jacques also hopes to optimize remote medical care, looking how to improve telemedicine, what he calls "the art of providing medical care when the patient is far away from a doctor."
"Of course, telemedicine applies to astronauts on their way to a distant destination, but it also applies on Earth to people who live in rural communities far away from urban centres," said Saint-Jacques during his last press conference via video link just three days before launch. "I know from personal experience that everything that is developed for remote medicine in space can be applied on Earth."
McGill at the ISS
Each astronaut is allowed to bring a small suitcase of personal possessions to the ISS. Along with his wedding ring and other personal mementos, Saint-Jacques has packed a McGill crest.
The McGill presence is strong aboard the ISS, with Saint-Jacques following in the zero-gravity footsteps of three other McGill high flyers, including Governor General Julie Payette, Robert Thirsk and Dafydd "Dave" Williams.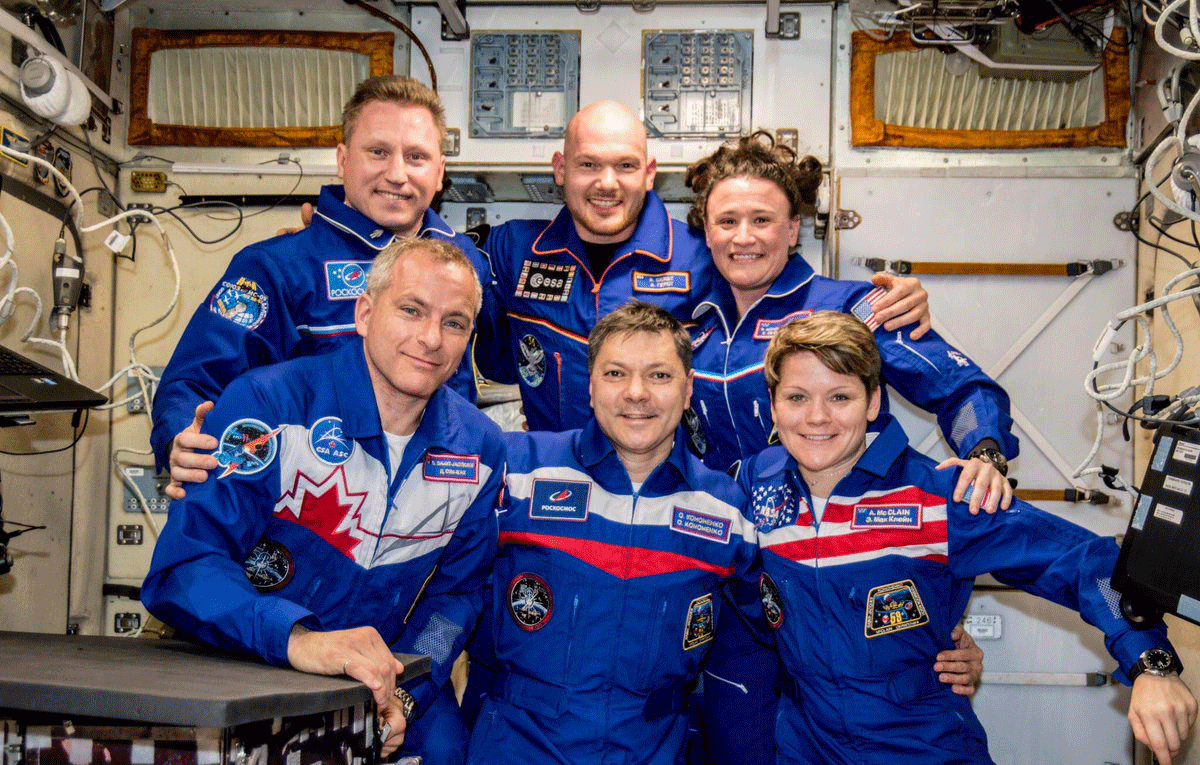 The McGill space tradition may be continued with Jennifer Sidey-Gibbons an Engineering grad who became an astronaut in 2017. Co-hosting Monday's CSA launch event with Robert Thirsk, Sidey-Gibbins could barely contain her excitement when the Soyuz rocket successfully achieved orbit.
"We all know David quite well at the Canadian Space Agency, and for anyone who is following his journey, this is something he has worked toward for years," said Sidey-Gibbons, grinning broadly. "To see him finally reach that dream is… wonderful."
The event ended with a pre-recorded message from a grateful Saint-Jacques to CSA personnel. "You have carried me to this moment and now I will carry you the rest of the way," he said. "Space exploration takes an enormous team effort and I am grateful for the efforts of the thousands of men and women in Canada, and around the world, who have worked behind the scenes to ensure this mission's success.
"It is their talent and effort – your talent and effort – that has made this mission possible… You gave the best of yourselves to make this mission a reality and I am both grateful and proud to be your representative," he said. "Today, I will achieve an old dream and I will also carry your dreams with me.
"I hope that through this mission, the Canadian Space Agency and I can spark curiosity and interest in young Canadians and inspire them to be the next generation of explorers."