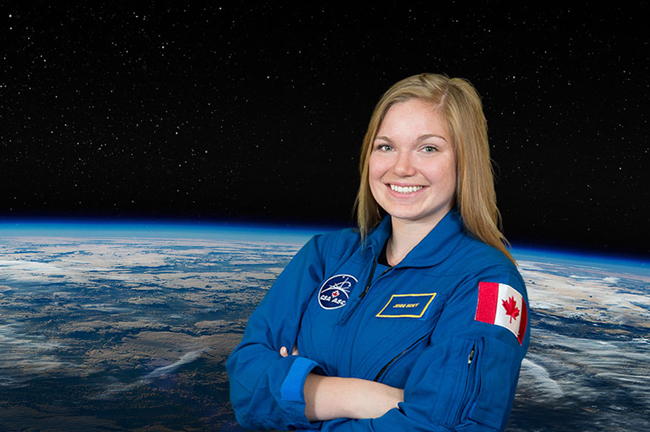 Jennifer Sidey (BEng'11) says her motto is "Fortune favours the brave."
On July 1, fortune smiled upon Sidey and Joshua Kutryk when they were named our country's newest astronauts. Since 1983, just 14 Canadians have made the grade, making it one of the most exclusive clubs in the country. Sidey and Kutryk raise the number of active Canadian astronauts to four.
Prime Minister Justin Trudeau made the announcement to a wet but enthusiastic Canada Day crowd in Ottawa. "I see a Canada that is home to bold, creative thinkers, innovators and explorers. And that includes exploring the final frontier," said the Prime Minister to the cheers of the audience. "Our new astronauts will represent Canada, advance our understanding of our planet and our universe, and inspire the next generation of Canadians to reach for the stars."
Sidey, a combustion scientist and a lecturer at the University of Cambridge, is the fifth McGill grad to join the ranks of space traveler, along with David St-Jacques, Julie Payette, Robert Thirsk and Dafydd "Dave" Williams. But, she admitted, it was another Canadian astronaut who inspired her more than two decades ago.
"Back in 1992, Roberta Bondar flew on the Space Shuttle Discovery. And when she came back to earth, I was fortunate enough to see her speak in Calgary," the 29-year-old Sidey told the crowd at Saturday's announcement. "I remember looking up to her and being excited at the idea of being a scientist, being a Canadian, and having the opportunity to explore places beyond our world. I'm grateful for having had that role model. That memory makes this moment so powerful for me, as a woman and as a Canadian. It is a privilege to share this moment with you."
Not for the faint of heart
The final selection marked the end of an arduous, year-long selection process in which Kutryk and Sidey beat out more than 3,700 applicants. In April, the Canadian Space Agency (CSA) whittled down the list to 17 finalists, following a series of exhausting tests designed to push candidates to their physical and mental limits to see how they functioned under stressful, unpredictable conditions.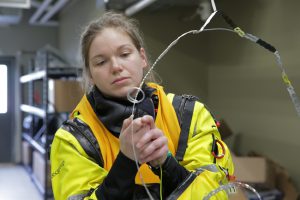 The tests included everything from solving puzzles while holding their breath for close to two minutes at the bottom of a pool, to escaping a capsule landing in high seas and plugging a hole in a flooding compartment.
Sidey and Kutryk will move to Houston this month to start the two-year training program for astronaut candidates at the Johnson Space Center. The program includes scientific and technical briefings, intensive instruction in International Space Station systems, simulated extravehicular activities (EVAs, or spacewalks), robotics, physiological training, flight training, Russian language courses, and sea and wilderness survival training.
That Sidey thrived under such gruelling conditions came to no surprise to Jeff Bergthorson, mechanical engineering professor and Associate Director of the Trottier Institute for Sustainability in Engineering and Design. "Jenni was an undergraduate student in my Thermodynamics 1 class, and she was the top student in the class because she put the most into it. She was asking questions, coming to see me to make sure she really understood the depth of the material," Bergthorson told the Reporter. "Some students are happy just to get the answer, finish the test and move on to the next problem. Jenni always wanted to make sure she really understood everything.
"She is someone who, from the outset, stood out as somebody who is a star performer and who is going places," says Bergthorson, who was Sidey's supervisor for her undergraduate honours thesis. "Performing at a high level, that's her to a tee. But not with an agenda. Performing for its own sake, doing well and understanding for its own sake. I tell my students that if they work hard there are no limits to where that will take you. Jenni is a perfect example of that."
Rugby-playing combustion scientist
Sidey is a Lecturer in the Department of Engineering at the University of Cambridge and a Fellow at St Catharine's College. Her research interests lie in experimental turbulent combustion. Her current work is motivated by alternative fuel development and emission reduction in practical energy and transport devices.
Not just an academic, Sidey is also a top rugby player who spent a number of years playing for one of the UK's best teams while at Cambridge. In several interviews, she credits her time on the pitch with helping her develop the trust, cooperation and ability to work in a team that proved to be essential elements in being selected as an astronaut.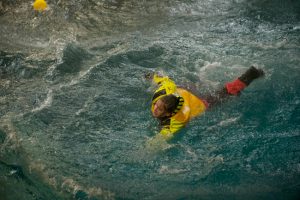 She has also developed a host of outreach events designed to introduce young women to the field of engineering. In 2013, she co-founded an outreach group called Robogals Cambridge through which she designed and delivered robotics workshops to thousands of young people around the UK. "Jenni was always extremely adept at communicating complicated science and engineering to a general audience – extremely important for an astronaut who will be visiting schools, etc.," says Bergthorson.
These outreach activities, along with the technical success she achieved in her academic career, led to her receiving the prestigious Institution of Engineering and Technology's Young Woman Engineer of the Year Award and a RAEng Young Engineer of the Year Award in 2016.
"I wanted to become an astronaut because it provides an incredible challenge. It aligns with my interests in the advancement and application of science for the benefit of society," says Sidey on her biographical page on the CSA website. "It will also provide me with a platform from which I may inspire a diverse group of young people to pursue their interests in science and engineering subjects."
In many ways, Sidey is following in the footsteps of women whose courage has been smiled upon by fortune. "I look up to women who were early pioneers in engineering and science fields. These heroes include computer scientist Margaret Hamilton; astronauts Roberta Bondar, Julie Payette and Mae Jemison; and engineer Nancy Fitzroy," she says. "All of those women have had careers marked by bravery, skill, and incredible perseverance."