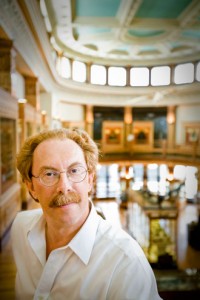 By Jim Hynes
David Green has come full circle. When he was three years old, the McGill biology professor and renowned expert on amphibians took over his older brother's plastic dinosaur collection…and refused to give it back. Today, Green is the Director of the Redpath Museum, which effectively puts him in charge of a 30-foot Albertosaurus skeleton.
Call it a boy thing. As a youngster, Green's attention soon turned from plastic dinos to slithering snakes and then to toads, which remain his number one interest, or as he calls it "obsession."
"I seem to have been destined to be a zoologist," he said.
In 1976, the Vancouver native earned a BSc in zoology from the University of British Columbia. He then earned a PhD at the University of Guelph, where he also authored his first book, The Amphibians of British Columbia, for the BC provincial museum, his first of many brushes with the kind of institution he now heads up.
"A great deal of the work I do, and have done, involves museums, whether directly or indirectly," Green said. "If you are seeking to find out where different kinds of animals are, or what they look like, or the extent of variation among them, or the extent of evolutionary change within them, you look to museums. So I have worked in, or in association with, museums through most of my career."
Action behind the scenes
A professor at McGill since 1986, Green was named Director of the Redpath Museum in 2005 (after serving as its Curator of Vertebrates since 1996). In addition to its more typical museum functions, like hosting collections and special events, the Museum also operates as a small department within the Faculty of Science, one with the same overall academic mission as any other department. People's perceptions about the role of a museum like the Redpath, however, can be hard to change.
"If you explain that there are collections behind the scenes, too, people tend to think that makes sense, though they don't usually think about it. If you also explain that there are research labs and graduate students and professors and classes being taught, people go 'Oh, really?'"
The Museum's faculty members engage in scholarly research, teach undergraduate courses, and train graduate students, and are involved in service to the University. At any one time, there are about 30 to 35 graduate students working on their projects at the Redpath under the supervision of Museum professors.
"Without this academic activity, and bear in mind that on a per capita basis the Museum is a highly productive academic unit, I don't think the Museum would have lasted as long as it has or be taken seriously," Green said. "Historically, the number of professors in the Museum was very small, too small for the Museum to mount an academic program of its own. So Museum professors taught, and still do teach, courses in other departments. Recently our faculty has grown considerably and, to better fulfill our mission as a teaching department, we now have a small number of Museum undergraduate courses with the REDM prefix."
Collections of real things
What the Redpath does have that other University departments don't, at least not to the same degree, is large exhibition galleries and and active public outreach and activity programs. Last year, more than 40,000 people visited and/or participated in programs at the Redpath. "It's an asset that draws people to the University," Green said.
Then there are the collections, including holdings in zoology, paleontology, mineralogy and ethnology. "The Museum is a sort of library, not of books but of real things," Green said. "It houses irreplaceable, unique objects and information about them. To a great extent, the collections underpin the research done at the Museum as well as the public displays."
Originally built in 1882 and extensively renovated, the museum building itself can be both a blessing and a curse to those who run it. While its aesthetic charms are undeniable, the Redpath's size and age pose some challenges.
"The building is both our greatest asset and largest impediment," Green said. "It's a wonderful building, beautifully restored and grandly situated in the heart of campus. It's a great attraction and in many ways the Museum's own best exhibit as it has such an important place in the history of museums in Canada. But it has severe limitations and was never designed for the sort of museum work done now. Maintenance is not easy in such an old building," he said. "And with professors, students, labs, offices, classrooms, collections storage and public display galleries all jammed in, the Museum is utterly out of space. That's our biggest single problem."
As for the Redpath's future, and the direction he hopes to see it take, Green says his goals are fairly straightforward. "My aim is to see the Museum prosper as an academic unit within the university. In the short term, with the help of the Faculty and the University, I think we can expect to see improvements in the Museum's infrastructure with renovations to labs, offices and curatorial areas," he said. "I also think we will see an even more successful outreach program.  And with our superb group of young professors, we can surely expect an impressive amount of excellent research and teaching."