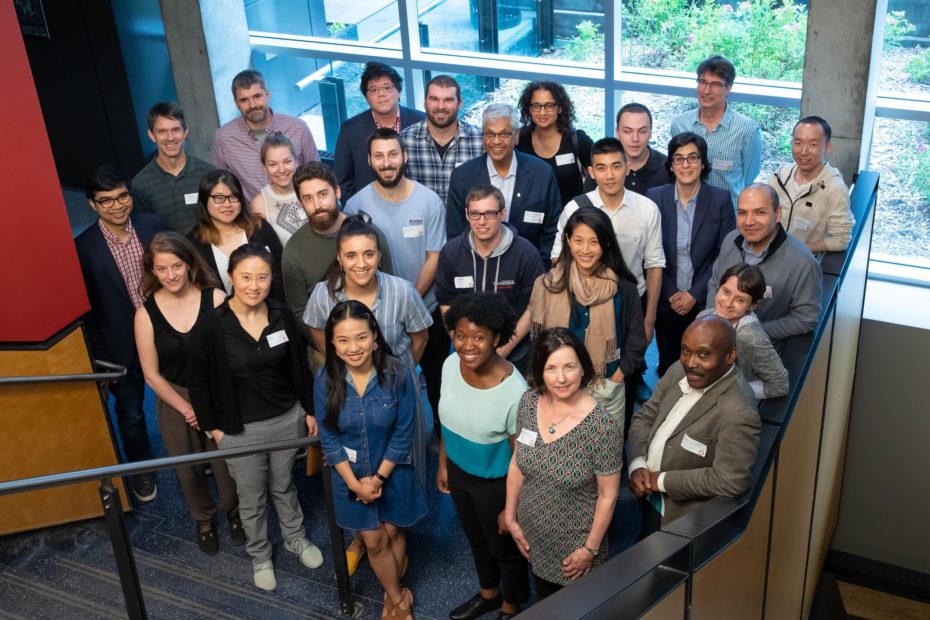 On June 10, Prime Minister Justin Trudeau stood on the banks of a picturesque lake on McGill's Gault Nature Reserve to announce the plan to ban single-use plastic bottles in Canada by 2021.
It was a bold move but, in face of the worsening environmental situation globally, a necessary one.
The next day, in the lobby of the Trottier Building, bold sustainability initiatives were once again in the spotlight as the McGill Sustainability Systems Initiative (MSSI) announced the newest recipients of its Ideas Fund. In all, 13 projects both faculty- and student-led were awarded funding.
The MSSI Ideas Fund provides small amounts of seed funding to explore novel ideas which, if successful, could make a significant impact on a sustainability-related challenge.
The Fund allows recipients to explore the feasibility of ideas before dedicating significant resources to flesh them out. The aim is to enable development of projects to a stage where they can attract other funding.
"We are creating a hub of interdisciplinary research," said Heather McShane, Program Director of the MSSI, to the people assembled at Trottier. "This is specifically addressed by the MSSI by providing a relatively small amount of funding for sustainability projects that we might otherwise have difficulty in sourcing other funds for."
Four research themes
Launched in the Fall of 2017, the MSSI is committed to establishing a network of researchers across the University, from social sciences and humanities to natural sciences and engineering, to develop sophisticated, cross-disciplinary responses to some of the world's complex sustainability challenges.
The major research will be centred on thematic areas in which McGill has a demonstrated expertise and can be expected to make tangible and significant impacts. These themes include sustainable landscapes for the future; creating sustainable materials for the future; adapting urban environments for the future; and sustainability transitions.
Projects are evaluated on their potential for impact on a sustainability problem. Some of the criteria include originality, budgetary feasibility and potential for significant impact if successful. In line with MSSI goals, projects that take an interdisciplinary approach are viewed favourably.
Visit to food court serves as catalyst
Nicholas Lin and Sunny Weng were among the recipients of MSSI Ideas Fund support. Their project is to design fully degradable alternatives to single-use plastics by upcycling food waste.
Lin, a PhD candidate in chemical engineering, said the idea was inspired by an innocuous trip to a nearby food court.
"Sunny and I were at the Eaton Centre and we saw the Jugo Juice stand. Once they juiced everything, they just threw away all the pulp. We thought that's a lot of potential useful material going straight to the garbage… What if we could use to make useful construction material?"
Lin and Weng's idea is to take food waste to address the problem of single-use plastics, the vast majority of which is not recycled. Most accumulate in landfills for centuries. Many by-products from the food industry – such as the Jugo Juice pulp – are degradable, biorenewable, nontoxic and edible.
The plan is to take fruit peels, vegetable husks and other food waste, and blend it with natural biopolymers such as starches, gums and seaweed extracts to design fully degradable products that can replace single-use plastics.
"We just started, but we thought of making small Lego-like bricks or utensils. It's a building block for future applications," says Lin. "The pulp is kind of flexible, so we're hoping we might be able to use it to create a product that might replace plastic films used for packaging, a more biodegradable plastic film."
From proposal to proof of concept to final product
Now that Lin and Weng have secured the funding, their next step is proof of concept. "What kind of waste material can be blended together in a synergistic combination where the sum is greater than the individual parts," asks Lin. "In six months, we want to have a selection of candidate combinations that we think are easy to work with, can be sourced abundantly and sustainably, and that can be mixed well."
Within a year, Lin hopes to have moved on from developing lab-scale materials to industry-relevant amounts.
"This kind of funding is extremely important. It's amazing to see how motivated he was to apply for the funding and how excited he was to get the funding for an original idea," says Nathalie Tufenkji, Canada Research Chair in Chemical Engineering and Lin and Weng's faculty supervisor of the project.
"He's really motivated to push this forward and work on this on his own time – on top of all his regular thesis work that he's doing."
Creative solutions needed
Lin and Weng are members of Tufenkji's Biocolloids and Surfaces Laboratory, an experience that served as a catalyst for their MSSI project.
"Because of Professor Tufenkji, we have a core competency in discovering, characterizing and quantifying nano and mircoplastic pollution. We know it's a problem, we can quantify how much of a problem it is and we want to do something about it. For Sunny and me, this is our contribution."
Despite the environmental doom and gloom predicted by many observers, Tufenkji believes science can lead us back from the brink.
"Quite a few solutions already exist in terms of mitigating plastic pollution. We just have to have the right pressures and the right motivations in place – such as this new single-use plastics ban. I think we're moving in the right direction, especially in Canada," she says.
"There's been a lot of investment in understanding the impacts of plastic pollution, but also in mitigating plastic pollution and finding alternatives to plastics, particularly single-use plastics," says Tufenkji. "It's going to take creative solutions to address these problems – which is why it's great to have the MSSI support people like Nick who are so motivated to drive this kind of research forward."