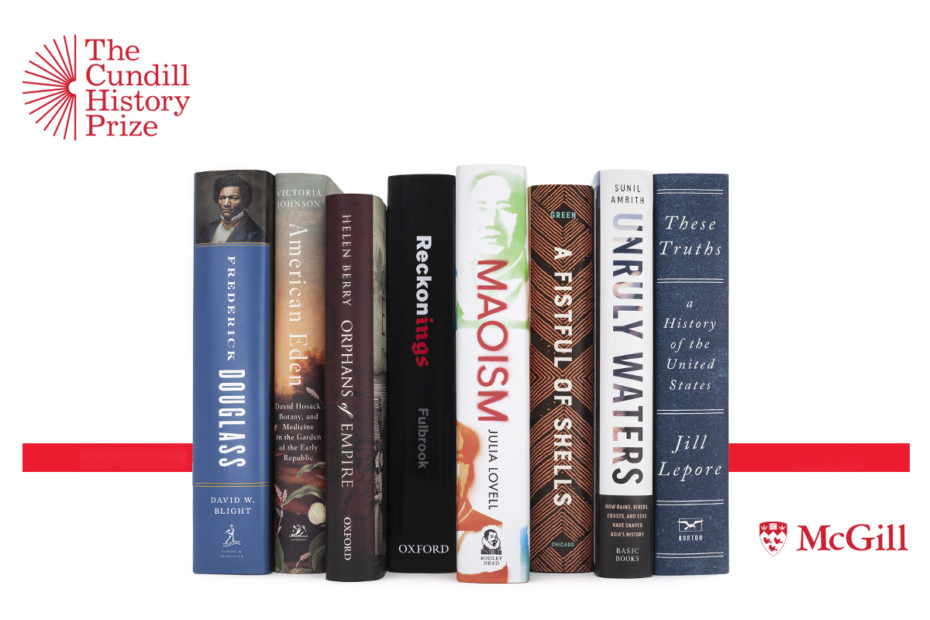 The shortlist for the prestigious Cundill History Prize was announced last evening at a lively event hosted by the Consulate General of Canada in New York. The Chair of the jury, twice Pulitzer Prize-winning historian, Alan Taylor, was joined by his distinguished jury colleagues to discuss the eight titles vying for the prize.
The historians on the shortlist – five women and three men – have more than 15 prestigious literary prizes between them, including the Pulitzer Prize and Wolfson History Prize.
The books on the shortlist cover a wide breadth of time and place. What unites the books is their ability to link the past to the present, helping us grasp contemporary dilemmas by charting their development through time.
Alan Taylor praised the shortlisted books, which "combine a depth of research, with innovative questions and clear prose meant to communicate, often beautifully, to general readers as well as academic scholars."
Antonia Maioni, Dean of the Faculty of Arts, thought the jury's selection was "stimulating, exciting, challenging – this shortlist reflects the very best history writing produced anywhere in the world."
The 2019 shortlist
Watch the story unfold
Administered by McGill University, The Cundill History Prize is the leading international award for a book of non-fiction. Each year, a US$75,000 prize is awarded to a book that embodies historical scholarship, originality, literary quality and broad appeal. Two finalists receive US$10,000 each.
The prize strives to be international in scope and reach. After travelling to New York to announce its shortlist, the prize moves to Toronto's Massey College, where the three finalists will be announced on October 16.
Following this, the prize returns home to Montreal for the winner announcement and a series of events on-campus. On November 13, 2018 prize winner Maya Jasanoff will deliver the annual Cundill Lecture on her winning book, The Dawn Watch: Joseph Conrad in a Global World. Jasanoff will share her experience of researching and writing this genre-defying title, which blends history, travelogue and literary criticism.
On November 14, Jasanoff will join the three finalists for the 2019 prize at the Cundill Forum — a panel discussion on the complexities of history-writing in the age of fake news.
Also on November 14 is the annual Cundill Fringe. A graduate student panel moderated by Jason Opal, Chair of the Department of History and Classical Studies, will discuss the three titles in contention for the prize. The event culminates in a People's Choice vote, where audience members and live-streamers are invited to select a winner.
Just hours after the Cundill Fringe, the 2019 winner will be announced at the annual Cundill History Prize Gala, held at the Montreal Museum of Fine Arts.
Follow the story at cundillprize.com