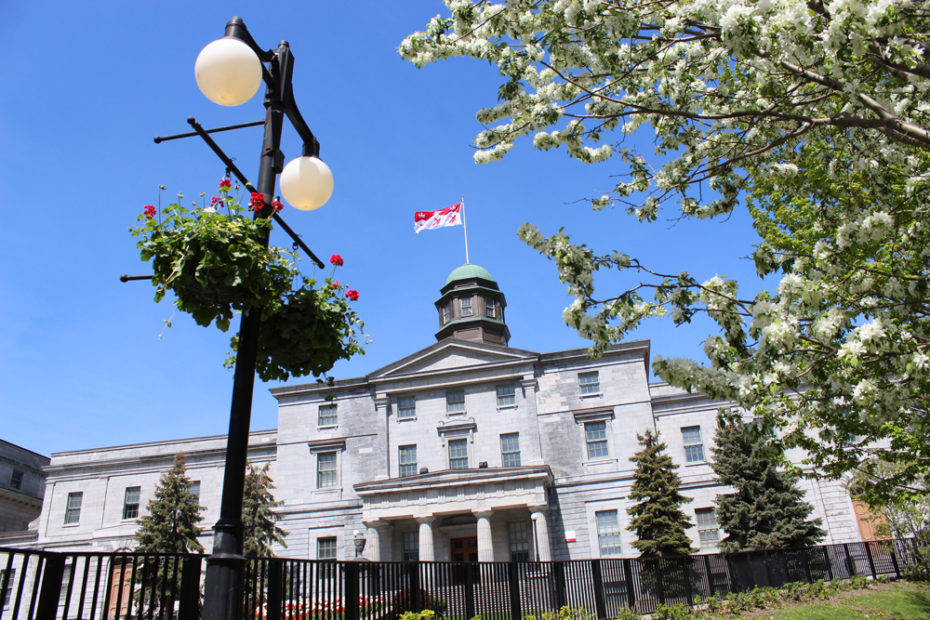 This following message was sent by Fabrice Labeau, Deputy Provost (Student Life and Learning), on August 6.
La version française suit.
Dear members of the McGill community,
It was encouraging to see the high level of engagement at last week's faculty and staff Town Hall, where we discussed the planning for safely resuming on-campus activity this fall. With more than half of our student community expected to be in the Montreal area, interpersonal interaction will play an important part in re-establishing a vibrant campus experience. If you missed the live session, I invite you to watch the online recording of the complete session. There were many excellent questions asked, and I would like to take this opportunity to address some of the recurring points.
Returning to campus
In previous messages, I have shared with you the University's plans for Phase 5, which involves taking significant steps toward safely increasing the resumption of activities across its campuses. Through a combination of careful and controlled institutional measures and individual efforts to protect against the spread of COVID-19, employees will gradually return to campus or, as individual unit needs allow, alternate between working on-campus and working from home.  A return to full occupancy will not be possible in the foreseeable future. In order to maintain proper physical distancing, capacity levels will be determined on a building-by-building basis.
A toolkit is available to help faculties and administrative units plan how to ramp-up their on-campus activities. The toolkit includes checklists, signage templates and cleaning protocols for shared spaces. Additionally, Human Resources has prepared a quick reference guide to help employees prepare to resume working on campus.
Work-life balance
The University appreciates the many demands that the pandemic has put on employees and their families, and continues to pay close attention to the evolving public health situation at large, including grade school reopenings. Needs may vary from unit to unit, but working from home will remain a core part of our strategy for maintaining a safe, manageable presence on campus.  For more information, please see the HR FAQ page. 
Getting to work
We have heard from many people who are eager to return to work, but have concerns about getting to campus. On-campus parking remains free until August 31. The parking situation is currently being re-evaluated, to account for having a larger on-campus presence this fall. I would also like to remind everyone that face coverings are now mandatory on public transit, as well as on university campuses and other indoor public spaces.
Workplace safety measures
Planning for an increased presence, but not a full presence, in workplaces should naturally allow for the required two-metre physical distancing between co-workers. The toolkit for resuming activities includes tips for how to change your workspaces and workflows to respect distancing requirements. In some cases, additional physical barriers may be required. In rare cases where employees cannot avoid working in close proximity to each other for extended periods, the University will provide the necessary PPE (personal protection equipment).
Returning to off-campus workplaces
For workplaces located at other institutions, such as the Glen hospital site, the University must follow the directives of those institutions. In the case of rental locations, we are currently in discussions with the landlords to ensure that McGill employees have a clear understanding of what to expect on-site during the return-to-work transition.
Resuming research
Although our ongoing, multi-phase research ramp-up has largely focused on wet and dry labs, of course research takes many forms—including professors using reference materials in their offices. Phase 5 accounts for research of all types. As per the Principles and Procedures for Research on Campus, researchers wishing to resume on-campus research can submit a proposal to their Dean.
COVID symptoms
Before coming to campus, faculty, staff and students must continue to fill out a daily online self-assessment form on Minerva. Individuals with COVID-19 symptoms are asked to stay home and phone 1-877-644-4545. The Guide for Supervisors includes detailed protocols for what to do if an employee reports symptoms from home, or develops symptoms while on campus.
Ventilation systems
From the very outset of the pandemic, McGill has taken steps to reduce the amount of recirculated air in our buildings. The University's HVAC systems are set to maximize outdoor air intake, using up to 100 per cent fresh air where possible. Labs, particularly wet labs, are already equipped with systems to contain airborne contaminants.
International students
As the Fall semester nears, we know many international students are wondering if, and when, they can enter Canada. There are currently two distinct travel restrictions in effect that may make it difficult to enter Canada from the U.S. and other countries. These restrictions apply to both newly admitted students and returning students. The International Student Services website is an excellent resource for entry requirements, quarantine directives, government resources, and other information relating to international student travel.
Last week's Town Hall was the first in a series of conversations for our community. Dates and other details for other Town Halls, including one for students, will be shared with you when known. 
On a final note, as is tradition, August 1 was the start-date for many new research and teaching staff—welcome to the new members of the McGill community! To support the onboarding process, the Human Resources Shared Services Unit has announced that it is again able to issue McGill ID cards for new hires. (Employees who are required to be on campus can replace lost or stolen cards as well.) Details about how to request an ID card are online.
I hope you are keeping healthy and enjoying the summer. Thank you for reading.
Sincerely,   
Fabrice Labeau   
Deputy Provost (Student Life and Learning), on behalf of the Emergency Operations Centre
__________________________________
Chers membres de la communauté mcgilloise,   
 J'ai été ravi de constater une forte participation à notre assemblée générale à l'intention des membres du corps professoral et du personnel qui a eu lieu la semaine dernière, et où il a été question des plans entourant une reprise sécuritaire des activités sur le campus pour la session d'automne. Comme plus de la moitié de nos étudiants devraient se trouver dans la région de Montréal à la rentrée, les interactions interpersonnelles joueront un rôle important dans l'expérience dynamique offerte sur le campus. Si vous n'étiez pas présent lors de l'assemblée, je vous invite à visionner un enregistrement en ligne. On nous a posé d'excellentes questions, et j'aimerais revenir sur certains des principaux points.
Retour sur le campus
Je vous ai déjà parlé des plans de la Phase 5, au cours de laquelle l'Université souhaite accélérer en toute sécurité la reprise des activités sur ses campus. Moyennant la prise de mesures rigoureuses pour la prévention de la propagation de la COVID-19, tant par les établissements que par les individus, les employés reviendront graduellement sur les campus et, selon les besoins de chaque unité, pourront travailler en alternance en présentiel et à distance. Un retour de l'ensemble du personnel n'est pas envisageable pour l'instant. Pour chaque pavillon, nous déterminerons le taux d'occupation qui nous permettra de respecter les règles de distanciation physique.
Une trousse est mise à la disposition des facultés et des unités administratives pour la planification de la reprise progressive de leurs activités sur le campus. Cette trousse renferme des listes de vérification, des modèles d'affiches et des protocoles de nettoyage pour les aires communes. De plus, les Ressources humaines ont préparé un aide-mémoire pratique afin d'aider les employés au moment de la reprise du travail sur le campus.
Équilibre travail-vie personnelle
L'Université est bien consciente des difficultés que la pandémie a causées pour les employés et les familles, et elle continue à surveiller l'évolution de la situation sanitaire, notamment en ce qui concerne la réouverture des écoles primaires. Bien que les besoins puissent varier selon les unités, nous continuerons d'avoir recours au télétravail pour gérer notre présence sur les campus de façon sécuritaire. Pour obtenir de plus amples renseignements, veuillez consulter la Foire aux questions des Ressources humaines. 
Transport
Beaucoup d'entre vous nous disent avoir hâte de retourner au travail, mais être inquiets quant à la façon de se rendre sur le campus. Le stationnement sera gratuit jusqu'au 31 août sur le campus, et nous réfléchissons à la façon de gérer la situation à l'automne, alors qu'il y aura plus de gens présents. J'en profite pour vous rappeler que les couvre-visage sont obligatoires dans les transports en commun, tout comme sur les campus universitaires et dans les autres lieux publics intérieurs. 
Mesures de sécurité au travail
En planifiant le retour des employés, bien qu'il soit partiel, il ne faut pas oublier que les collègues doivent maintenir une distance de deux mètres entre eux. La trousse de planification de la reprise des activités renferme des conseils sur l'aménagement des locaux et des processus de travail en fonction des règles de distanciation. Dans certains cas, des barrières physiques pourraient être nécessaires. Et dans les rares cas où les employés ne pourront pas éviter de travailler à proximité les uns des autres pendant de longues périodes, l'Université fournira l'équipement de protection individuelle nécessaire. 
Retour dans lieux de travail hors campus
Dans les lieux de travail situés dans d'autres établissements, comme au site Glen, l'Université doit respecter les consignes de ces établissements. Pour ce qui est des locaux loués, nous consultons les propriétaires et veillerons à ce que les employés mcgillois comprennent bien ce qui les attend à leur retour au travail.
Reprise des activités de recherche
Depuis le début de la reprise par phases des activités de recherche, il a été surtout question des laboratoires expérimentaux et des laboratoires in silico. Pourtant, la recherche peut prendre bien des formes, notamment pour des professeurs qui consultent des ouvrages de référence dans leur bureau. La Phase 5 tient compte de tous les types d'activités de recherche. Conformément aux Directives régissant la recherche sur le campus, les chercheurs qui souhaitent reprendre leurs travaux sur le campus peuvent soumettre une demande à leur doyen.
Symptômes de la COVID-19
Avant de se rendre sur le campus, les membres du corps professoral, les membres du personnel et les étudiants doivent continuer de remplir chaque jour le formulaire d'autoévaluation dans Minerva. Les personnes qui ressentent des symptômes de la COVID-19 doivent rester à la maison et appeler au 1 877 644-4545. Le Guide à l'intention des superviseurs renferme des protocoles détaillés si un employé appelle de la maison pour signaler des symptômes ou s'il commence à en ressentir alors qu'il se trouve sur le campus. 
Systèmes de ventilation
Depuis le début de la pandémie, McGill prend des mesures pour réduire la quantité d'air recyclé dans ses pavillons. Les systèmes de chauffage, de ventilation et de conditionnement d'air sont réglés de manière à maximiser l'apport d'air extérieur et à faire circuler jusqu'à 100 % d'air frais, lorsque c'est possible. Les laboratoires, et tout particulièrement les laboratoires expérimentaux, sont équipés de systèmes qui emprisonnent les contaminants atmosphériques. 
Étudiants internationaux
La session d'automne approche à grands pas, et beaucoup d'étudiants internationaux se demandent s'ils pourront entrer au Canada ou quand ils pourront le faire. Actuellement, deux restrictions de voyage compliquent l'entrée au Canada en provenance des États-Unis et des autres pays. Ces restrictions s'appliquent aux nouveaux étudiants et aux étudiants qui reviennent. Le site Web des Services aux étudiants internationaux est une excellente source d'information sur les modalités d'entrée, les exigences de quarantaine, les ressources gouvernementales et d'autres sujets liés aux voyages des étudiants internationaux. 
L'assemblée générale de la semaine dernière était la première d'une série de conversations avec notre communauté. Nous vous transmettrons les dates des prochaines assemblées, dont une s'adressera aux étudiants, ainsi que des renseignements complémentaires.
Le 1er août est traditionnellement le premier jour de travail pour bon nombre de nouveaux chercheurs et membres du personnel enseignant. J'aimerais donc souhaiter la bienvenue à tous les nouveaux venus dans la communauté mcgilloise. L'unité Services partagés des Ressources humaines vient d'ailleurs d'annoncer qu'elle recommençait à émettre des cartes d'identité de McGill aux nouveaux employés. (Elle peut également remplacer les cartes perdues ou volées des employés tenus d'être présents sur le campus.) Vous trouverez en ligne des renseignements sur la façon de demander une carte d'identité. 
Prenez bien soin de vous et profitez de l'été. Merci de votre attention.
Salutations cordiales,      
Fabrice Labeau     
Premier vice-principal exécutif adjoint (études et vie étudiante), au nom du Centre des opérations d'urgence