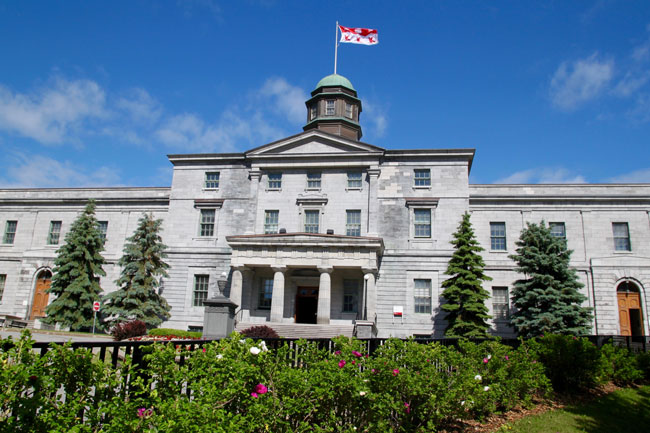 The following message was sent to the McGill community by Fabrice Labeau, Deputy Provost (Student Life and Learning), on September 1.   
Le présent message est envoyé au nom de Fabrice Labeau, premier vice-principal exécutif adjoint (études et vie étudiante).     
La version française suit.     
Dear members of the McGill community:
The Fall semester is upon us, and it promises to be unlike any other in McGill history. Thank you to all faculty and staff for all your hard work in planning a rewarding learning experience for all our students, whether they will be joining us on our campuses, or engaging virtually from around the world. Thanks as well to all the students who participated in last week's Town Hall. It was great to see so much engagement and so many great questions about the Fall semester.  If you weren't able to attend, you can now watch a recording of the session.
Below is the latest information to help everyone have a successful and productive Fall semester.
Resources for students
Consult this page for essential information, including general and student-specific health guidelines. I would also like to remind you that any informal student gatherings, be they indoor or outdoor, must be limited to no more than 10 people while respecting physical distancing measures.
Many Student Services are now offering in-person as well as remote appointments and support. Take a look at their webpage for a full list and more information. 
The new Remote Student Life website has a wealth of information on services and resources available remotely, as well as links to what is open on campus.  Make sure you also check myCourses, McGill's learning management system, throughout the week for instructions on how to access your classes remotely and other important information from your instructors. New to myCourses? Check out these tips for students and this handy user manual.
 Although you will not be required to be on campus this semester, some of your classes may have optional in-person teaching activities, which will be complemented with a remote alternative so you can fully participate in your class from home. These in-person activities will mostly occur in Teaching Hubs. Your instructor will communicate with you if your class has an in-person teaching activity—if you don't hear from your instructor on this topic, your class will not have an in-person teaching activity. 
If you are a graduate student with questions about your research or courses, you can check out this FAQ website, and also be sure to communicate with your research supervisor, or direct questions to your Graduate Program Director. 
IT support
Virtual IT walk-in support is available from Monday-Friday, 9 a.m. to 5 p.m.  Appointments will be given at 20-minute intervals. You can book sessions with an agent and connect via webcam on MS Teams.
Shuttle bus
The shuttle bus between the downtown and Macdonald campuses is available for students who are taking courses on both campuses, and for faculty and staff who have administrative or academic university-related business on both campuses. Please note that due to the Quebec government's COVID physical distancing requirements for transportation, the passenger capacity on each shuttle bus is a maximum of 12 seated passengers. Before riding, please familiarize yourself with other modifications to how the bus operates.
Zoom accounts
McGill students, faculty, Course Lecturers, TAs, and other staff involved in teaching activities will automatically receive licensed Zoom accounts for the 2020-2021 academic year. These licensed accounts:
remove the 40-minute time limit
allow sessions to have up to 300 participants
include features such as breakout rooms and polling
There is no action required on your part; when the final integration is complete, your license will be automatically upgraded when logging in to the program using your McGill credentials on the web or in the app. Please note that you may need to log out of Zoom and then log in again to activate the new license. 
Instructors teaching classes larger than 300 will have their accounts automatically upgraded to larger sizes to allow all students to join the (virtual) classroom before the start of term.
Zoom is only one of a suite of Web-conferencing tools available to the community, and is currently available for teaching and collaborative learning. For non-teaching purposes, all staff (including faculty, course lecturers, TA and others) are asked to use MS Teams and Cisco Webex. This Zoom institutional license has been acquired in collaboration with IT and Procurement Services.
I wish you all the best in your studies and work this semester.
Sincerely,        
Fabrice Labeau        
Deputy Provost (Student Life and Learning), on behalf of the Emergency Operations Centre   
____________________
Chers membres de la communauté mcgilloise,
D'emblée, un constat s'impose : la session d'automne qui s'annonce ne sera pareille à nulle autre dans l'histoire de l'Université McGill. Je tiens à remercier les professeurs et les employés, qui n'ont pas ménagé leurs efforts pour offrir une belle expérience d'apprentissage à tous nos étudiants ici même sur nos campus, ou en mode virtuel de partout dans le monde. Un grand merci également à tous les étudiants qui ont participé à l'assemblée générale de la semaine dernière. C'était extraordinaire de vous voir motivés, avides de tout savoir sur la session qui s'amorce. Vous n'avez pas pu y assister? Vous pouvez la visionner dès maintenant ici.
Vous trouverez ci-après toute l'information dont vous aurez besoin pour bien démarrer votre session d'automne.
 Ressources à l'intention des étudiants
Vous trouverez dans cette page des renseignements essentiels, notamment les directives sanitaires générales et celles qui s'adressent plus précisément aux étudiants. Par ailleurs, je vous rappelle que les rassemblements informels, tant intérieurs qu'extérieurs, doivent se limiter au plus à 10 personnes et se dérouler dans le respect des mesures de distanciation.
Les Services aux étudiants proposent maintenant des rendez-vous et du soutien en personne ou à distance. Consultez leur page Web pour obtenir la liste complète des services et un complément d'information.
Je vous invite à consulter également le nouveau site Web de la vie étudiante à distance pour trouver toute l'information nécessaire sur les ressources et les services offerts à distance, et pour savoir ce qui est ouvert sur le campus. Et n'oubliez pas de consulter myCourses, système de gestion de l'apprentissage de McGill, tout au long de la semaine pour savoir comment accéder à vos cours à distance et obtenir d'autres informations importantes de vos enseignants. Vous utilisez myCourses pour la première fois? Voici des conseils à l'intention des étudiants et un guide de l'utilisateur fort pratique.
Vous ne serez pas tenu de venir sur le campus pendant la session d'automne. Toutefois, des activités d'enseignement optionnelles auront lieu en présentiel pour certains cours, mais vous aurez accès à une version virtuelle et pourrez ainsi y participer pleinement à distance si tel est votre souhait. La plupart de ces activités se dérouleront dans des bulles d'enseignement. S'il organise une activité en présentiel pour votre cours, votre enseignant communiquera avec vous; s'il ne le fait pas, c'est qu'il n'en organise pas.
Les étudiants aux cycles supérieurs qui ont des questions sur leurs travaux de recherche ou leurs cours peuvent consulter la FAQ de ce site Web. Ils doivent également communiquer avec leur directeur de recherche ou adresser leurs questions au directeur de leur programme d'études supérieures.
Soutien informatique
Du lundi au vendredi, de 9 h à 17 h, le centre d'assistance des TI vous offre du soutien virtuel par plages de 20 minutes. Vous pouvez prendre rendez-vous et communiquer avec un agent des TI par MS Teams, avec caméra Web.
Service de navette
Les étudiants qui suivent des cours ainsi que les professeurs et les employés qui travaillent sur le campus du centre-ville et sur le campus Macdonald peuvent se prévaloir du service de navette. Cependant, en raison des règles de distanciation physique du gouvernement du Québec, seulement 12 passagers assis peuvent prendre place dans le véhicule. Avant de monter dans la navette, veillez toutefois à prendre connaissance des modifications apportées au fonctionnement du service.
Comptes Zoom
Les étudiants, les professeurs, les chargés de cours, les adjoints à l'enseignement et les autres employés participant aux activités d'enseignement de l'Université McGill auront automatiquement droit à un compte de titulaire de licence Zoom pour l'année universitaire 2020-2021. Voici les caractéristiques de ce type de compte :
retrait de la limite de 40 minutes;
possibilité de 300 participants par séance;
fonctionnalités telles que les salles de discussion et les sondages.
Vous n'avez rien à faire : une fois l'intégration finale terminée, votre licence sera automatiquement mise à niveau lors de l'ouverture d'une session Zoom, sur le Web ou dans l'application, à l'aide de vos authentifiants de McGill. Vous pourriez toutefois devoir fermer votre session Zoom, puis la rouvrir, pour activer la nouvelle licence.
Les enseignants qui donnent des cours à des groupes de plus de 300 étudiants auront automatiquement droit à une plus grande capacité afin que tous les étudiants puissent accéder à la salle de classe (virtuelle).
Actuellement offert à des fins d'enseignement et d'apprentissage collaboratif, Zoom n'est qu'un des nombreux outils de cyberconférence mis à la disposition de notre communauté universitaire. Pour les activités autres que l'enseignement, tous les membres du personnel (y compris les professeurs, chargés de cours, adjoints à l'enseignement et autres) doivent utiliser MS Teams et Cisco Webex. Notre licence institutionnelle de Zoom a été achetée en collaboration avec les Services des TI et le Service des approvisionnements.
Je vous souhaite une très belle session!
Cordiales salutations,
Fabrice Labeau
Premier vice-principal exécutif adjoint (études et vie étudiante), au nom du Centre des opérations d'urgence