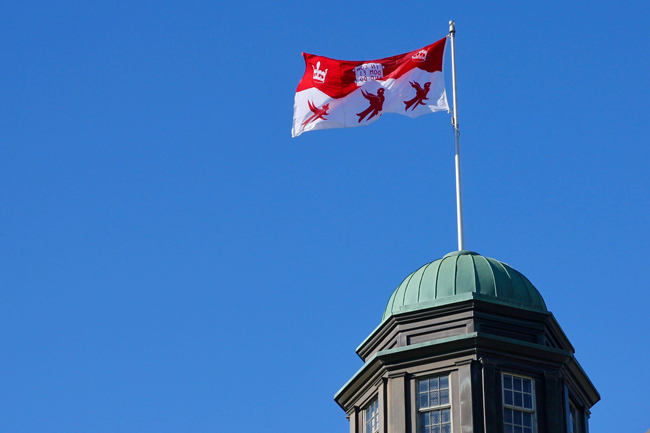 The following message was sent to the McGill community by Fabrice Labeau, Deputy Provost (Student Life and Learning), on July 6.
Dear members of the McGill community,
It is encouraging to see some signs of "normal" life returning to the city. Our campuses, too, continue to cautiously move forward. Here are the latest updates on the University's progress.
Fall on-campus activities
So far, the Emergency Operations Centre has been focusing on the resumption of select on-campus activities relating to research, construction and teaching. The EOC is now looking ahead to other necessary activities that might resume on campus this fall. To help gauge the potential level of activity in each building and coordinate the resumption of activities across the University in time for September, all units are asked to submit resumption plans for permitted activities by July 16 or as soon as possible. Consideration checklist and resumption plan documents are available to help your unit prepare. 
Research activities with human participants
The University has developed new mandatory directives for researchers wishing to re-start research with human participants, whether through remote participation or in-person.   The directives include Faculty and Ethics approval processes, as well as control procedures. Martha Crago, Vice-Principal (Research & Innovation), has prepared a short video to help the research community understand the directives. She will also be co-hosting a virtual Town Hall to answer questions from the research community on Friday, July 10 at 9:30 a.m. ET via Zoom.
Managing risk
Although, happily, the infection rates continue to drop in Montreal, there is not yet a coronavirus vaccine. With restrictions being lifted, I encourage you to watch the informative new video by Dr. Don Sheppard, Director of the McGill Interdisciplinary Initiative in Infection and Immunity (MI4), on managing risk as we learn to co-exist with COVID-19.
As I have said before, our progress is a group effort, and we each play an important role. Thank you for your continued collaboration in ensuring the health, well-being, and safety of our community.
Sincerely,  
Fabrice Labeau  
Deputy Provost (Student Life and Learning), on behalf of the Emergency Operations Centre
____________________
Chers membres de la communauté mcgilloise,
Il est encourageant de constater des signes d'un retour à la vie « normale » dans la ville. Nos campus continuent eux aussi de se ranimer prudemment. Voici les dernières nouvelles concernant la reprise des activités à l'Université.
Activités sur le campus à l'automne
Jusqu'à maintenant, le Centre des opérations d'urgence (COU) s'est concentré sur la reprise de certaines activités d'enseignement, de recherche et de construction sur le campus. Le COU songe maintenant à la possibilité de reprendre d'autres activités indispensables sur le campus cet automne. Afin d'aider le COU à évaluer le niveau d'activité potentiel dans chaque immeuble et à coordonner la reprise de toutes les activités à temps pour septembre, toutes les unités doivent soumettre un plan de reprise des activités permises d'ici le 16 juillet ou dès que possible. Vous pouvez utiliser la liste de vérification et le modèle de plan de reprise pour aider votre unité à se préparer.
Activités de recherche sur des êtres humains
L'Université a élaboré de nouvelles directives pour les chercheurs souhaitant reprendre des activités de recherche sur des êtres humains, qu'elles se déroulent à distance ou en présentiel. Les directives comprennent les processus pour obtenir l'approbation de la faculté et l'approbation éthique, ainsi que les procédures de contrôle. Martha Crago, vice-principale (recherche et innovation), a préparé une courte vidéo pour éclairer les chercheurs quant aux directives. Le vendredi 10 juillet, à 9 h 30 (HE), elle coanimera également une assemblée générale virtuelle par Zoom durant laquelle elle répondra aux questions des chercheurs.
Gestion des risques
Même si, heureusement, les taux d'infection continuent de chuter à Montréal, il n'existe pas encore de vaccin contre le coronavirus. Les restrictions étant peu à peu levées, je vous invite à regarder la nouvelle vidéo informative du Dr Don Sheppard, directeur de l'Initiative interdisciplinaire en infection et immunité de McGill (MI4), sur la gestion des risques dans un contexte de coexistence avec la COVID-19. 
Comme je l'ai déjà mentionné, la réussite de ce redémarrage repose entre nos mains et chacun d'entre nous joue un rôle important. Je vous remercie de votre soutien indéfectible quant à la santé, au bien-être et à la sécurité de la communauté mcgilloise.
Cordiales salutations,
Fabrice Labeau
Premier vice-principal exécutif adjoint (études et vie étudiante), au nom du Centre des opérations d'urgence