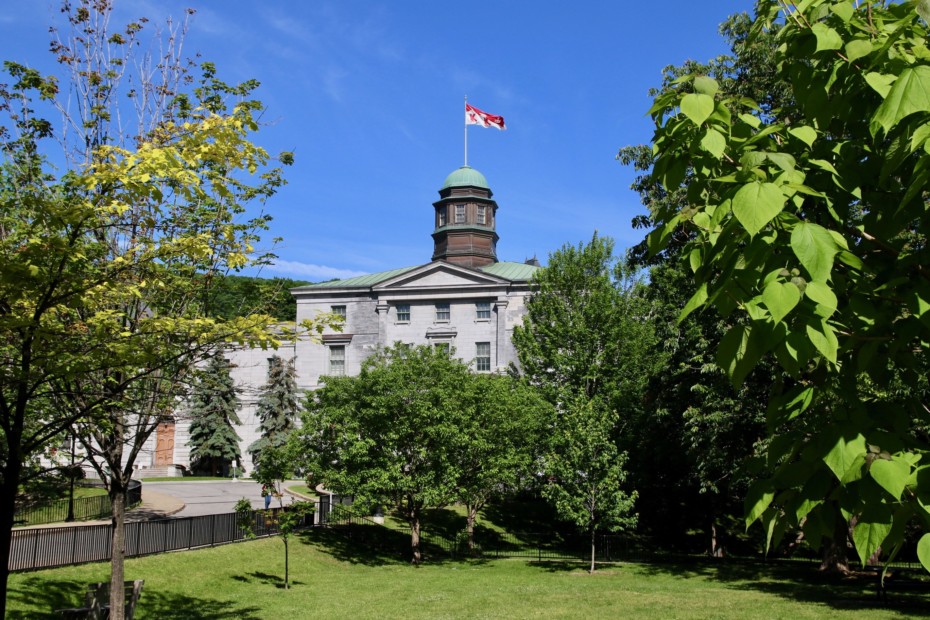 The following message was issued by Fabrice Labeau, Deputy Provost (Student Life and Learning), on July 16.
Dear members of the McGill community,
I hope this message finds you well. As we continue to adapt to the "new normal," evaluate and operationalize resumption plans from our faculties and administrative units, and increase the safe and gradual ramp-up of activities across our campuses, I would like to provide you with the latest updates and developments relating to McGill's operations.
Mandatory masks on campus
The safety and well-being of our students, staff, faculty, instructors and researchers remains our utmost priority as we pursue the resumption of activities on campus. As per recent government directives, people accessing closed public spaces, including universities, will be required to wear a mask or face covering as of July 18. If you are planning to come to campus, we invite you to bring your reusable masks, and to wear them when entering McGill buildings. Conditions and/or exceptions to the mandatory mask directive may apply in areas such as office spaces, labs, classrooms, etc. We will update the directives on preventing the spread of COVID-19 on campus as we receive additional clarity from the government.
Incoming international graduate students
Newly admitted international students understandably have questions about the Fall semester. I would like to take this opportunity to shed some light on specific questions related to graduate students.
International students with funding packages will still receive their stipend during the Fall, even if they will be following remote instruction from their home country. Departments have been given instructions on how to disburse stipends; several options are available. For more detailed information, students are asked to contact their Graduate Program Coordinator.
Those international students who will be living in Montreal during the semester will be required to self-isolate for 14 days upon arrival in Canada, as per Canadian government directives.
The FAQ available on the Graduate and Postdoctoral Studies website is a good resource for additional information. GPS is also hosting a series of virtual Friday lunches throughout the summer. These lunches are a great opportunity to ask questions.
University-sponsored travel exceptions
Although University-sponsored travel within Canada remains suspended until further notice, faculty, staff and students can apply for exceptions for mission critical and time-sensitive travel. Applications are to be made through your Faculty Dean or unit head (associate vice-principal or higher).
Library pick-up
I know that many faculty, staff and students are interested in accessing library materials that are not available electronically. To help meet those needs, McGill Libraries is introducing a new service starting the week of July 20: Terrace Pickup for print books housed in the McLennan-Redpath Library Complex and the Nahum Gelber Law Library.
As this service expands, materials from other collections may become available. This service is only for print books that are not available electronically or through the HathiTrust Emergency Temporary Access Service.
Summer vacation
I would like to remind employees about the importance of taking time to rest and recharge before the start of the new academic year. If you haven't already done so, please plan and schedule your summer vacations before the start of the fall semester. As is generally the norm, staff are expected to take a significant portion of their vacation this summer, unless their units request that they remain at work during these months.  In scheduling vacation, managers and employees should take into account that given the uncertainties related to the COVID-19 situation, there may not be the same degree of flexibility as normal for employees in scheduling vacations not taken during the summer.
Thank you for your time, and for your ongoing collaboration in keeping our community safe.
Sincerely,   
Fabrice Labeau   
Deputy Provost (Student Life and Learning), on behalf of the Emergency Operations Centre
__________________________________
Chers membres de la communauté mcgilloise,
J'espère que vous et vos proches vous portez bien. Les efforts d'évaluation et de mise en œuvre des plans de reprise des facultés et des unités administratives se poursuivent, et la reprise graduelle et sécuritaire des activités sur le campus va bon train. Voici les faits saillants concernant les activités de l'Université McGill à l'heure de cette « nouvelle réalité » dans laquelle nous évoluons. 
Port du masque obligatoire sur le campus
La reprise des activités se poursuit sur le campus et notre priorité absolue demeure la sécurité et le bien-être de nos étudiants, membres du personnel et du corps professoral et de nos chercheurs. À compter du 18 juillet, conformément aux dernières directives du gouvernement, le port du masque ou du couvre-visage sera obligatoire pour toute personne entrant dans des lieux publics fermés, et notamment dans les universités. Aussi, lorsque vous vous rendrez sur le campus, nous vous invitons à apporter un masque réutilisable et vous prions de le porter en tout temps dans les locaux de l'Université. Certaines conditions et exceptions peuvent s'appliquer dans certains endroits, tels que les bureaux, les laboratoires et les salles de classe. Les directives sur la propagation de la COVID-19 sur le campus seront régulièrement mises à jour à la lumière des nouvelles consignes du gouvernement.
Nouveaux étudiants internationaux aux cycles supérieurs
Les nouveaux étudiants internationaux se posent de nombreuses questions concernant la session d'automne, et c'est tout à fait compréhensible. Je profite de cette occasion pour clarifier certains points concernant les étudiants aux cycles supérieurs.
Même s'ils suivent leurs cours de l'étranger, les étudiants boursiers internationaux recevront quand même leur allocation à l'automne. Les départements ont reçu des instructions quant aux différentes possibilités de versement. Les étudiants souhaitant obtenir de plus amples renseignements à ce sujet sont priés de communiquer avec leur coordonnateur de programme d'études supérieures.
À leur arrivée au Canada, conformément aux directives du gouvernement canadien, les étudiants internationaux venant à Montréal pour étudier à la session d'automne devront se mettre en isolement volontaire pendant 14 jours. Vous trouverez de nombreuses réponses à vos questions dans la Foire aux questions du site Web des études supérieures et postdoctorales.
Cet été, tous les vendredis, le Bureau des études supérieures et postdoctorales vous propose également une série des dîners virtuels avec la doyenne; l'occasion parfaite pour poser vos questions.
Dérogations aux restrictions de voyages au Canada commandités par l'Université
Bien que les voyages au Canada commandités par l'Université demeurent suspendus jusqu'à nouvel ordre, les professeurs, les employés et les étudiants peuvent obtenir une dérogation dans le cadre de missions d'importance majeure ou de voyages urgents. Pour ce faire, ils doivent soumettre une demande au doyen de leur Faculté ou au chef de leur unité administrative (vice-principal adjoint ou niveau supérieur).
Emprunt de livres à la bibliothèque
De nombreux enseignants, employés et étudiants souhaitent consulter des documents de la bibliothèque qui ne sont pas accessibles au format électronique. Pour y remédier, à compter de la semaine du 20 juillet, les bibliothèques de l'Université lanceront un tout nouveau service de « ramassage en terrasse » d'ouvrages de la bibliothèque du Complexe McLennan‑Redpath et de la Bibliothèque de droit Nahum Gelber.
Si l'initiative trouve un écho favorable, un plus grand nombre de titres pourrait être ajouté à la sélection. Seuls les ouvrages non disponibles au format électronique et non accessibles par l'entremise du service d'accès temporaire d'urgence de HathiTrust pourront être empruntés.
Vacances d'été
Je souhaite rappeler aux employés l'importance de prendre du temps pour se reposer et recharger ses batteries avant le début de la nouvelle année universitaire. Si vous n'avez pas encore posé de vacances avant le début de la session d'automne, je vous encourage à le faire. Comme c'est le cas habituellement, l'Université s'attend à ce que les employés prennent une bonne partie de leurs congés annuels pendant l'été, sauf si leur unité leur demande de rester au travail durant cette période. Les employés et leurs supérieurs doivent tenir compte du fait qu'en raison des incertitudes liées à la COVID-19, ils pourraient ne pas avoir la même latitude que d'habitude pour les congés pris à une autre période de l'année.
Je vous remercie de votre temps et de participer aux efforts soutenus que nous déployons afin de préserver la santé de notre communauté.
Cordiales salutations,
Fabrice Labeau
Premier vice-principal exécutif adjoint (études et vie étudiante), au nom du Centre des opérations d'urgence