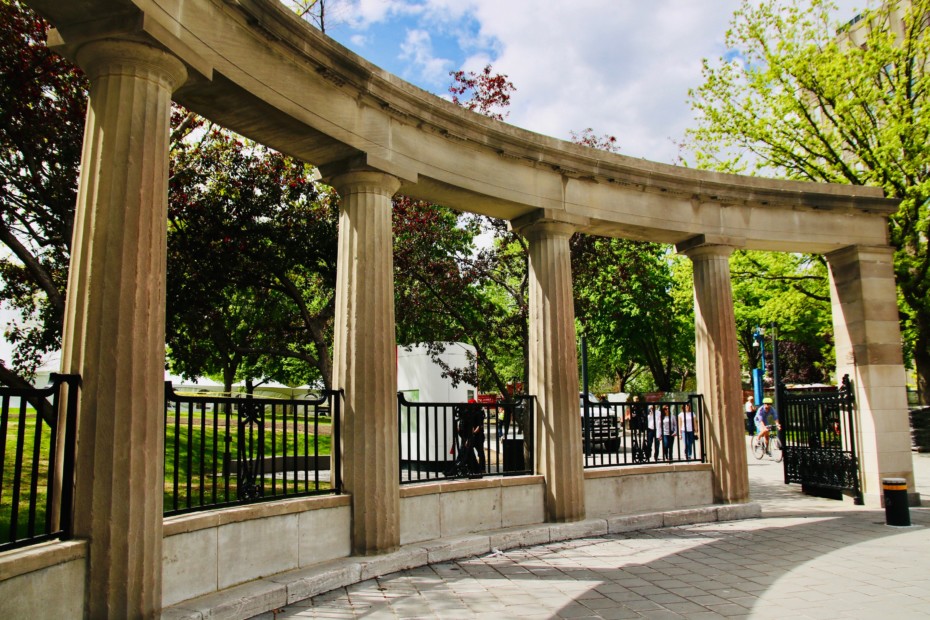 Fabrice Labeau, Deputy Provost (Student Life and Learning), sent the following message to the McGill community on June 17.
Dear members of the McGill community,  
The COVID-19 lockdown has changed so much about McGill life. Spring Convocation, for one,  usually draws thousands of smiling faces to our campuses. In-person events may be cancelled, but the pride we all feel in the Class of 2020 is stronger than ever. While we know there's no replacement for crossing the stage, McGill University will celebrate our graduates' achievements in a very special way. Tomorrow and Friday, we will mark this once-in-a lifetime occasion with a series of virtual Convocation ceremonies — and everyone is invited to join the celebrations online. I would like to extend my heartfelt congratulations to our 2020 graduates, and to thank everyone who has worked so hard to make this unprecedented celebration happen. 
Here are updates and reminders about other developments this week: 
Fall 2020 semester 
As you may have heard, this week Quebec's Ministry of Education and Higher Education issued some new information about in-person teaching for the Fall semester. Although this will not change how McGill has been planning  for principally remote delivery of courses and programs for Fall, the University continues to plan for some in-person activities that may gradually increase over time. McGill will keep the community updated as the situation evolves and the Ministry announces more information. 
Research ramp-up Phase 3 
Last week, I mentioned that the gradual resumption of select on-campus research activities is progressing well. Starting next week, the University will start Phase 3 of the ramp-up activities. As with the previous phases, Phase 3 will be deployed over the coming weeks under a strictly controlled environment, following public health authority directives, to ensure our community's health and safety. Throughout the process, the University is conducting ongoing assessments of public health and government directives, adherence to the protocols enacted in re-opened buildings, the availability of personal protective equipment (PPE), and the outcome of the Environmental Health & Safety (EHS) inspections.  
Working on campus 
To help facilitate the safe return of those select employees who have been granted permission to work on campus, the University has developed a practical quick reference guide that you are asked to consult before coming to campus for the first time. 
If you have been authorized to work on campus, please remember that you are required to read and follow the mandatory directives, including a strong recommendation from public health authorities to wear a face covering especially when two-meter physical distancing is not possible, and watch training videos for preventing the spread of COVID-19.  
The disclosure of exposure or illness is essential for safeguarding health and safety, and limiting transmission in the McGill community. Prior to entering any McGill building, all employees (including student employees) and students must complete, on a daily basis, the Minerva self-assessment form.  
On-campus activities 
Although only approved necessary activities are currently allowed on campus, the Emergency Operations Centre (EOC) is beginning to look at selectively authorizing some on-campus operations and practical teaching activities that cannot be carried out remotely. To help this process, it has published a framework for the gradual resumption of activities on campus, which include key elements to consider (for example, prioritizing work from home when efficient, and determining which activities require physical distancing, physical barriers and/or PPE), the approvals required for various types of activities, and the corresponding directives. 
The EOC has also published directives for the resumption of other on-campus activities, not relating to teaching, research or construction. These directives include a summary of required approvals and an outline of what information must be included in a proposed resumption plan. 
Please note that EOC authorization will depend on whether an activity can comply with safety directives, as well as the prioritization of the resources required to plan and operate the activity. 
Thank you for reading. Stay safe. 
Sincerely,    
Fabrice Labeau    
Deputy Provost (Student Life and Learning), on behalf of the Emergency Operations Centre 
 ______________________________________
Chers membres de la communauté mcgilloise,
Le confinement a bouleversé la vie à McGill. Par exemple, la collation des grades du printemps attire habituellement des milliers de personnes tout sourire sur nos campus. Les cérémonies en présentiel ont beau avoir été annulées, nous demeurons tous on ne peut plus fiers de la cohorte de 2020. S'il est vrai que rien ne peut remplacer la montée sur scène, l'Université McGill soulignera les réalisations de ses finissants d'une façon particulière. Demain et vendredi, nous convions l'ensemble de la communauté à célébrer avec nous cette occasion unique lors des cérémonies de collation des grades virtuelles. Je tiens à adresser mes plus sincères félicitations à nos finissants de 2020 et à remercier chaleureusement toutes les personnes qui ont travaillé sans relâche à l'organisation de cet événement hors du commun.
Voici quelques mises au point et rappels de l'actualité de la semaine.
Session d'automne 2020
Comme vous l'avez sans doute entendu, le ministère de l'Éducation et de l'Enseignement supérieur a publié cette semaine de nouvelles informations concernant l'enseignement en présentiel à la session d'automne. Bien que ceci ne change aucunement la façon dont l'Université planifie son offre de cours et de programmes principalement à distance cet automne, elle poursuit néanmoins la planification de certaines activités en classe, lesquelles seront amenées à se multiplier avec le temps. Nous vous tiendrons informés de l'évolution de la situation et des prochaines annonces du ministère. 
Phase 3 de la reprise des activités de recherche
La semaine dernière, je vous annonçais que le redémarrage graduel de certaines activités de recherche en présentiel se déroule bien. Eh bien, à compter de cette semaine, l'Université amorcera la troisième phase de la reprise des activités. Comme ce fût le cas lors des étapes précédentes, la troisième phase sera déployée au cours des prochaines semaines dans des conditions rigoureusement contrôlées et conformes aux directives de la santé publique afin de préserver la santé et la sécurité de notre communauté. Ainsi, l'Université évalue régulièrement le respect des directives du gouvernement et de la santé publique de même que des protocoles en place dans les pavillons rouverts, la disponibilité de l'équipement de protection individuelle (EPI) et les constats des inspecteurs de l'unité Santé, sécurité et environnement.
Travail sur le campus
Soucieuse de la sécurité des quelques employés autorisés à réintégrer le campus, l'Université a mis à leur disposition un aide-mémoire pratique, le Guide de l'employé. Prière de le consulter avant votre retour sur le campus.
Si vous êtes autorisé à travailler sur le campus, n'oubliez pas que vous devez impérativement lire les directives de l'Université et les observer à la lettre. Par ailleurs, les autorités sanitaires recommandent fortement le port d'un couvre-visage, surtout lorsque le maintien d'une distance physique de deux mètres n'est pas possible. Visionnez également les vidéos de formation sur la prévention de la propagation de la COVID-19.
Il est essentiel que les employés déclarent toute exposition à la COVID-19 ou tout symptôme de l'infection afin que nous puissions contenir la propagation du virus et préserver ainsi la santé et la sécurité de la communauté mcgilloise. Chaque jour, avant d'entrer dans un immeuble de l'Université, tous les employés (y compris les étudiants embauchés) et les étudiants doivent remplir le Formulaire d'autoévaluation dans Minerva.
Activités sur le campus
Bien que seules les activités indispensables dûment approuvées puissent actuellement se dérouler sur le campus, le Centre des opérations d'urgence (COU) envisage la reprise en présentiel de certaines opérations et activités d'enseignement non réalisables à distance. Dans cette optique, il a publié un cadre de redémarrage des activités en présentiel qui précise les principaux éléments à prendre en compte (notamment la priorisation du télétravail lorsque ce mode de prestation est efficace, le respect de la distance physique et le recours à des barrières physiques ou à l'EPI), les approbations à obtenir pour divers types d'activités et les directives connexes.
Par ailleurs, le COU a également publié des directives sur la reprise d'autres activités en présentiel, c'est-à-dire autres que l'enseignement, la recherche et la construction. Elles vous renseigneront sur les approbations à obtenir et les renseignements que doit contenir le plan de reprise proposé.
Pour autoriser ou non la reprise d'une activité, le COU prendra en considération le respect des consignes de sécurité et les ressources nécessaires au redémarrage de l'activité en fonction des priorités établies.
Merci de votre attention et soyez prudents.
Bien cordialement,
Fabrice Labeau
Premier vice-principal exécutif adjoint (études et vie étudiante), au nom du Centre des opérations d'urgence