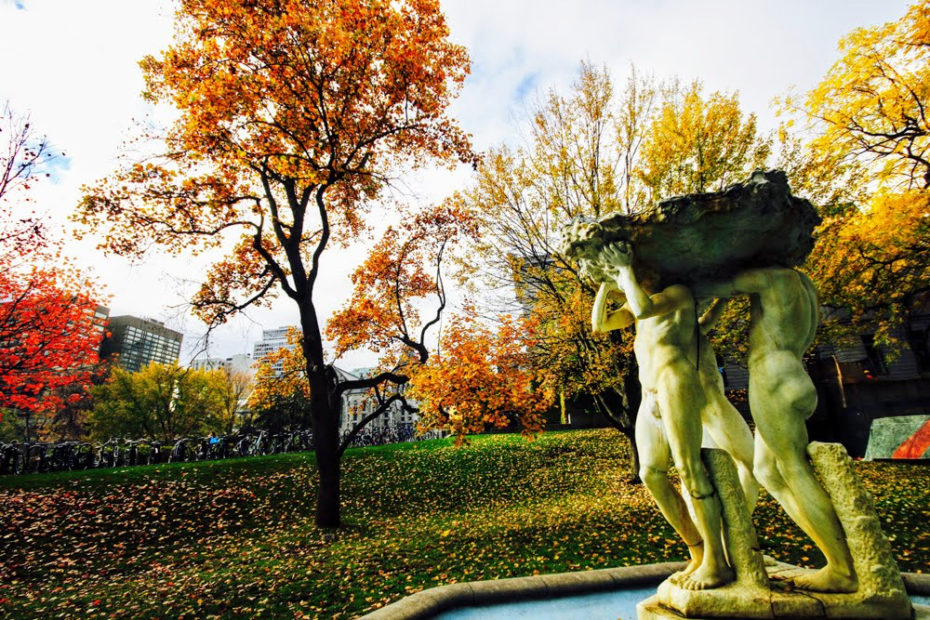 The following message was sent to the McGill community on November 20, by Fabrice Labeau, Deputy Provost (Student Life and Learning). 
La version française suit.
Dear members of the McGill community,  
Yesterday evening, the Government of Quebec announced that the public health restrictions previously scheduled to end November 23 are now extended to January 11.   
For McGill, the announcement means that we will continue to operate as we have been doing for the past weeks. You can find an overview of what is open or closed, permitted or not permitted on the Operational Status page of the Coronavirus website. The government has also advised individuals to work from home as much as possible from the 17-24 and from the 26-31 of December. This is consistent with our current protocols while we are in the Red Zone, in that only necessary operations are currently ongoing on our campuses. 
I know that the extension of restrictions will be difficult news for all, especially as we get further into the winter months and closer to the holiday season. With some promising vaccines on the horizon, we can be confident that this way of life will not be forever; but it's important that we continue following public health guidelines through this final stretch to keep ourselves, our loved ones, and our community as safe as possible. 
The start of classes for Winter 2021 
As mentioned at Senate on November 18, the University is developing a plan to delay the start of the Winter term. This would apply to all Faculties, with the exception of some programs with accreditation requirements, such as those in the Health Science Professions. Some of the parameters under consideration include that the end of the Winter 2021 semester would not be extended beyond 30 April 2021 and that Reading Week would remain as scheduled. A motion will be brought forward to McGill's Senate on December 2 for consideration and approval.  
Childcare during primary and secondary schools' earlier start to winter break 
We recognize that the earlier start to some primary and secondary schools' winter break (during which time remote teaching may occur), as announced in yesterday's press conference, could make it difficult for some employees with young children in their search for a healthy balance between the demands of professional and family life. Supervisors should provide staff in these circumstances with flexibility in working hours, where possible, to allow for childcare. Be supportive and carefully review and consider your employee(s) requests, be open to solutions that you have not previously experienced and consult with your HR Advisor if need be. 
Helpful resources  
Sincerely, 
Fabrice Labeau
Deputy Provost, Student Life and Learning 
 ______________________________________________
Chers membres de la communauté mcgilloise,  
Hier, en soirée, le gouvernement du Québec a annoncé que les restrictions des autorités sanitaires qui devaient être levées le 23 novembre resteront en place jusqu'au 11 janvier 2021.  
 À McGill, cette annonce ne change rien à la façon dont nous fonctionnons depuis quelques semaines. Vous trouverez un aperçu des services ouverts et fermés, ainsi que des activités autorisées ou non, sur la page de la situation opérationnelle dans le site Web sur le coronavirus. En outre, le gouvernement recommande le télétravail dans toute la mesure du possible du 17 au 24 ainsi que du 26 au 31 décembre. Cette consigne est conforme aux protocoles actuellement en vigueur, puisque nous sommes en zone rouge; ainsi, seules les activités indispensables se déroulent en présentiel sur nos campus. 
Je suis conscient qu'à l'approche de l'hiver et des fêtes, cette prolongation des restrictions est une nouvelle qui n'a rien de réjouissant. Les vaccins prometteurs qui se profilent à l'horizon nous font entrevoir la lumière au bout du tunnel, mais pour l'instant, nous devons continuer de suivre les consignes de la santé publique afin de rester à l'abri et de protéger nos proches, tout comme l'ensemble de nos concitoyens, pendant cette dernière ligne droite. 
Début de la session d'hiver 2021 
Dans la foulée de la réunion du Sénat, le 18 novembre dernier, l'Université prend actuellement des dispositions pour le report du début de la session d'hiver. Ce report s'appliquerait à toutes les facultés, sauf dans certains programmes assortis d'exigences d'agrément, notamment en sciences de la santé. Au titre des modalités actuellement envisagées, la session d'hiver 2021 ne se prolongerait pas au-delà du 30 avril 2021 et la semaine de relâche aurait lieu comme prévu. Le 2 décembre, une motion sera déposée au Sénat aux fins d'examen et d'approbation.  
Conciliation travail-famille pendant le congé des fêtes 
 Nous sommes conscients que la fermeture devancée de certaines écoles primaires et secondaires pour le congé des fêtes (avec enseignement à distance dans certains cas), annoncée hier pendant la conférence de presse, risque de compliquer la conciliation travail-famille pour les employés ayant de jeunes enfants. Dans la mesure du possible, les supérieurs doivent faire preuve de souplesse en leur permettant d'adopter un horaire de travail adapté à la situation. Nous comptons sur vous pour épauler vos employés et prendre leurs demandes en considération en étant disposés à recourir à des solutions inédites. Au besoin, n'hésitez pas à consulter votre conseiller en ressources humaines. 
Ressources 
Cordiales salutations, 
Fabrice Labeau
Premier vice-principal exécutif adjoint (Études et vie étudiante)