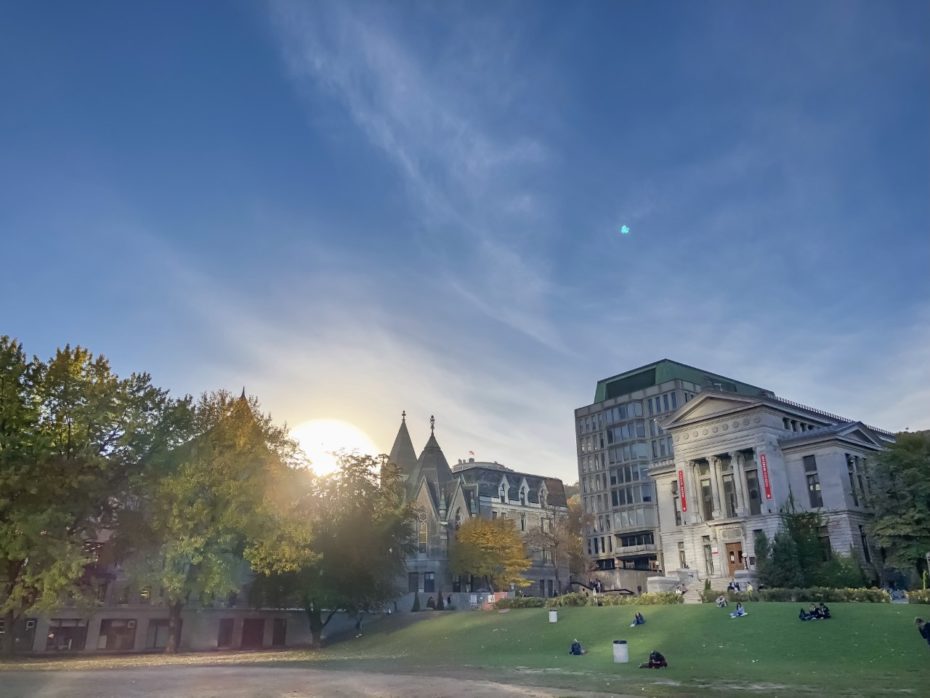 This following message was sent to the McGill community on October 27, by Fabrice Labeau, Deputy Provost (Student Life and Learning). 
La version française suit.
Dear members of the McGill community,
As we move into month eight of the pandemic, I know that many of us, myself included, are "Zoomed-out" – tired of connecting virtually. The government is asking us to continue to limit our in-person social contacts, so we need to pull together to keep the most vulnerable people in our society safe.
The circumstances we are in are in no way easy—it's okay to designate some "offline time" and reach out if you need help (you can find some mental health supports at the end of this email).
Today, we have a few updates for you. This message will cover:
An updated reporting process for COVID-19 symptoms or a diagnosis
A reminder to bring your own mask if you are coming to campus
How to sponsor a visitor to campus
Emergency evacuation procedures
Borders opening for international students
Useful resources
(1) Reporting process for COVID-19 symptoms or a positive test
We have tweaked the process for reporting COVID-19 symptoms or a diagnosis. You need to report IF:
you were on our campuses* in the 48 hours before your symptoms appeared (or in the 48 hours before the date you got tested, if you are asymptomatic and received a positive test result) OR
you need accommodations because you are unable to work or study
We are asking people who were on campus to report as soon as possible so that we begin our cleaning and disinfection procedures. As well, Montreal Public Health has asked the University to carry out contact tracing for any medium- or high-risk contacts that happened at McGill.
If you were on our campuses in the 48 hours before symptoms or a positive test, you should now call 514-398-3000. We've created an interactive questionnaire that will guide you through the steps you need to take.
*Note that "on our campuses" includes residences, athletic facilities, at an organized outdoor event (when they are allowed) or any McGill property. We are now collecting data for people who had been on campus in the previous 48 hours to follow new Montreal public health guidelines. Previously the reporting period had been seven days.
(2) Bring your own face coverings
Just a reminder that you should bring your own face coverings, such as a reusable cloth mask or disposable non-surgical mask, when coming to our campuses. Throughout September and October, the University was temporarily providing disposable face coverings at the entrances to buildings for those who had forgotten their cloth mask or face covering. Starting November 1, disposable face coverings will no longer be available at building entrances.
If a staff member needs personal protective equipment (PPE) such as a surgical or procedural mask for their work, the University will provide it. Learn more about the difference between surgical/procedural masks and face coverings.
(3) Sponsoring a visitor
Under the current government restrictions, which are expected to last at least until October 28, only necessary visitors are allowed on campus. When restrictions are relaxed, visitors will be allowed on campus if the visit is planned and there is a McGill sponsor. Visitors must fill out a form which sponsors are required to keep for two weeks after the visit. Learn how to sponsor a visitor.
(4) Watch our video on emergency evacuation procedures
Fall is the time of the year when we would normally conduct fire drills in our buildings. As this is not possible this year, we encourage you to watch this video to review the procedures you should follow during an emergency evacuation. With fewer people around, your vigilance and your support of others are more important than ever, as there may not be evacuation teams present.
(5) Borders open for students travelling to Canada
As of October 20th, the Government of Canada has opened the border to international students as long as they are registered at a Designated Learning Institution with a COVID-19 readiness plan. McGill has been approved for this list, meaning that international students with a valid study permit or a letter of introduction that shows you were approved for a study permit can now travel to Canada to study at McGill.
You will need to self-isolate for 14 days after arrival and will need to present a quarantine plan at the border. This requirement also applies for any student, international or domestic, returning from international travel.
(6) Useful Resources
A reminder of some resources you might find handy:
Stay safe and stay well.
Sincerely,
Fabrice Labeau
Deputy Provost (Student Life and Learning)
______________________________________________
Chers membres de la communauté mcgilloise,
Nous entrons dans le huitième mois de la pandémie; il est donc normal que nous soyons nombreux à faire une surdose de rencontres virtuelles. Néanmoins, le gouvernement nous demande de continuer à limiter nos contacts sociaux en personne, et nous devons nous serrer les coudes pour protéger les personnes les plus vulnérables.
La situation que nous vivons n'est pas facile. N'hésitez pas à vous réserver des périodes « hors ligne » et à demander de l'aide si vous en avez besoin. (Vous trouverez des ressources en santé mentale à la fin du présent message.)
Aujourd'hui, nous faisons le point sur les sujets suivants :
Mise à jour du processus de déclaration de symptômes ou d'un diagnostic de COVID-19
Rappel de la nécessité d'apporter votre propre masque sur le campus
Parrainage d'un visiteur sur le campus
Procédures d'évacuation
Ouverture des frontières pour les étudiants internationaux
Ressources utiles
1) Processus de déclaration de symptômes de COVID-19 ou d'un résultat positif au test de dépistage
Nous avons légèrement modifié le processus à utiliser pour déclarer des symptômes ou un diagnostic de COVID-19. Vous devez faire une déclaration SI :
vous êtes allé sur l'un des campus* dans les 48 heures précédant l'apparition de vos symptômes (ou précédant la date de votre test de dépistage si vous étiez asymptomatique et que vous avez reçu un résultat positif) OU
vous avez besoin d'accommodements parce que vous n'êtes pas en mesure de travailler ou d'étudier.
Nous demandons aux personnes qui se sont rendues sur les campus de faire leur déclaration le plus rapidement possible afin que nous puissions procéder au nettoyage et à la désinfection. De plus, la Santé publique de Montréal a demandé à l'Université d'effectuer un traçage pour tous les contacts à risque modéré ou élevé qui ont eu lieu à McGill. 
Si vous vous trouviez sur l'un de nos campus dans les 48 heures précédant l'apparition de symptômes ou un test de dépistage positif, veuillez appeler sans tarder au 514 398-3000. Nous avons créé un questionnaire interactif qui vous guidera dans le processus.
*Veuillez noter que « nos campus » comprennent les résidences, les installations sportives et les événements extérieurs organisés (lorsqu'ils sont permis) sur la propriété de McGill. Afin de nous conformer aux nouvelles directives de la Santé publique de Montréal, nous devons recueillir des données sur les personnes qui se sont rendues sur les campus dans les 48 heures précédant les symptômes ou un test positif. Auparavant, cette période était de sept jours.
2) Apportez votre couvre-visage
Nous vous rappelons que vous devez apporter votre propre couvre-visage – couvre-visage en tissu réutilisable ou masque non médical jetable – lorsque vous venez sur les campus. En septembre et octobre, les personnes qui avaient oublié leur couvre-visage pouvaient se procurer un couvre-visage jetable à l'entrée des immeubles de l'Université. À compter du 1er novembre, nous ne distribuerons plus de couvre-visage jetables à l'entrée des immeubles.
Si un membre du personnel a besoin d'un équipement de protection individuelle pour son travail, notamment des masques chirurgicaux ou de procédure, l'Université lui en fournira. Différence entre un masque chirurgical (ou de procédure) et un couvre-visage
 3) Parrainage d'un visiteur
Pendant le resserrement des consignes du gouvernement, en vigueur au moins jusqu'au 28 octobre, seuls les visiteurs dont la présence est nécessaire pourront accéder aux campus. Après l'assouplissement des restrictions, les visiteurs seront autorisés sur les campus, à condition d'avoir planifié leur visite et d'être parrainés par une personne responsable de McGill. Les visiteurs devront remplir un formulaire que les personnes responsables seront tenues de conserver pendant deux semaines après la visite. Renseignements sur le parrainage d'un visiteur 
4) Regardez notre vidéo sur les procédures d'évacuation
À l'automne, nous procédons habituellement à des exercices d'évacuation en cas d'incendie dans nos immeubles. Comme ce n'est pas possible cette année, nous vous invitons à visionner cette vidéo pour un rappel des consignes à respecter pendant une évacuation. Comme nous sommes moins nombreux sur les campus, nous devons être encore plus vigilants; les équipes responsables des évacuations risquent de ne pas être présentes.
5) Ouverture des frontières pour les étudiants qui entrent au Canada
Depuis le 20 octobre, le gouvernement du Canada autorise les étudiants internationaux à entrer au pays à condition qu'ils soient inscrits à un établissement d'enseignement désigné doté d'un plan d'intervention immédiate en réponse à la COVID-19. Comme McGill fait partie de la liste des établissements désignés, les étudiants internationaux qui détiennent un permis d'études ou une lettre d'introduction indiquant que leur demande de permis d'études a été approuvée peuvent entrer au Canada pour venir étudier à McGill.
 Les étudiants devront présenter un plan de quarantaine à la frontière et rester en isolement pendant 14 jours après leur arrivée. Cette exigence s'applique également à tous les étudiants – internationaux ou canadiens – qui reviennent d'un séjour à l'étranger.
6) Ressources utiles
Voici des ressources qui pourraient vous être utiles :
Portez-vous bien et soyez prudents.
Cordialement,
Fabrice Labeau
Premier vice-principal exécutif adjoint (études et vie étudiante)