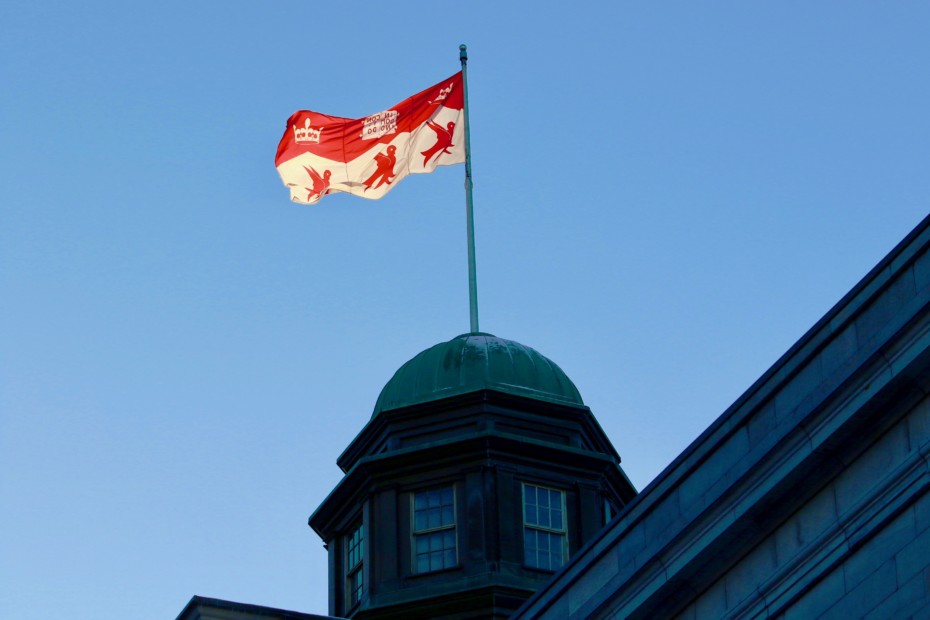 This message was sent on behalf of Fabrice Labeau, Deputy Provost (Student Life and Learning) on Wednesday, March 18.
Le présent message est envoyé au nom de Fabrice Labeau, premier vice-principal exécutif adjoint (études et vie étudiante).
La version française suit.
Dear members of the McGill community,  
I am writing to share the most current information regarding the measures McGill is taking to help combat COVID-19, minimize the impact to our community and maintain our operations. I am really encouraged by the incredible efforts I am seeing every day as we work through this challenging situation.   
Remote instruction 
Academic Planning for remote instruction and remote course delivery is proceeding well, and Faculty Deans, Chairs/Directors and instructors are now in full planning phase to ensure their courses are adjusted for remote instruction. More information will come as it is available. 
Out-of-town students 
Some out-of-town students have been asking if there is any need for them to remain, or whether they should go home. There will be no in-person classes and no in-person sit-down examinations for this term. It has also been confirmed that the term will not be extended. As such, students will not be required to be physically on campus for the rest of the Winter 2020 term. 
If you cannot return home at this time, please know that your health and wellbeing is at the top of our minds. Students in residence who have any questions and individual considerations, please contact  housing.residences@mcgill.ca  
IT Services 
As so many people are working or studying from home, some services such as McGill's Virtual Private Network (VPN) or WebEx have been quite busy and occasionally unavailable. IT is aware of the problem and is working hard to resolve the issue. If you would like to check the status of IT services, please consult the System Status page on the IT Services site. 
Mail delivery 
The downtown Mailroom is receiving and sorting mail daily. Delivery, however, is now by request only. If your unit is present on campus and wishes to continue to receive mail delivery, please contact info.mailservice@mcgill.ca. Otherwise, all mail received during the suspension period will be held and delivered when normal activity resumes. 
Health and social distancing 
I would like to remind everyone again that in order for the measures to stop the virus that we are collectively taking to be effective, we must all commit to following them. Please continue to practice proper health precautions, including washing your hands often and covering your mouth and nose with your arm when coughing or sneezing.   
I know that at a time like this we all want to be close to our friends and loved ones. However, I would ask you to connect with and support each other while at the same time practicing social distancing. This means limiting close contact with people and especially avoiding crowds. This practice helps reduce the risk of COVID-19 spreading within the community, thereby protecting our most vulnerable members. 
Should you develop a fever, cough or begin to have difficulty breathing, you should:   
isolate yourself from others as quickly as possible   
immediately call the Quebec Government's Coronavirus line at 1–877–644–4545   
describe your symptoms and travel history   
follow the instructions of the health care professional carefully  
As a reminder, we have developed a self-declaration form to document illness or possible exposure to COVID-19. Employees in such situations must fill out the form. Further instructions can be found on the McGill coronavirus website.  
We continue to do our best to post the most recent updates on coronavirus page of the McGill website. If you have any questions that cannot be answered by our FAQs, please write to COVID-19.info@mcgill.ca. 
I understand that some people are feeling uncertain because the situation is changing so rapidly. I feel it too. I am doing everything possible to protect myself and the people around me, and I hope you are too. Please take care of yourselves and your loved ones. 
Sincerely,
Fabrice Labeau 
Deputy Provost (Student Life & Learning) 
on behalf of the Emergency Operations Centre 
______________________________________________
Chers membres de la communauté mcgilloise,
Je vous écris afin de vous faire part des plus récents développements au sujet des mesures déployées par l'Université McGill relativement à la lutte contre la maladie à coronavirus (COVID-19) et des moyens instaurés afin d'en réduire les répercussions auprès des membres de la communauté mcgilloise et de poursuivre ses activités. Alors que nous traversons cette période éprouvante, les formidables efforts dont je suis chaque jour témoin sont une véritable source d'encouragement.
Formation à distance
Le Groupe de planification de l'enseignement étudie diverses options de cours à distance et ses efforts vont bon train. Les doyens des facultés, les directeurs et les membres du personnel enseignant sont désormais en mode planification et mettent tout en œuvre afin que les cours puissent être donnés à distance. Nous vous ferons part de toute nouvelle information à ce sujet dès que possible.
Étudiants de l'extérieur
Certains étudiants de l'extérieur de Montréal nous ont demandé s'ils devaient demeurer sur place ou s'il était préférable qu'ils rentrent à la maison. D'ici la fin de la session, il n'y aura pas de cours en classe ni d'examens en personne. Il a également été confirmé que la session ne sera pas prolongée. Par conséquent, les étudiants ne sont pas tenus d'être présents sur le campus d'ici la fin de la session d'hiver 2020.
Si vous n'êtes pas en mesure de rentrer à la maison pour l'instant, sachez que, pour nous, votre santé et votre bien-être sont de la plus haute importance. Les étudiants en résidence qui désirent poser des questions et qui ont des préoccupations particulières sont invités à écrire à housing.residences@mcgill.ca.
Services des TI
Alors qu'un nombre exceptionnel de membres de notre communauté travaillent et étudient de la maison, certains services, dont le Réseau privé virtuel et WebEx, ont été sollicités à un point tel que certains d'entre vous n'ont pu y avoir accès. Les Services des TI ont été informés de ce problème et mettent tout en œuvre afin d'y remédier. Si vous désirez connaître l'état des services offerts, veuillez consulter la page à cet effet en cliquant ici.
Livraison du courrier
En temps normal, la salle de courrier du campus du centre-ville procède quotidiennement à la réception et au tri du courrier. Pour l'instant, la livraison du courrier n'aura désormais lieu qu'à la suite d'une demande à cet effet. Si les membres de votre unité demeurent en poste sur le campus et souhaitent continuer à recevoir le courrier qui leur est adressé, ils sont invités à écrire à info.mailservice@mcgill.ca. Dans le cas contraire, le courrier reçu durant la période de suspension sera retenu et livré au moment où nous reprendrons nos activités régulières.
Santé et éloignement social
J'aimerais vous rappeler que les mesures collectives que nous prenons n'auront de véritable impact que si chacun d'entre nous s'engage à les appliquer. Nous réitérons notre recommandation quant aux précautions à prendre, lesquelles consistent notamment à vous laver les mains souvent et à vous couvrir la bouche et le nez à l'aide de votre bras lorsque vous toussez ou éternuez.
En ce moment, nous aimerions tous être en compagnie de nos amis et de nos proches. Pourtant, tout en communiquant régulièrement et en maintenant les liens avec ceux qui nous sont chers, nous devons respecter les consignes d'éloignement social. Cela veut notamment dire limiter nos contacts étroits et, plus particulièrement, éviter les foules. De telles pratiques contribuent à réduire le risque de transmission de la maladie à coronavirus (COVID-19) parmi la population, protégeant ainsi les plus vulnérables.
En cas de fièvre, de toux ou de difficulté respiratoire, vous devez :
vous isoler le plus rapidement possible
communiquez immédiatement avec la ligne d'information sur le coronavirus au 1 877 644–4545  
mentionner vos symptômes et vos récents déplacements    
respecter à la lettre les consignes des professionnels de la santé 
Nous avons élaboré un formulaire d'autodéclaration pour consigner les cas de COVID-19 ou d'exposition possible au coronavirus. Les employés visés doivent remplir le formulaire. Pour en savoir davantage, consultez le site Web de l'Université sur le coronavirus.
Nous nous efforçons de publier les plus récentes données sur la page Le point sur le coronavirus, sur le site Web de l'Université. Si vous avez des questions pour lesquelles vous ne trouvez pas de réponse dans notre Foire aux questions, veuillez les acheminer par courriel à COVID-19.info@mcgill.ca.
Face à une situation qui évolue à un rythme effréné, certaines personnes, dont moi, ressentent une grande incertitude. Je prends toutes les mesures nécessaires pour me protéger et pour protéger mon entourage. Et j'espère que vous en faites autant. Prenez soin de vous et de vos proches. 
Cordialement,
Fabrice Labeau, premier vice-principal exécutif adjoint (études et vie étudiante), au nom du Centre des opérations d'urgence de l'Université McGill