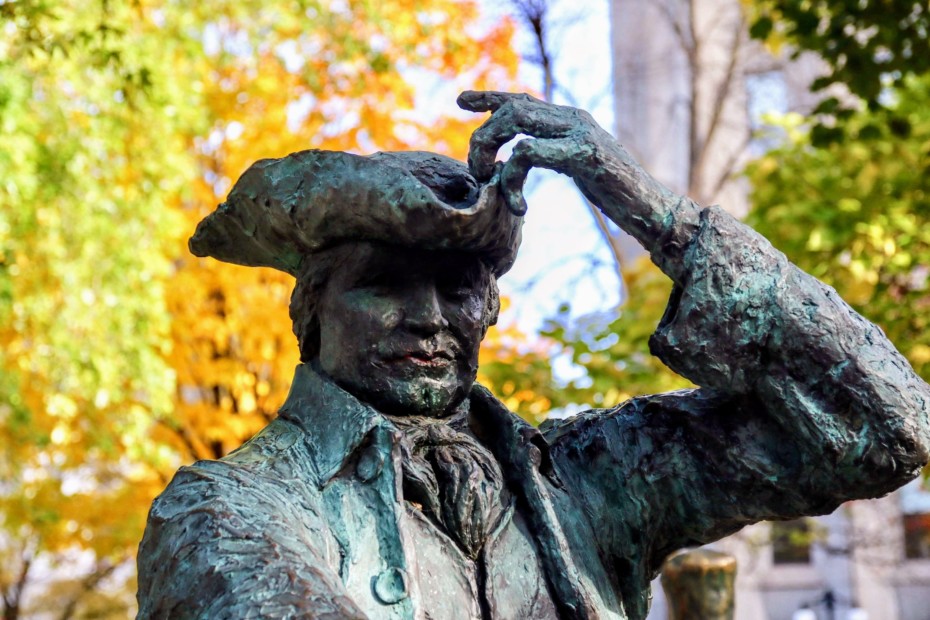 The following message was sent on behalf of Fabrice Labeau, Deputy Provost (Student Life and Learning).
Le présent message est envoyé au nom de Fabrice Labeau, premier vice-principal exécutif adjoint (études et vie étudiante).
La version française suit.
Dear members of the McGill community,
These are challenging times for all of us, especially those members of our community whose family and friends are most affected by the coronavirus (COVID-19) outbreak.
I would like to thank our faculty for their hard work in transitioning classes to be delivered remotely, as well as our principal investigators who have begun the delicate process of ramping down their research projects. Thank you to staff for adjusting to remote working, and to those who are maintaining necessary functions on our campuses. And thank you to our students for the patience and understanding they have shown in the face of the unprecedented uncertainty that has interrupted their studies. I am grateful for your commitment to McGill and the broader community as we adapt to these uncertain times.
The priority of McGill leadership remains keeping our community healthy and, in so doing, helping to minimize the spread of COVID-19, while maintaining necessary operations.
We have been preparing for this for over a month, monitoring coronavirus developments around the world, in Canada and Quebec, and developing strategies to address the situation as it evolves. Our planning has been guided by the recommendations and directives of government public health authorities, and, in every step along the way, we have put the health and safety of the McGill community first. I am writing to recap some important information and to share some new updates.
As you know, McGill has suspended all classes for the next two weeks and employees are encouraged to work from home whenever they can. The University is committed to helping contain the propagation of COVID-19 by "flattening the curve."  To promote social distancing, we are implementing measures to have fewer individuals on, or commuting to, our campuses, while maintaining necessary functions and activities.
We are dedicated to ensuring that all courses that can be taught online will be in an online format starting on March 30. Additionally, there will be no in-person sit-down examinations for the Winter 2020 term. I know that preparing for these adjustments is a major undertaking and I greatly appreciate the professionalism and determination of everyone involved in making this happen – especially under such trying circumstances.
Here are the most recent updates on McGill's operations:
Deliveries of services or goods
Staff who are expecting deliveries during the suspension period should reach out to their suppliers to coordinate deliveries. If you are not on campus, please cancel the delivery or arrange to have the goods delivered to an alternate location. Staff who are authorized to be on campus to provide necessary functions will need to ensure that they are present to receive deliveries of services or goods. Security agents are not authorized to accept deliveries.
Building access
Members of the community may need to access buildings, in order to carry out necessary functions, pick up necessary equipment to work from home, and ramp down research activities. If you are normally able to get into your building during weekends and after hours, you will be able to access it during the suspension period. If you cannot normally access your building after hours, you should contact the Area Access Manager (AAM) for your unit. A list of AAMs can be found here. If your AAM is not available or cannot grant you access, please contact Physical Security Systems at systems.security@mcgill.ca or at 514-398-4562. Make sure to have your McGill ID card with you at all times.
Upon leaving your respective areas, we ask that you take a moment to check that:
The windows are closed and doors are locked
You have all your belongings
Any necessary equipment and appliances are turned off or unplugged – for example, space heaters should be unplugged, but refrigerators should remain operational
Any remaining valuables are locked away
Casual administrative staff 
All academic and administrative staff, including casual and work-study employees who were scheduled to work over the two-week suspension period, will be paid. Casual and work-study employees, please consult the instructions on the McGill coronavirus FAQs.
Parking
McGill has decided that employees who are required on site in order to perform their work will be offered free parking throughout the COVID-19 suspension period. Please consult the instructions on the McGill coronavirus FAQ page to request temporary parking.
Hazardous Waste Management
To try to keep staff on campus at a minimum, Hazardous Waste Management (HWM) will not pick up biomedical waste and chemicals directly from laboratories. As research personnel are working to ramp down research on campus, they should put these materials into the waste room, where HWM will collect them.
Reporting possible exposure to COVID-19
We have developed a self-declaration form to document illness or possible exposure to COVID-19. Employees in such situations must fill out the form. Further instructions are available on the McGill coronavirus website. 
Support
Professional counselling and advice for a range of issues are available for staff through the Employee and Family Assistance Program (EFAP).  If you need to talk to someone, I encourage you to make use of the program.
For students, Keep.meSAFE, a mental health counselling service offered to students in partnership with SSMU and PGSS, provides 24/7 access to licensed counsellors through telephone and mobile chat in more than 60 languages.  To access this service, download the MySSP app in the Apple App Store or Google Play.
For more information, please consult McGill's coronavirus page. We are doing our best to update it with new information throughout the day. If you have any questions not covered by our FAQs, write to COVID-19.info@mcgill.ca.
In closing, I would like to thank you all once again for your dedication to McGill and to each other. When I think back to what life was like just two weeks ago, I am amazed at how quickly and profoundly it has changed. I am sure you all feel the same. Please take care of yourself and provide whatever support you can to your colleagues and fellow students.
Sincerely,
Fabrice Labeau
Deputy Provost (Student Life & Learning)
on behalf of the Emergency Operations Centre
___________________________
Chers membres de la communauté mcgilloise,
La situation actuelle est difficile pour nous tous, en particulier pour les membres de notre communauté dont les proches et les amis sont touchés de près par l'éclosion de maladie à coronavirus (COVID-19).
J'aimerais remercier notre corps professoral, qui ne ménage pas ses efforts pour passer à des prestations de cours à distance, tout comme nos chercheurs principaux, qui ont entrepris une tâche délicate de restriction de leurs travaux de recherche. Un grand merci également aux employés, tant à ceux qui s'adaptent au télétravail qu'à ceux qui assurent le maintien des fonctions indispensables sur le campus. Et enfin, je veux remercier nos étudiants pour leur patience et leur compréhension devant l'interruption de leurs études en cette période d'incertitude sans précédent. Votre solidarité avec l'Université et l'ensemble de la collectivité en ces temps troubles est très précieuse.
La haute direction de l'Université garde le cap : elle s'attache d'abord et avant tout à assurer le bien-être de sa communauté et, ce faisant, à contenir la propagation de la COVID-19, tout en poursuivant les activités indispensables.
Nous nous préparons à faire face à cette situation depuis plus d'un mois en suivant l'évolution du coronavirus dans le monde, au Canada et au Québec, et en prenant les mesures qui s'imposent. Nous avons tenu compte des recommandations et des directives des autorités de la santé publique et avons priorisé systématiquement la santé et la sécurité de la communauté mcgilloise. Vous trouverez dans les lignes qui suivent des rappels importants et de l'information récente.
Comme vous le savez, l'Université a suspendu tous les cours pour les deux semaines à venir et encourage ses employés à travailler de la maison si possible. Elle s'engage à contribuer à contenir la propagation de la COVID-19 afin d'« aplatir la courbe ». Soucieux de favoriser l'éloignement social, nous déployons des mesures afin d'avoir un nombre réduit de personnes qui se rendent sur nos campus, tout en assurant le maintien des fonctions et des activités indispensables.
Nous sommes résolus à faire en sorte que tous les cours pouvant être offerts en ligne soient disponibles à compter du 30 mars. Par ailleurs, il n'y aura pas d'examens en personne pour la session de l'hiver 2020. Je sais fort bien que l'adaptation à cette nouvelle donne n'est pas une mince affaire, et je vous suis grandement reconnaissant du professionnalisme et de la détermination dont vous faites preuve dans ces circonstances particulièrement éprouvantes.
Vous trouverez ci-après de l'information récente sur les activités à l'Université McGill.
Livraison de biens et de services
Les employés qui attendent des livraisons pendant la période de suspension doivent communiquer avec leur fournisseur pour prendre les dispositions qui s'imposent. Si vous n'êtes pas sur le campus, nous vous prions d'annuler la livraison ou de faire livrer les biens à une autre adresse. Les employés autorisés à travailler sur le campus pour la prestation des fonctions indispensables devront être présents pour accuser réception des biens ou des services. Les agents de sécurité ne sont pas autorisés à accuser réception de livraisons.
Accès aux immeubles
Des membres de notre communauté pourraient devoir entrer dans un immeuble pour s'acquitter de fonctions indispensables, venir chercher du matériel de télétravail ou ralentir certaines activités de recherche. Si vous pouvez habituellement accéder à votre immeuble la fin de semaine ou en dehors des heures ouvrables, vous pourrez également y accéder pendant la période de suspension. Toutefois, si vous ne pouvez pas entrer dans votre immeuble en dehors des heures ouvrables, veuillez communiquer avec le gestionnaire d'accès de votre unité. Vous trouverez la liste des gestionnaires d'accès ici. Si votre gestionnaire d'accès n'est pas disponible ou ne peut pas vous donner accès à votre immeuble, veuillez communiquer avec les Systèmes de sécurité physiques, à systems.security@mcgill.ca ou au 514 398-4562. Vous devez toujours avoir en main votre carte d'identité de l'Université.
Avant de quitter les lieux, nous vous prions de vous assurer que :
les fenêtres sont fermées et les portes, verrouillées;
vous avez tous vos effets personnels;
tout le matériel et tous les électroménagers sont éteints ou débranchés (par exemple les « chaufferettes » doivent être débranchées, mais les réfrigérateurs doivent rester branchés); et
tous les objets de valeur encore sur les lieux sont sous clé.
Personnel administratif occasionnel
L'ensemble du personnel enseignant et administratif – dont les employés occasionnels et les étudiants du programme travail-études – qui devaient travailler pendant la période de suspension de deux semaines seront payés. Les employés occasionnels et les étudiants du programme travail-études sont priés de prendre connaissance des instructions dans la FAQ du site de l'Université sur le coronavirus.
Stationnement
L'Université McGill a décidé d'offrir le stationnement gratuit pendant la période de suspension à tous les employés qui doivent venir sur le campus pour s'acquitter de leurs fonctions. Consultez la FAQ du site de l'Université sur le coronavirus pour connaître la marche à suivre.
Gestion des déchets dangereux
En vue de réduire au minimum le nombre d'employés présents sur le campus, l'équipe de la Gestion des déchets dangereux n'ira plus directement aux laboratoires chercher les déchets biomédicaux et les produits chimiques. Puisque le personnel s'emploie à diminuer les activités de recherche sur le campus, il devra placer ces déchets dans la salle prévue à cette fin, où l'équipe de la Gestion des déchets dangereux en fera la collecte.
Déclaration d'une exposition possible au coronavirus
Nous avons élaboré un formulaire d'autodéclaration pour consigner les cas de COVID-19 ou d'exposition possible au coronavirus. Les employés visés doivent remplir le formulaire. Pour en savoir davantage, consultez le site Web de l'Université sur le coronavirus. 
Soutien
Les professionnels de notre Programme d'aide aux employés et à la famille peuvent vous offrir toute une gamme de services-conseils. Si vous avez besoin d'une bonne oreille, n'hésitez pas à vous prévaloir de ce programme.
Quant aux étudiants, Keep.meSAFE leur offre du soutien en santé mentale en partenariat avec l'Association étudiante de l'Université McGill et l'Association des étudiants aux cycles supérieurs de l'Université. En tout temps, ils peuvent obtenir des services professionnels de counseling par téléphone ou clavardage en plus de 60 langues. Les personnes souhaitant se prévaloir de ce service doivent télécharger l'application MySSP dans l'App Store ou Google Play. 
Pour plus d'information, consultez la page Web de McGill sur le coronavirus, que nous veillons à actualiser régulièrement pendant la journée. Si vous avez des questions dont vous ne trouvez pas la réponse dans notre FAQ, écrivez à COVID-19.info@mcgill.ca.
En terminant, j'aimerais vous remercier tous, une fois de plus, pour la sollicitude dont vous faites preuve à l'égard de l'Université McGill, tout comme les uns envers les autres. Je pense à ma vie d'il y a à peine deux semaines, et je n'en reviens pas que tout ait changé à ce point en si peu de temps. Vous vous dites la même chose, j'en suis sûr. Portez-vous bien et soyez là pour épauler vos collègues et vos compagnons d'études.
Cordialement, 
Fabrice Labeau
Premier vice-principal exécutif adjoint (études et vie étudiante), au nom du Centre des opérations d'urgence de l'Université McGill