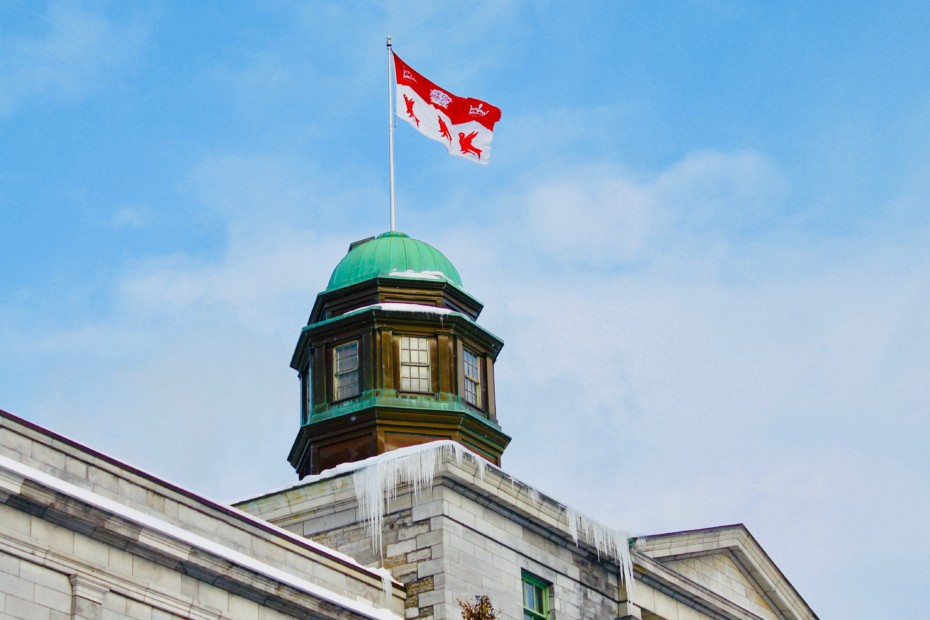 The following is the message sent on March 15 on behalf of Christopher Manfredi, Provost and Vice-Principal (Academic) and Yves Beauchamp, Vice-Principal (Administration and Finance).
Ce message est envoyé au nom de Christopher Manfredi, vice-principal exécutif et vice-principal (études), et d'Yves Beauchamp, vice-principal (administration et finances).
Dear members of the McGill community,
We are writing to share some details about what the next two weeks will look like for McGill students, faculty and staff as the University follows the Quebec government's  decision to temporarily close  all schools and universities. It is important to note that the situation is extremely fluid and this two-week closure may be extended; thank you for your understanding as we navigate these uncertain times together.
The University fully supports the Quebec government's decision and is committed to helping contain the propagation of COVID-19 by "flattening the curve," so that health services do not collapse under the resulting patient load. To promote social distancing, we are implementing measures to have fewer individuals on, or commuting to, our campuses.
We understand that this situation can be extremely stressful, both in people's personal lives and in their academic and professional careers. While we can't completely assuage this anxiety, we hope that providing clear communication regarding McGill's operation in the coming weeks will help clarify the situation.
Teaching and assessments
While academic activities lie at the core of McGill's mission, they are being suspended in light of the government directive. All classes (in-person and online), teaching labs, exams, assignments and other forms of assessment are suspended for two weeks – except thesis defenses. Students with thesis defenses are asked to contact their supervisors to discuss possible alternatives.  Some  limited online instruction will proceed with critical disciplines in the Faculty of Medicine.
Be assured that we are committed to ensuring that all courses that can be taught online will be in an online format starting on March 30. The goal is to ensure that as many students as possible are able to complete most, if not all, of their academic term remotely. Alternative formats for final examinations are also being explored so that the examination period will not involve in-person sit-down examinations on our campuses. We recognize that this will not work for some courses and programs, and for some students, and we are therefore evaluating alternatives for these situations.
During the next two weeks, instructors will contact students about how teaching will resume after the suspension period, and any possible adjustments to modes of assessment.
Research
We realize that a ramp down of on-campus research may represent significant hardship for those involved in certain research projects that are in progress. Unfortunately, due to the current crisis and the importance of preserving the health and safety of our community, the government's and McGill's default position is that all non-essential research activities on campus must be postponed or halted in the short term. Ultimately, we must accept that the current COVID-19 situation is a unique emergency that requires exceptional measures that will inevitably have important impacts on everyone's work. McGill is in communication with funding agencies to address the resulting issues.
Faculty deans will shortly send out detailed steps to take as well as the process that allows you to request an extension or exemption from the ramp-down.
Graduate Students who have questions related to the continuation of their research activities in this context should contact their Graduate Program Directors and/or the Associate Deans at Graduate and Postdoctoral Studies.
Workplace
As per clarifications from the Ministry of Education and Higher Education, McGill will remain operational for the duration of the two-week suspension, beginning on Tuesday, March 17, but only necessary functions and activities will be provided on campus.
Unless otherwise notified, employees are to work remotely whenever possible for the duration of the two-week suspension period. Supervisors will contact employees to determine which functions will be maintained over this period, who is to perform their duties, and how. We ask everyone to adjust tasks, set priorities, and redistribute work as they are able.
Employees are asked to consult  IT's  guidelines for remote work at www.mcgill.ca/it/work-remotely, where guidance is provided under "Meeting & Collaborating Remotely."
Academic and support staff are asked to use the following tools:
Zoom will soon be available to all instructors for teaching and learning activities
MS Teams is currently available to all employees for all collaborative work (web conferencing, chat, etc.)
WebEx will soon be available to employees for all Web conferencing needs.
It has been decided not to use Skype as the product is nearing end of life.
All academic and administrative staff, including casual and work-study employees who were scheduled to work over the two-week suspension period, will be paid.
Health
Once again, we strongly encourage people to continue practicing proper  health precautions, including washing their hands often and covering their mouth and nose with their arm when coughing or sneezing. Should you develop a fever, cough or begin to have difficulty breathing, you should:
isolate yourself from others as quickly as possible
immediately call 1-877-644-4545
describe your symptoms and travel history
follow their instructions carefully
If you have decided or been advised to self-isolate:
All students: report your situation to your student affairs office or your department.
Students living in residence: report your status by contacting Student Housing and Hospitality Services at housing.residences@mcgill.ca. Self-reporting will ensure that assistance is provided to you and services are maintained.
Employees: report your status by contacting your immediate supervisor.
Note: Rest assured that this information will be treated confidentially.

Student Services will remain in operation but by phone and online. The Wellness Hub will be closed over the coming week and will move to online operations.
Students will continue to have access to a number of health services. Students have virtual access to doctors via the  Maple app. Moreover, Keep.meSAFE, a mental health counselling service offered to students in partnership with SSMU and PGSS, provides  24/7 access to licensed counsellors through telephone and mobile chat in more than 60 languages. To access this service, download the MySSP app in the Apple App Store or Google Play.
Libraries
All McGill libraries are closed until March 30. Online library services will still be available during this period. Please note the following:
The Library is offering a retrieval service for research print materials from downtown libraries. Only items that can normally circulate can be requested via a form that will be accessible on the Library's homepage and FAQ page.
Materials from Macdonald Campus Library are not available at this time.
Physical items placed on course reserves will not be available at this time.
Reference services will be moving online for the next two weeks: Chat, email or text a librarian from Monday to Friday, 10 am to 6 pm, starting Monday, March 16.
A link to a FAQ page outlining the Library's contingency plan will be available on the Library's  homepage  on Monday, March 16.
Services
All McGill Athletics & Recreation facilities are closed until March 30.
Food services will remain open with regular  hours of service in all residential dining halls (except Douglas Hall), Starbucks, Premiere Moisson and  Twiggs at Macdonald campus. All other food service locations on campus will be closed.
McGill's shuttle service between the downtown and Macdonald campuses will operate on the same  reduced schedule as per reading week.
The University  will continue to update the community as the situation develops and following further government instructions.
Please see the  coronavirus page of the McGill website for the most current information.  
If you have any questions, write to  COVID-19.info@mcgill.ca>
Sincerely,
Christopher Manfredi, Provost and Vice-Principal (Academic)
Yves Beauchamp, Vice-Principal (Administration and Finance)
__________________________
Chers membres de la communauté mcgilloise,
Nous vous écrivons afin de vous transmettre quelques précisions quant à la situation, pour les deux prochaines semaines, pour les étudiants et les membres du corps enseignant et administratif de McGill, alors que l'Université agit en conformité avec la décision du gouvernement du Québec de fermer temporairement l'ensemble des écoles et des universités. Il est important de rappeler que la situation peut changer à tout moment et que la fermeture peut être prolongée. Nous vous remercions de votre compréhension alors que nous faisons face, ensemble, à cette période d'incertitude.
L'Université appuie entièrement la décision du gouvernement du Québec et s'engage à contribuer à contenir la propagation de la COVID-19 en « aplatissant la courbe », afin d'éviter que les services de santé ne s'effondrent à la suite de la prise en charge de patients de plus en plus nombreux. Dans un souci de promouvoir l'éloignement social, nous déployons des mesures afin d'avoir un nombre réduit d'individus qui se rendent sur nos campus.
Nous savons que cette situation peut être une immense source de stress, tant sur plan professionnel que sur le plan personnel. Bien que nous ne puissions qu'atténuer l'anxiété ressentie, nous espérons néanmoins qu'en fournissant des renseignements précis quant aux activités menées à l'Université au cours des prochaines semaines, nous parviendrons à présenter un portrait plus clair de la situation.
Enseignement et évaluation
Si le volet académique réside au cœur de la mission mcgilloise, les activités qui y sont associées sont toutefois suspendues en réponse à la directive émise par le gouvernement. Tous les cours (en personne et en ligne), les laboratoires d'enseignement, les examens, les travaux et toute forme d'évaluation sont suspendus pendant deux semaines – à l'exception des soutenances de thèse. Les étudiants devant soutenir une thèse sont invités à communiquer avec leur superviseur afin de discuter de solutions de rechange. La Faculté de médecine offrira des cours en ligne pour certaines disciplines essentielles.
Nous sommes déterminés à faire en sorte que tous les cours pouvant être offerts en ligne soient disponibles à compter du 30 mars. Notre objectif consiste à s'assurer que le plus grand nombre d'étudiants puissent terminer en grande partie ou en totalité leur année universitaire à distance. Par ailleurs, nous évaluons d'autres pistes de solution relativement aux examens finaux, lesquelles excluraient les examens en personne sur le campus. Bien sûr, de telles avenues ne sont pas envisageables pour l'ensemble des cours, des programmes et des étudiants, et c'est pourquoi nous sommes à évaluer d'autres solutions.
Au cours des deux prochaines semaines, les membres du personnel enseignant communiqueront avec les étudiants afin de leur fournir des précisions quant à la reprise des cours et leur faire part, le cas échéant, de modifications des méthodes d'évaluation.
Recherche
Il est vrai que la restriction des travaux menés sur le campus pourra entraîner de sérieuses contraintes pour ceux et celles qui participent à certains projets de recherche en cours. Malheureusement, en raison de la crise actuelle et de l'importance de préserver la santé et la sécurité de la collectivité, tant le gouvernement que l'Université sont d'avis qu'à court terme, toute activité de recherche non essentielle menée sur le campus doit être reportée ou interrompue. Nous n'avons d'autre choix que d'accepter que la situation entourant la COVID-19 représente une urgence absolue qui exige de mesures exceptionnelles desquelles découleront inévitablement des répercussions majeures sur le travail de chacun d'entre nous. Sachez que l'Université est en communication avec des organismes subventionnaires relativement aux conséquences de cette situation.
Sous peu, les doyens des facultés transmettront un plan détaillé des étapes à suivre ainsi que les démarches à entreprendre afin de demander une prolongation ou une exemption.
Les étudiants aux cycles supérieurs qui ont des questions quant à la poursuite de leurs activités de recherche dans ce contexte doivent communiquer avec le directeur de leur programme d'études et/ou avec le vice-doyen aux études supérieures et postdoctorales.
Milieu de travail
Conformément aux précisions obtenues du ministère de l'Éducation et de l'Enseignement supérieur, l'Université McGill demeurera opérationnelle pendant ces deux semaines, soit à compter du mardi 17 mars, mais n'offrira sur ses campus que les services et les activités indispensables.
Sauf avis contraire, l'Université demande à ses employés de télétravailler pendant la période de suspension de deux semaines. Les superviseurs communiqueront avec les employés afin d'établir les fonctions qui doivent être maintenues durant cette période, de déterminer les membres du personnel à qui ces fonctions seront attribuées et de définir comment ces derniers s'en acquitteront. Nous demandons à chacun d'entre vous, dans la mesure du possible, d'ajuster les tâches, de définir les priorités et de redistribuer le travail.
Les employés sont invités à consulter les lignes directrices des TI sur le télétravail à www.mcgill.ca/it/work-remotely. La marche à suivre se trouve dans la section « Meeting & Collaborating Remotely ». 
Le personnel enseignant et de soutien peut utiliser les outils suivants :
Zoom sera bientôt disponible pour l'ensemble du personnel enseignant lors d'activités d'enseignement et d'apprentissage.
MS Teams est disponible pour tous les employés dans le cadre de travaux d'équipe (conférences Web, clavardage, etc.).
WebEx sera bientôt accessible pour les conférences Web.
Parce qu'il aura bientôt atteint la vie de sa vie utile, Skype a été exclu des outils offerts.
L'ensemble du personnel enseignant et administratif – dont les employés temporaires et les étudiants du programme travail-études – qui devaient travailler pendant la période visée seront payés.

Santé
Nous réitérons notre recommandation quant aux précautions à prendre, lesquelles consistent notamment à vous laver les mains souvent et à vous couvrir la bouche et le nez à l'aide de votre bras lorsque vous toussez ou éternuez.
En cas de fièvre, de toux ou de difficulté respiratoire, vous devez :
vous isoler le plus rapidement possible
composer immédiatement le 1 877 644–4545
mentionner vos symptômes et vos récents déplacements
respecter les consignes à la lettre
Vous avez décidé, ou on vous a conseillé de vous isoler :
Tous les étudiants doivent faire part de leur situation au bureau des affaires étudiantes ou à leur département.
Les étudiants qui vivent en résidence doivent signaler leur situation au Service de logement étudiant et hôtellerie en écrivant à housing.residences@mcgill.ca. Ils pourront recevoir de l'aide, et les services seront maintenus.
Les employés doivent informer leur supérieur immédiat de leur état.
Soyez assurés que cette information sera traitée de manière confidentielle.
Les Services aux étudiants seront accessibles, mais uniquement par téléphone et en ligne. Le Pôle bien-être étudiant sera fermé pendant la semaine à venir, puis transportera ses activités en ligne.
Les étudiants continueront d'avoir accès à plusieurs services de santé. Ainsi, ils peuvent obtenir une consultation virtuelle avec un médecin grâce à l'application Maple. Keep.meSAFE leur offre du soutien en santé mentale en partenariat avec l'Association étudiante McGill et l'Association des étudiants aux cycles supérieurs de l'Université. En tout temps, ils peuvent obtenir des services professionnels de counseling par téléphone ou clavardage en plus de 60 langues. Les personnes souhaitant se prévaloir de ce service doivent télécharger l'application My SSP dans l'App Store ou Google Play.
Bibliothèques
Toutes les bibliothèques de l'Université McGill sont fermées jusqu'au 30 mars. Les services en ligne des bibliothèques demeureront cependant accessibles pendant cette période.
La Bibliothèque propose un service de recherche documentaire pour les documents de recherche imprimés dans l'une des bibliothèques du campus du centre-ville. Seuls les articles autorisés peuvent être empruntés. Pour ce faire, les usagers doivent remplir un formulaire qui se trouve sur la page d'accueil de la Bibliothèque et sur la page de la FAQ.
Pour l'instant, il n'est pas possible de consulter les documents de la bibliothèque du campus Macdonald.
Pour l'instant, il n'est pas possible de consulter les documents réservés.
Durant les deux prochaines semaines, les services de consultation se feront en ligne. À compter du lundi 16 mars, du lundi au vendredi, de 10 h à 18 h, vous pourrez clavarder ou envoyer un courriel ou un message texte à un bibliothécaire.
Le lundi 16 mars, un lien menant à une foire aux questions présentant le plan d'urgence sera disponible sur la page d'accueil de la Bibliothèque.

Services 
Toutes les installations sportives de l'Université McGill sont fermées jusqu'au 30 mars.
Les services alimentaires seront maintenus et offerts durant les heures normales d'ouverture dans l'ensemble des salles à manger des résidences (à l'exception du Pavillon Douglas), et aux Starbucks, Première Moisson et Twiggs du campus Macdonald. Aucun autre service alimentaire sur les campus ne sera ouvert.
Par ailleurs, l'Université continuera d'offrir son service de navette, mais l'horaire sera celui de la semaine de relâche.
L'Université vous tiendra au fait de l'évolution des choses et vous transmettra les consignes des pouvoirs publics.
Nous vous invitons à consulter la page sur le coronavirus du site Web de McGill pour obtenir l'information la plus récente.
Pour toute question, écrivez à COVID-19.info@mcgill.ca.
Cordiales salutations,
Christopher Manfredi, vice-principal exécutif et vice-principal aux études)
Yves Beauchamp, vice-principal (administration et finances)