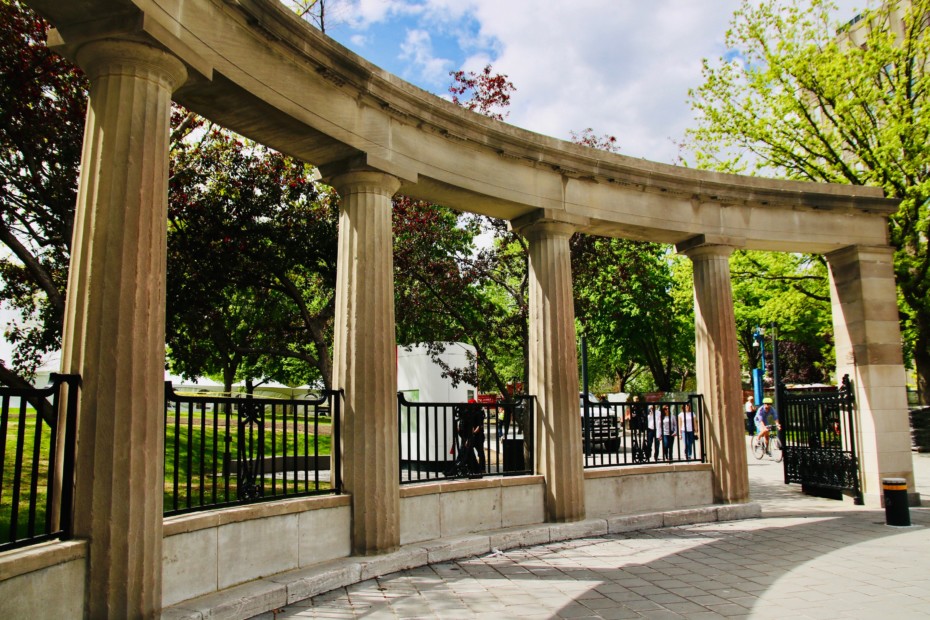 Classes and exams at McGill have been suspended for 14 days beginning on Monday, March 16. This is in accordance with the directive issued by the Quebec government on March 13, effectively closing all daycares, schools and universities in the province for two weeks.
"All classes, teaching labs, exams and other assessments are suspended for two weeks – except theses defenses. We will continue to work on resuming most teaching and other academic activities online by the end of this two-week period," said Fabrice Labeau, Deputy Provost (Student Life and Learning), in a statement to the McGill community on March 14. "Instructors will be in touch with students during this period to prepare for resuming academic activities."
"McGill will make every effort to ensure that students complete the term as planned," said Labeau.
"All hands on deck"
Principal Suzanne Fortier also addressed the McGill community on March 14. In her statement she reassured people that the University is doing its utmost to ensure the health and safety of the University community.
"I realize that this is a period of anxiety, especially for those members of our community whose family and friends are in the areas most affected by this situation. Please know that for the leadership at McGill, it is truly 'all hands on deck' as we endeavour to keep our students, faculty, and staff healthy and safe and ensure the continuity of our essential operations, particularly over the next two weeks," said Principal Fortier. "This is a trying moment, but given the deep knowledge, capacity, commitment, and resolve that marks the McGill community, I trust fully our collective ability to weather this period."
McGill will remain in operation – though often virtually
McGill staff have been told to extend their weekend to Tuesday, March 17. While they are not expected to work on Monday, March 16, all employees will be fully compensated.
Despite the suspension of in-person academic activities, McGill will remain operational during the two weeks. However, only necessary functions and activities will be provided on campus. Where possible, employees will work remotely, unless otherwise notified. Supervisors will reach out to employees with instructions and next steps. All academic and administrative staff, including casual employees who were scheduled to work over the period, will be paid.
Here is a rundown of the status of University services and activities:
Food services in residences will remain open. Some food services on campus will be closed, while others will remain open but with reduced hours.
Research activities that can be carried out off-campus (not including field work research) will continue; all non-essential on-campus research activities should ramp down, with exceptions as authorized by Deans. Research involving in-person interaction with human subjects should be discontinued or postponed with the exception of certain hospital-based work as per hospital rules.
McGill's shuttle service will operate on the same reduced schedule as per reading week.
Student Services will remain in operation but by phone and online. The Wellness Hub will be closed over the coming week, and will move to online operations.
Students will continue to have access to a number of health services. Students have virtual access to doctors via the Maple app. meSAFE, a mental health counselling service offered to students in partnership with SSMU and PGSS, provides 24/7 access to licensed counsellors through telephone and mobile chat in more than 60 languages. To access this service, download the MySSP app in the Apple App Store or Google Play.
All McGill libraries and athletics facilities are closed until March 30. Online library services will still be available during this period, and requests for library research materials will be accommodated as much as possible.
McGill-related travel prohibited
As per the Government of Canada's advisory to avoid non-essential travel outside Canada, McGill has prohibited all University-related outbound international travel. In his statement, Labeau also "strongly discouraged" all personal international travel, reminding people that restrictions imposed by other countries could delay their return to Canada.
Also, in response to the government travel advisory, McGill is recalling all students currently abroad, regardless of region. "The University is asking returning students to determine and adhere to steps for re-entry and self-isolation, whether they are returning to Canada or another country, including any travel restrictions and health recommendations," said Labeau. "Students currently abroad will receive more details soon, including information about academic accommodations."
"The situation continues to evolve and is stressful for many people," continued Labeau. "I thank you for your understanding. I appreciate the perseverance of the community as we work through this situation in coordination with the Ministry of Health and the Ministry of Education and Higher Education."
The University will continue to update the community as the situation develops and following  further government instructions.   
Please see the coronavirus page of the McGill website for the most current information.   
If you have any questions, write to COVID-19.info@mcgill.ca.