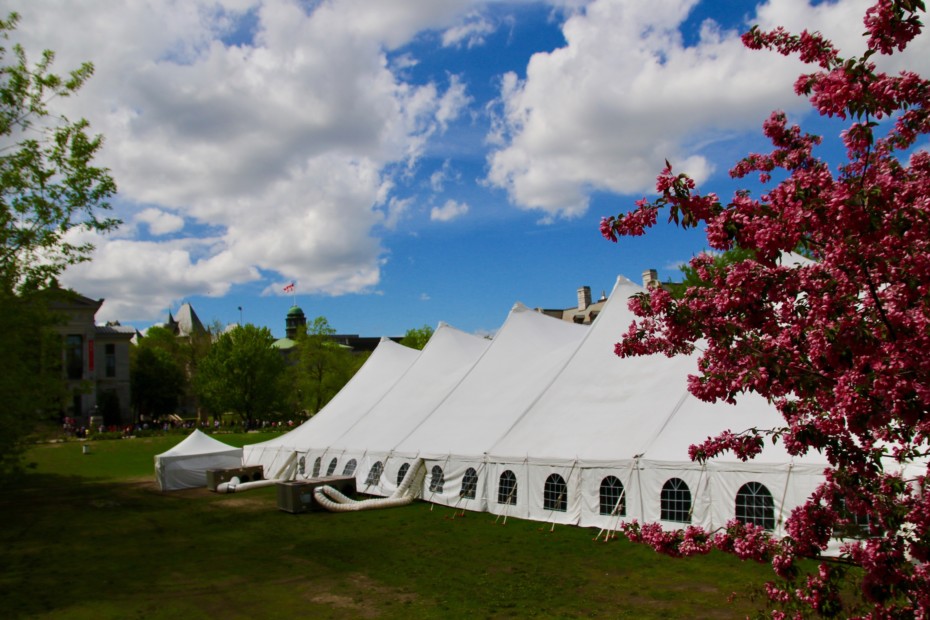 The COVID-19 virus has forced one of the highlights of the academic year to be called off.
"Even though our shared objective is clear – prioritizing the well-being of our community, and that of the general population – finding the best way forward has required making difficult decisions. It is, thus, with heavy heart that I must announce that the Spring Convocation ceremonies have been called off," Principal Suzanne Fortier told the McGill community in a message earlier today.
"Convocation is a cherished McGill occasion that brings together, in joyful celebration, graduating students and the people who have encouraged and supported them in their journeys," said Principal Fortier. "While it is important to celebrate our students' hard-earned achievements, right now our focus must remain on keeping our community healthy – and that includes the thousands of family members and friends who would gather on our campuses to celebrate."
Principal Fortier assured people that she and her colleagues were working to make sure that students on track to graduate this semester will be able to complete their degree requirements. She also said that alternative ways for the community to come together to celebrate graduating students were being explored.
Operations update
In a separate communiqué, Fabrice Labeau, Deputy Provost (Student Life and Learning), updated McGillians on operational matters.
Noting that COVID-19 presents a higher risk to people with a weakened immune system, a chronic condition or aged 70, Labeau instructed employees who fall into one of these categories to fill out the Self-assessment form available in the Employee menu of Minerva. Those employees who are affected will be instructed to remain at home until public health authorities say the risk has diminished. When feasible, the employee will be asked to work remotely.
In keeping with government directives, McGill has suspended all student travel outside Canada for internships, student exchanges, international mobility programs, competitions or conferences. "All international outbound student travel for academic activities scheduled for Summer 2020 is cancelled, and McGill will not be accepting any new incoming international students for exchange or study abroad activities until further notice," said Labeau.
Summer and Fall semesters
Looking ahead, Labeau reiterated that McGill's summer semester will go ahead through remote instruction. He also noted that the University was "actively recruiting students from across the world for the Fall semester, and we are confident that we can deliver high-quality learning."
With the majority of McGill's employees now working from home, Labeau reminded people to be vigilant for cyberattacks.
"During volatile periods such as this, cyber attackers will try to exploit the situation by manipulating users through phishing email attacks," said Labeau. "We encourage you to monitor the McGill IT Security Alerts, as they are updated regularly. Please exercise caution with all emails; take the time to read our tips on how to spot malicious emails, and how to report them."