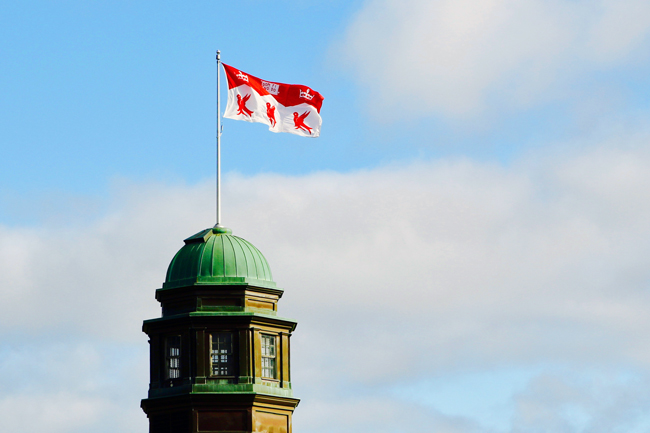 The following is a message sent to the McGill community by Principal Suzanne Fortier on March 20.
La version française suit. 
Dear members of the McGill community,
Earlier today, CBC Montreal reported that a McGill student tested positive for COVID-19. On behalf of the whole McGill community, I would like to offer our wishes for a prompt and full recovery.
Due to privacy laws, we cannot release details about identity. We understand, though, that many of you would like to reach out to this individual to offer support and comfort. Also, some of you may be wondering whether you have been in contact with this person. Health authorities have already communicated directly with anyone who is considered a contact, and have advised on appropriate behaviours. These instructions may vary depending on individuals' particular situations, such as the closeness of the contact. We will make ourselves available to the health authorities to provide assistance if required.
If public health authorities have asked you to self-isolate, please do so to protect vulnerable people in our community. The Government has published guidelines on how to do so, which I encourage you to consult.
If you are self-isolating or if you test positive for COVID-19, please report this to us via the self-declaration form, to aid in our collaboration with the Government.
Staying safe and flattening the curve
Although you have heard the following guidelines many times by now, I must repeat them again, because in a time like this it is critically important to ensure that we all do what we can:
Practice social distancing, which means ceasing unnecessary in-person contact, avoiding large groups of people, and staying three to six feet away from others where possible.
Wash your hands with soap and water, thoroughly and often. When that is not possible, use alcohol-based hand sanitizer.
Avoid touching your face with your hands. 
When coughing or sneezing, cover your mouth and nose with your arm to reduce the spread of germs.
Please check McGill's Coronavirus Updates website regularly, and if you have questions not answered by our FAQs, please share them with us at COVID-19.info@mcgill.ca.
The safety of the individual who has tested positive – and all of you – will remain my priority. I am working hard with government, other universities, my senior team, and dedicated staff across McGill to help keep our community safe and to adapt our administrative and academic activities to complete the semester.
Uncertain times lie ahead, but we will navigate them together, and we will get through this. Thank you again to all of you who are working so tirelessly to manage this crisis, and to all members of our community for their courage and patience.
Take care and be well.
Suzanne Fortier
Principal and Vice-Chancellor
________________________________________
Chers membres de la communauté mcgilloise,
Plus tôt aujourd'hui, CBC Montreal a annoncé qu'un membre de l'effectif étudiant de l'Université McGill avait obtenu un test positif et était donc atteint de la COVID-19. Au nom de toute notre communauté, je souhaite à cette personne un prompt rétablissement.
En raison des lois sur la protection de la vie privée, nous ne pouvons révéler l'identité de cette personne. Cela dit, nous sommes conscients que beaucoup d'entre vous aimeraient lui offrir soutien et réconfort. En outre, certains se demandent peut-être s'ils ont été en contact avec cette personne. Les autorités sanitaires ont déjà communiqué directement avec tous ceux et celles susceptibles de l'avoir côtoyée et leur ont indiqué la conduite à tenir. Les consignes peuvent varier suivant le contexte, par exemple l'étroitesse du contact. Nous nous tenons à la disposition des autorités sanitaires pour leur prêter main-forte au besoin.
Si ces dernières vous ont demandé de vous placer en isolement, nous vous prions de le faire pour protéger les personnes vulnérables de notre communauté. Je vous invite à consulter les consignes publiées par les pouvoirs publics à cet égard.
Si vous vous placez en isolement volontaire ou avez obtenu un test positif pour la COVID-19, veuillez nous le signaler en remplissant le formulaire d'autodéclaration : vous nous aiderez ainsi à collaborer avec le gouvernement.
Aplatissement de la courbe : mode d'emploi
Bien que vous ayez reçu ces consignes de nombreuses fois déjà, je tiens à vous les répéter, parce qu'il est capital de tout mettre en œuvre pour contenir la propagation du virus.
Pratiquez l'éloignement social : évitez tout contact en personne non nécessaire et tout regroupement, et dans la mesure du possible, gardez une distance de trois à six pieds entre vous et les autres.
Lavez-vous les mains avec de l'eau et du savon, souvent et à fond. Si c'est impossible, utilisez un antiseptique pour les mains à base d'alcool.
Ne portez pas les mains à votre visage. 
Toussez ou éternuez dans le creux du coude de manière à vous couvrir le nez et la bouche afin de réduire la propagation des germes.
Consultez régulièrement le site Web de McGill sur le coronavirus et si vous avez une question à laquelle vous ne trouvez pas réponse dans notre foire aux questions, n'hésitez pas à nous écrire à COVID-19.info@mcgill.ca.
La sécurité de la personne ayant obtenu un test positif – et la vôtre – demeure ma priorité. En collaboration avec le gouvernement, les autres universités, les membres de la haute direction et les employés de McGill, je veille au bien-être de notre communauté et je m'emploie à adapter nos activités administratives et académiques en vue de mener la session à bonne fin.
Nous vivons une période d'incertitude, mais nous demeurons solidaires dans l'adversité et surmonterons cette épreuve ensemble. Je remercie ceux et celles qui travaillent sans relâche pour gérer cette crise et je remercie également tous les membres de notre communauté pour leur courage et leur patience.
Portez-vous bien.
 Suzanne Fortier
Principale et vice-chancelière