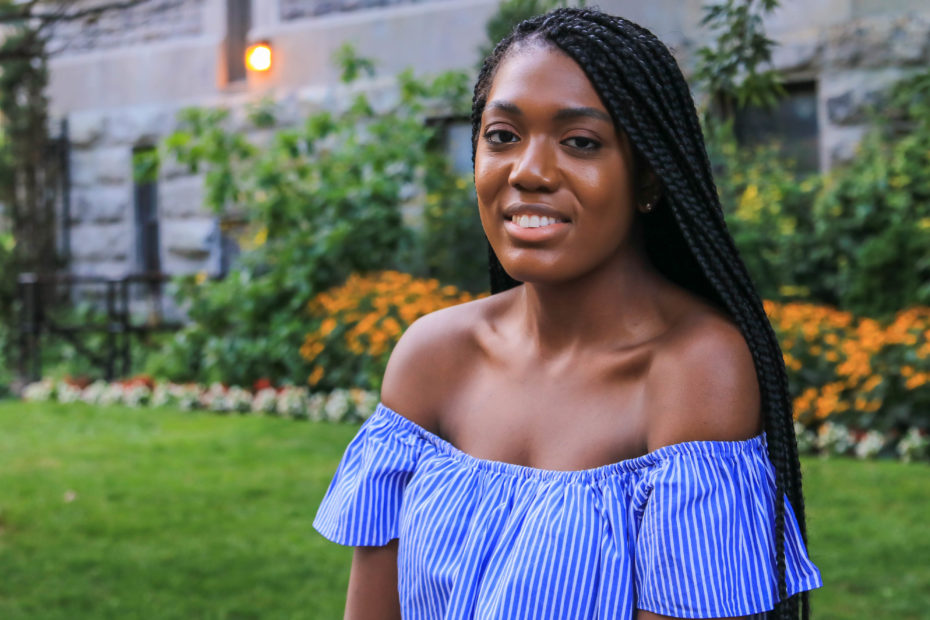 McGill's valedictorians are outstanding undergraduate students whose strong academic performance, leadership and community involvement has earned the respect of their peers. This year's cohort, while coming from vastly different backgrounds, share enthusiasm, ambition and a well-rounded philosophy of life.
As part of our Spring 2019 Convocation coverage, the Reporter is conducting a series of Q&A interviews with some of our valedictorians.
Today, we feature Ommu-Kulsoom J. Abdul-Rahman who will deliver her address on on Monday, June 3, as part of the Faculty of Arts morning ceremony.
What is your degree in?
Joint-Honours Islamic Studies and Political Science with a minor African Studies.
Hometown?
Montreal.
Why did you choose McGill?
I chose McGill because of the diversity of programs offered and being able to take courses in fields of study that make up who I am as a person, such as Islamic Studies and African Studies, as an African and Caribbean Muslim woman.
What do you remember when you walked onto campus for the first time?
I was definitely intimidated and overwhelmed. Then I thought about how beautiful and huge this campus is. I also felt excited because I was embarking on a new journey. It was a weird mix of feelings all at once.
Three favourite places on McGill/Mac campus?
African Studies Students Association/IDSSA office in Leacock's basement
Islamic Studies Library
This little bench in the corner of the Leacock basement (it's so peaceful and away from crowds/people)
What were some of the biggest challenges you faced during your time here and how did you overcome them?
Feeling like I did not belong was a big challenge. There really are not many people who look like me on campus so there's always a feeling of standing out and not truly fitting in. However, as the years went on I stopped caring about that because I knew I earned my spot to be here and I did not need to fit a specific look or the group that this university was built for.
What/who will you miss the most?
I'm going to miss professors and McGill administrators in Islamic Studies such as Professor Medani, Ms. Anne Farray, Zeitun Manjothi (they really made my time here absolutely amazing and they are such kind souls).
I will also miss Freddy, the maintenance man in Morrice Hall and the maintenance men from Leacock. They literally have been with me throughout my entire time at McGill they have checked in on how I am doing, given me words of encouragement for papers/exams, and even fed me. I'm going to miss seeing them and chatting with them.
Tell us about your Faculty and your classmates. What does it mean for you to be representing them as valedictorian?
The Faculty of Arts was my home for these past three years. It is where I found my mentors and many lifelong friends. It is also where I grew as a person in my academic life, professional life and personal life.
It means a lot for me to be representing my faculty and classmates because I truly did not think I was good enough to fill this position. Without the encouragement of many of them I would not even be a valedictorian right now. I am so grateful for the classmates/friends that encouraged me to do so.
Without giving away too much, what will be the message of your address?
I'm taking it back to my roots and diving into a key value instilled in me by parents that represents a key part of my cultures (Bajan and Ghanaian) and using that to discuss our (the graduates) job to be accountable for how we impact the world.
What advice do you have for new students starting at McGill this fall?
You will be okay! I know you will feel like you are not good enough, like you do not belong but you do. You made it here because you deserve to be here just as much as anyone else. So, trust yourself, work hard and also enjoy your time here because it goes by very quickly.