McGill's valedictorians are outstanding undergraduate students whose strong academic performance, leadership and community involvement has earned the respect of their peers. This year's cohort, while coming from vastly different backgrounds, share enthusiasm, ambition and a well-rounded philosophy of life.
As part of our Spring 2019 Convocation coverage, the Reporter is conducting a series of Q&A interviews with some of our valedictorians.
Today, we feature Corinna Ha, who is graduating with a Bachelor of Commerce and will deliver her address on Thursday, May 30, as part of the Desautels Faculty of Management ceremony.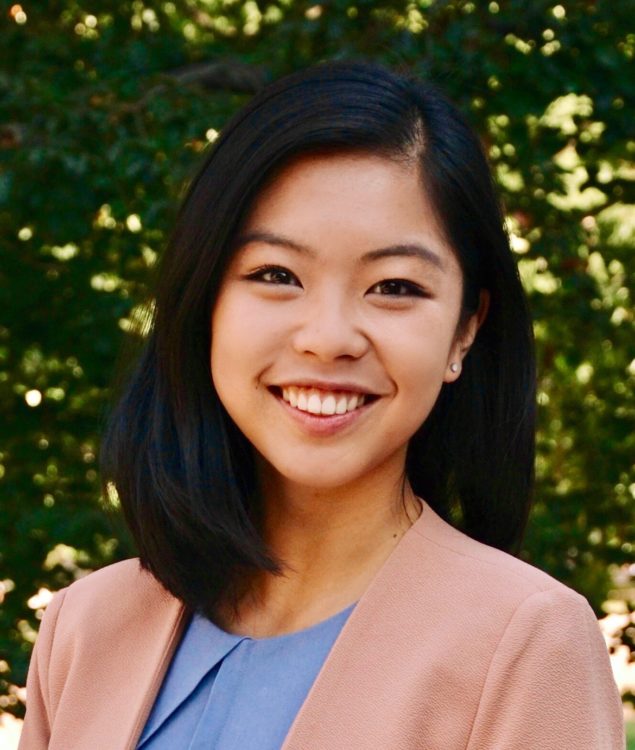 What program are you graduating from?
Bachelor of Commerce with a major in Finance
Hometown?
Toronto, Ontario
Why did you choose McGill?
I loved that McGill is in the heart of Montreal: a vibrant and fun city, full of opportunities to explore academic, professional and personal interests.
What do you remember when you walked onto campus for the first time?
I first visited in the Fall, and the autumn leaves that lined the path just past Roddick gates made the campus feel like a refuge from the bustling city.
What are some of the highlights of your time as a McGill student?
Every OAP ever!
Travelling to New Zealand for the University of Auckland's international case competition. It was a great learning and bonding experience for Team McGill, we met a ton of international friends and we even went bungee jumping!
Living in Rez was also a very fun time. I lived in Douglas, and the friends I made there are still some of my closest ones today! I loved getting home every night, getting dinner with them in our Harry Potter-like dining hall, and going on all our (not always smart) freshman adventures together.
Three favourite places on McGill/Mac campus?
Three Bares
Birks Reading Room
Quesada (the original one in Bronfman!), before it closed
What were some of the biggest challenges you faced during your time here and how did you overcome them?
In my third year, I experienced somewhat of a "quarter-life crisis," when I struggled to keep up in school, developed a strong distaste for my major, and felt incredibly socially isolated. Honestly, the only way I overcame this very difficult period was to completely remove myself from McGill for eight months by going on exchange. McGill gets overwhelming at times, and it's healthy to take a break!
When I came back, I was refreshed, ready to take on new challenges, and heartened to see that all my friends were still here, ready to welcome me back.
What/who will you miss the most?
I will miss all the friends I have made here dearly. The people I have met at McGill have humbled me, made me appreciate all different kinds of intelligence and developed my love of learning from others. They have been by my side for every new experience, every challenge and every success. But, I don't plan on missing them too much because I'll visit them often!
What is next for you?
I'm hopping on a plane to Kigali, Rwanda right after the graduation ceremony! I'm working with a humanitarian think tank there called Sight and Life that aims to alleviate malnutrition in children and women. Upon my return, I'm headed to Toronto to start my full-time job in management consulting.
Any long-term goals and plans?
I'm interested in using public policy as a tool to improve people's socio-economic welfare. I plan to pursue a Master of Public Policy and have a particular interest in development policy, but we'll see what happens! I prefer to keep my options open and opportunities serendipitous.
Tell us about your Faculty and your classmates. What does it mean for you to be representing them as valedictorian?
The Faculty of Management's uniqueness is reflected in its name – not just a business school, Desautels is a community that is devoted to using an integrated management approach to educate the next generation of leaders and to conduct research on pressing managerial issues. This community consists of tenacious, diversely-skilled classmates, whose impact on the world I am excited to see. To be representing them as valedictorian is a true honour. It's an exciting opportunity to reflect on the lessons we have learned and successes we have accomplished.
Without giving away too much, what will be the message of your address?
To use the managerial skills we have learned at Desautels to responsibly lead a better future.
What advice do you have for new students starting at McGill this fall?
Although the Bronfman community always encourages hands-on experience through clubs and internships, don't forget to learn in other ways. The one thing I wish I had done more of during my time at McGill is read; I wish I had taken more time to understand the literature behind what I was doing before jumping into things.