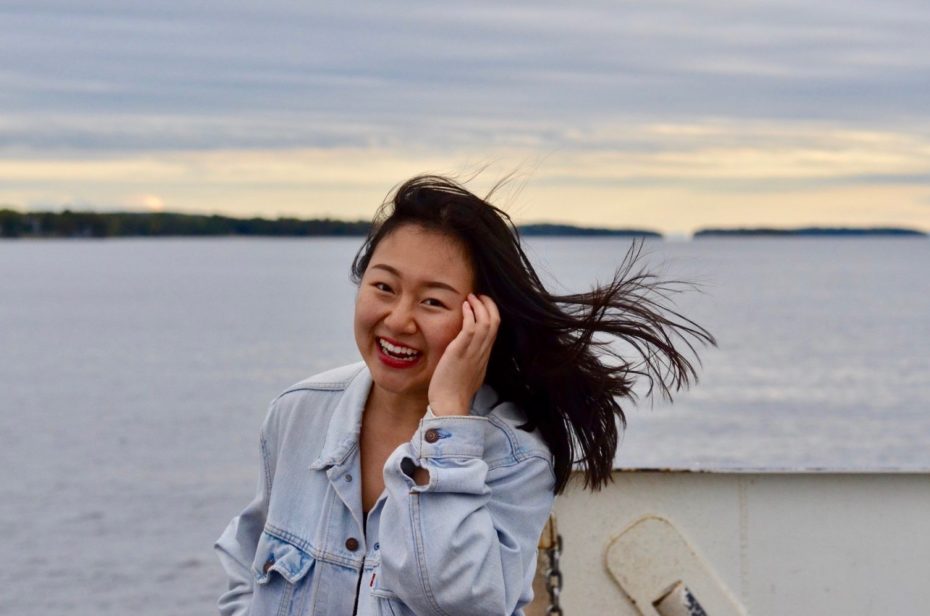 McGill's valedictorians are outstanding undergraduate students whose strong academic performance, leadership and community involvement has earned the respect of their peers. This year's cohort, while coming from vastly different backgrounds, share enthusiasm, ambition and a well-rounded philosophy of life.
As part of our Spring 2019 Convocation coverage, the Reporter is conducting a series of Q&A interviews with some of our valedictorians.
Today, we feature Alice Yue, who is graduating with a Bachelor of Arts in Geography (Urban Systems) and Political Science, and minors in Geographic Information Systems (GIS) and Russian. She will deliver her address on Tuesday, June 4, in the Arts morning ceremony.
What is your hometown?
White Rock, B.C.
Why did you choose McGill?
At the time, I felt like I needed to get away from my suburban bubble. I think I was too young to have real reasons for choosing McGill. I remember that I liked the fact that McGill is far but not too far, and that I could practice speaking French, and that it had a good program for the things that I wanted to study.
What do you remember when you walked onto campus for the first time?
It felt like college, I suppose! I took my first walk around campus while running errands, like picking up my ID and orientation materials in the Y-Intersection. In the fall, everything is still leafy and pleasant – all I remember is enjoying my walk, feeling ambitious and coming to terms with the fact that this would be my home for the next few years.
What are some of the highlights of your time as a McGill student?
Is it cliché to say that it's the people that were the highlights of my time as a McGill student? Well it is what it is.
I met the most thoughtful and inspiring people here, whether it was in my classes or through my extracurriculars. Debating with the McGill Debating Union and Floor Fellowing were particularly formative experiences, and it's there that I learned the most, achieved the most and felt the most happy with myself.
Three favourite places on McGill/Mac campus?
I spent far too much time at the library for sure, so my favourite library is probably Blackader-Lauterman. It's a shame that it closes so early, but it has a beautiful view of campus during the day and a calm ambience.
My second favourite place might be McConnell Engineering because three of my favourite on-campus food spots are there: Frostbite, Dispatch and the E-Cafe.
Finally, I love the Rutherford Park and newly redone McTavish Street! At all times of the year it's beautiful, and on warmer days I loved to have a meal there.
What were some of the biggest challenges you faced during your time here and how did you overcome them?
At McGill you're constantly pushing yourself – whether it's staying up into the early hours of the morning to polish an essay or learning new and challenging course material. The biggest challenge of all was believing in myself, and having the confidence that I could do what my ambitions were leading me towards.
I'm beyond honoured to have studied under amazing professors alongside the most bright classmates, but as you can imagine that can feel intimidating at times. Constantly being surrounded by people who are more brilliant, more eloquent, more passionate, can feel disempowering. Now, I see it as a blessing rather than something to put myself down about. After all, these are the people that have supported, uplifted and inspired me throughout the past four years to do better which played a significant role in my personal growth.
What/who will you miss the most?
I'll miss having access to all of the books and resources, and the people of course! This is probably the last time in my life where me, all of my friends, classmates and co-workers will be on the same campus. I always took that for granted, being able to walk down campus and feeling so at home because everything that I care about is within a few kilometres of each other!
What is next for you?
I wish I could say that I have something elaborate planned, but in a way it also feels good to be in a space with limitless possibilities. For now, I'm taking some time for myself and exploring options for work here in Montreal, Toronto or Vancouver. I'd also like to visit my extended family in China as soon as possible since I haven't seen them since I started at McGill.
Any long-term goals and plans?
I know that I want to return to school eventually to pursue another degree. There's so much about the world that I'm curious about, and there's no better place to satiate that curiosity than with researchers who I admire. After that, we'll see where life takes me.
Tell us about your Faculty and your classmates. What does it mean for you to be representing them as valedictorian?
It means everything. Despite grumbling throughout most of the past four years about the harsh weather conditions, or spending too much time at the library, McGill became my home before I knew it. Now, right when I'm about to leave, it feels more like home than ever. Being able to sign off as a valedictorian is emotional and deeply meaningful, and an opportunity I'm so thankful for.
Without giving away too much, what will be the message of your address?
I want to take my fellow graduates through a journey with my speech, symbolic of our growth here. I will reflect on our experiences as students, the potential for what we can accomplish going forwards, and being thankful for everyone that worked hard for us while we were working hard at McGill.
What advice do you have for new students starting at McGill this fall?
Don't be afraid to reach out for help, but also be self-aware and know when you're taking up too much space. From your friends, to professors, to student services, everyone has so much knowledge and kindness to give. Your success isn't an individual effort, it's a group one! But of course, don't take their patience and selflessness for granted.
Anything else to add?
Congratulations, Arts graduates of 2019! No matter how many times people tell us that our degree is useless, know in your heart that it's not. We are some of the most diligent and thoughtful people, and now that we're armed with a degree, we're going to change the world for the better.