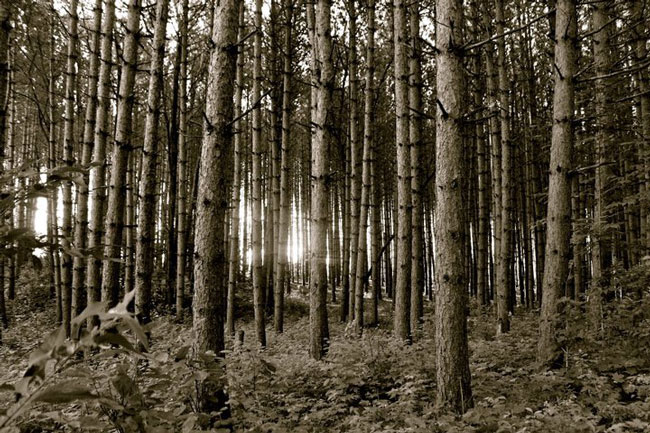 Each year, the Mont Saint-Hilaire Nature Centre awards the Alice E. Johannsen Award of Excellence to an individual, a group or an organization that made a significant contribution to protecting nature, to the conservation, discovery or knowledge of Mont Saint-Hilaire and the region's natural heritage. On Saturday, Aug. 13, the Nature Centre's Board of Directors announced that the Award would go to the Monteregie Connection project, in recognition of its research activities, involvement of stakeholders from the area and use of various scenarios for the development of the Vallée-du-Richelieu area.
Led by five McGill researchers, Andrew Gonzalez, Elena Bennett, Jeanine Rhemtulla, Jeffrey Cardille and Martin Lechowicz, some fifteen students and researchers gathered data that provide insight into the inter-relationships between the landscape, biodiversity and services provided by the ecosystems.
The Monteregie Connection project worked with scientists and community members to provide tools and information to help managers predict how the development and use of the area would impact biodiversity, ecologic services and ecosystems through various scenarios.
This is an important exploratory exercise where each scenario represents a potential vision of the future, without being a prediction. Each scenario presents the main items of change in the area, allowing to imagine what the Vallée-du-Richelieu would look like in 2040. This exercise promotes collaboration in managing the landscape and development in the area.
This project has had implications from a scientific perspective, as well as in terms of conserving natural environments and with stakeholders in the Vallée-du-Richelieu area. The project helped to:
Improve the understanding of the landscape on biodiversity and ecologic services
Highlight the importance of protecting and connecting natural environments
Develop a shared and more sustainable vision for the area
Optimize the scientific research implications through collaboration and involvement from stakeholders in the area and in conservation