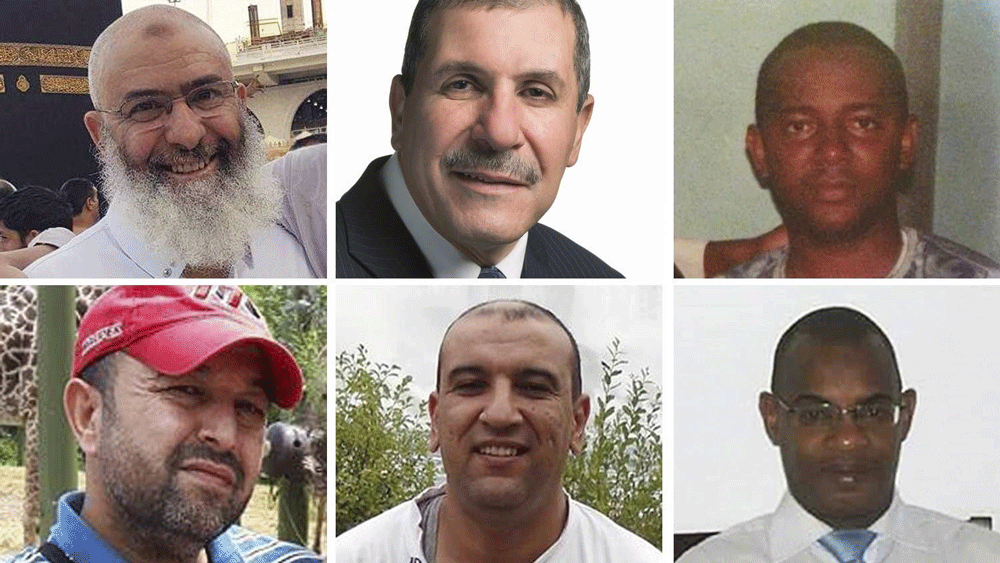 On January 30, McGill hosted a ceremony to commemorate the victims of the January 29, 2017, shooting at the Islamic Cultural Centre of Quebec City, when a lone gunman killed six Muslim worshippers and injured 19 others. Monday's ceremony was marked by solemn tributes to victims, thoughtful discourse, and impassioned pleas for people to do their part to combat Islamophobia.
Held in the atrium of the Macdonald Engineering Building on McGill's downtown campus, the event drew community members from McGill and Montreal. Ehab Lotayef, IT & Technical Services Manager, served as emcee. Lotayef is a long-time advocate for inclusion on campus, and a tireless organizer of the annual commemoration ceremony.
Remembering the men who died
Throughout the ceremony, speakers made a point of repeating the victims names. Members of McGill's Muslim Students Association and Thaqalyan Muslim Association, spoke about each man, giving the audience a poignant glimpse into each life.
"Ibrahima Barry died at 39 years old, leaving behind a widow and four young orphans. He was an IT technician at Revenu Québec providing services to his community. His brother described him as the hope of his family back home in Guinea.
"Abdelkrim Hassane died at 41 years old, leaving behind a widow and three young orphans. Abdelkrim was a computer analyst with the Quebec government. People described him as a man full of joy, love and laughter."
"Khaled Belkacemi died at 60, leaving behind a widow and three orphans. Professor Belkacemi was a soil scientist and food engineering professor at Université de Laval. He was known to many as a good friend and a good father to his family."
"Mamadou Tanou Barry died at 42 years old, leaving behind a widow and two orphans. Mamadou was an accounting technician in Sainte-Foy. People close to him described him as generous, loyal, patient, and kind. He died while starting to raise funds for two wells in his community in Guinea."
"Aboubaker Thabti died at 44 years old, leaving behind a widow and two young orphans. He worked two jobs, as a pharmacy technician and as a nightshift worker at a poultry plant. Aboubaker was said to always helped newcomers getting their first apartments, cars and papers, always devoting his time to those in need."
"Azzeddine Soufiane died at 57 years old, leaving behind a widow and three orphans. Azzeddine was a geologist and was the owner of a butchery in Sainte-Foy. Azzeddine always extended his generosity to new immigrants and those who needed it in Quebec City. On January 29, 2017, Azzeddine died by charging at the shooter, sacrificing his life while protecting the others."
"What makes a good immigrant?"
Law student Weeam Ben-Rejeb talked about watching Briser le code as part of her Legal Ethics course. The documentary outlines the impact of racism on racialized and Indigenous people in Quebec.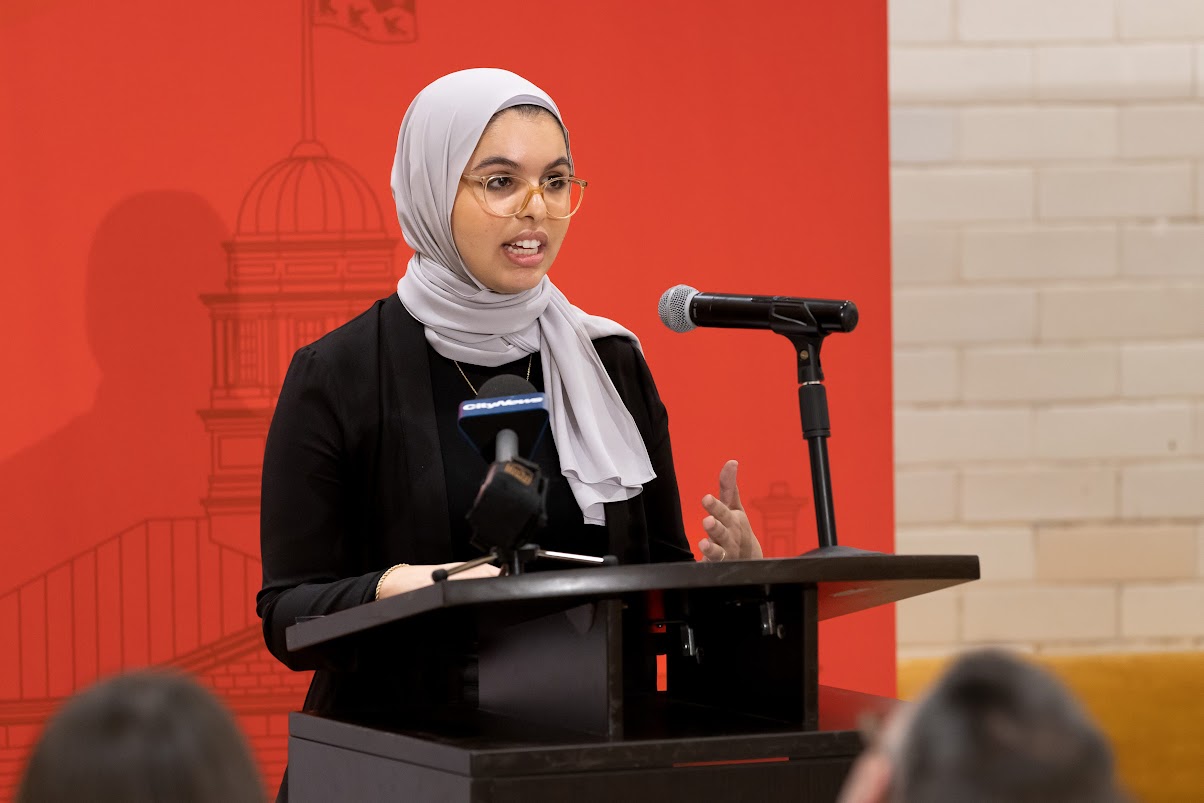 "In it, a woman talks about what makes a good immigrant. One response that she got is that a good immigrant is someone who doesn't bother. And I've been reflecting on that ever since," said Ben-Rejeb, recipient of the Centre Culturel Islamique de Québec Memorial Award for her commitment to fostering the inclusion of Muslims within Quebec and Canadian society.
"I think about my own behaviour and how I've been conditioned by society to try and not bother. I'm not going to ask for that small break to go and pray; or for this event to not have alcohol; or for a team jersey that's long sleeved. I think this is where some of the problem lies," she said.
"Because what did the victims of Quebec do to bother?"
"The answer is that simply existing in our bodies is unfortunately bothersome for too many people – and every single Muslim in this room and beyond knows that. We live Islamophobia regularly," said Ben-Rejeb. "There are so many stories, but we are tired of telling them. And those stories will keep existing so long as we are viewed as The Other; so long as there are laws like Bill, 21; and so long as our agency, identity and place in society continues to be questioned and debated."
Building a stronger, more diverse, and more inclusive McGill
Travelling abroad, Interim Principal Christopher Manfredi, addressed the audience via a video message. "Last March, in my capacity, as Provost, I announced a new initiative to address Islamophobia and antisemitism on McGill's campuses," he said. "Drawing from the extensive feedback that was shared by members of McGill's broader Muslim and Jewish communities, a final report was submitted that outlined a series of recommendations for creating a more inclusive environment."
"As we work to transform these recommendations into meaningful action, we know that doing so will require ongoing vigilance, learning and, above all, consistent work. Together we will continue to fight against Islamophobia and all forms of discrimination as we build a stronger, more diverse, and more inclusive McGill."
Working with Muslim students
In her address, Angela Campbell, Co-Acting Provost, acknowledged the presence of representatives of McGill's Muslim student associations.
"Fabrice Lebeau, and I are the Co-Acting Provosts this year and together we led the Initiative against Islamophobia and Antisemitism at McGill," said Campbell. "The students have shown tremendous resolve, courage, intelligence, and integrity in their work with us."
"As clearly stated in our Initiative against Islamophobia and Antisemitism, Muslim persons at McGill will never have to deny or hide their identity, culture, or beliefs in order to thrive as valued members of our campus community," said Campbell. "To the students, this is your campus – you belong here."
"Hate speech, Islamophobia, discrimination, and oppression – in all their forms – have no place at McGill and will not be tolerated," said Campbell. "Although today is a day of sadness across Quebec and Canada, we find comfort and strength as a community. For this reason, I deeply appreciate all of you coming together to remember and to renew our community's steadfast commitment to openness, belonging, and inclusion."
Final respects
In her closing remarks, Ben-Rejeb told fellow Muslims that they should never try to hide or downplay their beliefs.
"I believe that the true inclusion of Muslims in Quebec and Canada will actualize when we all do our part to simply be us, fully, unapologetically, in every space that we find ourselves in," said Ben-Rejeb in her closing remarks. "And this is not just an advocacy work. It is true, no matter what you do or where you are. Whether that's in computer science, fashion, medicine, theatre, and it's with your friends, family, coworkers, and strangers."
"We have a responsibility to show up in our full selves and not leave part of us behind to be more palatable to some. My message here is simple. We cannot keep trying to be less bothersome, because that will lead nowhere. We belong in this society as much as anyone else, and by being ourselves in our respective lives every day we can make the true inclusion of Muslims in Quebec a reality."
At ceremony's end, a procession made its way to the east side of Dawson Hall where Muslim students laid roses at the plaque and Ironwood tree honouring the men who died at the mosque.
January 29 is Canada's National Day of Remembrance of the Quebec City Mosque Attack and Action Against Islamophobia.