Master's student Sarah Abou-Bakr is this year's recipient of the Centre culturel islamique de Québec (CCIQ) Memorial Award, for her efforts to promote awareness and understanding of the Muslim experience in Quebec and Canada.
Each year, the CCIQ Memorial Award is awarded to a McGill student who shows commitment to fostering the inclusion of Muslims within the larger Quebecois and Canadian societies. The award was established in 2018, in memory of the six men who were murdered and the 19 others injured on Jan. 29, 2017, shortly after Sunday evening prayers at the Quebec City mosque.
Deeply involved
Abou-Bakr says she learned quickly about anti-Muslim discrimination while growing up in Montreal, and from a young age, she's been deeply involved in efforts to raise awareness about Muslim issues and speaking out against Islamophobia in the wider community. Currently, with McGill's Institute for Islamic Studies, she's preparing her master's thesis on Islamophobia in Quebec over the last decade.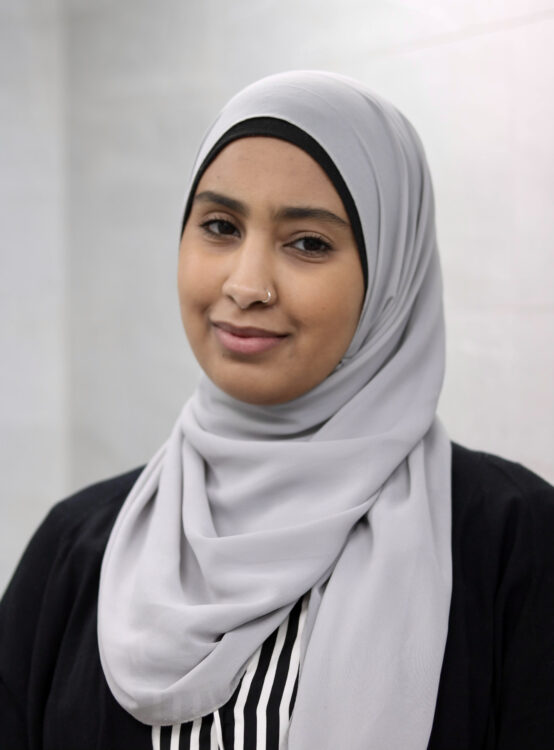 During her undergraduate years, she worked at Concordia University's legal information clinic. She also led the planning and organization of community consultations, events, and workshops specifically related to contemporary Muslim issues in Quebec, such as Bill 21 (the controversial secularism law), Bill 64 (which overhauls Quebec's privacy laws), and the aftermath of the 2017 mosque shooting. Since that tragic night, she has helped organize several interfaith initiatives in Montreal.
"My goal was for people with different backgrounds and identities to participate in exchanges with Muslims to eliminate stereotypes," Abou-Bakr said.
From 2016 until last year, she headed MAC Give Montreal, a community organization encouraging young Muslims to volunteer and "become leaders of society through social engagement." She has also collaborated with the English Montreal School Board to give talks to students about the negative effects of Islamophobia in society.
Since 2019, she has worked with the National Council of Canadian Muslims (NCCM), currently serving as the Quebec Public Affairs Lead, engaging with government stakeholders as an advocate for better policy. She previously served as the NCCM's Quebec Affairs Consultant and Quebec Advocacy Coordinator.
Abou-Bakr says that her biggest accomplishment was leading the NCCM's 2020 and 2021 national Green Square Campaigns, which encouraged people to wear a green square to commemorate the anniversary of the Quebec City mosque shooting. In 2021, Prime Minister Justin Trudeau and the other federal party leaders were all seen wearing green squares. The Green Square Campaigns also raise money for the families of the victims, as well as to rebuild the CCIQ mosque, which had not been repaired since the 2017 tragedy.
"I am humanizing who I am"
Ehab Lotayef, the CCIQ Award fundraising campaign co-chair, says he's known Abou-Bakr since she was in CEGEP, through their involvement in many intercultural events and activities. He says it was easy for him to endorse her for the award.
"We felt that Sarah had worked audaciously to advance inclusion for awareness of Muslim students both at McGill and beyond, in a manner that deepened understanding of Muslim experiences, throughout showing tremendous energy, perseverance and intellect," Lotayef said.
Abou-Bakr says any contribution made toward the inclusion of the Muslim community and to fight Islamophobia can and will make an impact.
"I like to believe that laws such as Bill 21 are clear proof that there needs to be more understanding and more inclusion," she says.
"I believe that one way to foster understanding is for our stories to be heard, and by telling mine, I am humanizing who I am, and humanizing people who look like me and share the same beliefs as me. That alone is an impact, because it makes people aware of the problems deeply embedded in our Canadian society that Muslims face every day because of lack of inclusion."
On Friday, Jan. 28 at 2:30 pm, McGill's Associate Provost (Equity & Academic Policies), the Institute of Islamic Studies, and the Muslim Students Association will hold an online commemoration event for the victims of the Jan. 29, 2017, Quebec City Mosque shooting victims. This event is held in partnership with Muslim Awareness Week. The event is open to all members of the McGill community and also welcomes the participation of the general public. Click here to join the event at 2:30 pm on January 28.